Freezing fresh Bananas is EASY and is a SUPER way to preserve the great taste and low prices of on sale Bananas! Besides, when you know how to freeze Bananas, it only takes about 5 minutes!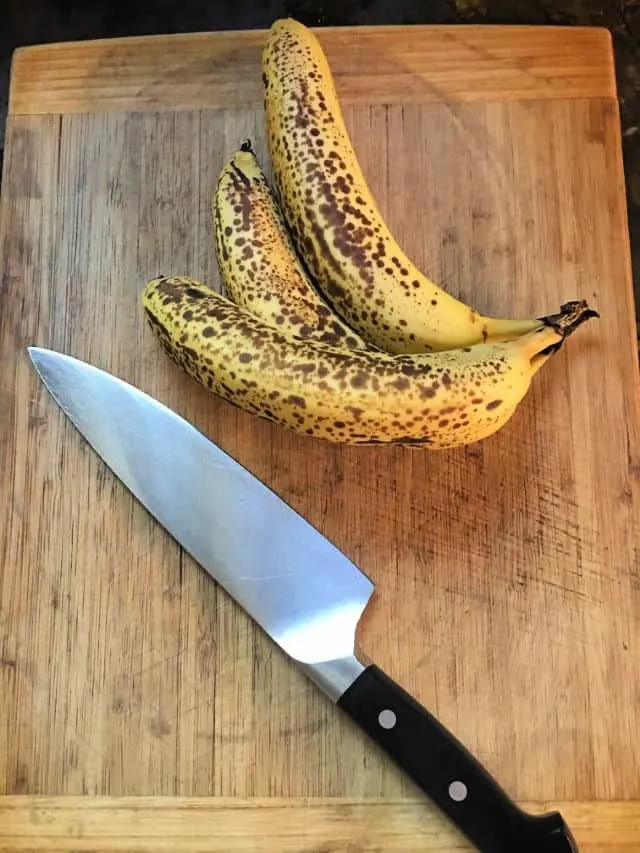 Why This Recipe Works…
Fast
Easy
Saves Money!
Frozen Bananas can be used in all kinds of recipes!
Here's How It is Done
STEP 1. Pour them out onto a baking sheet. Make sure that none of them are touching.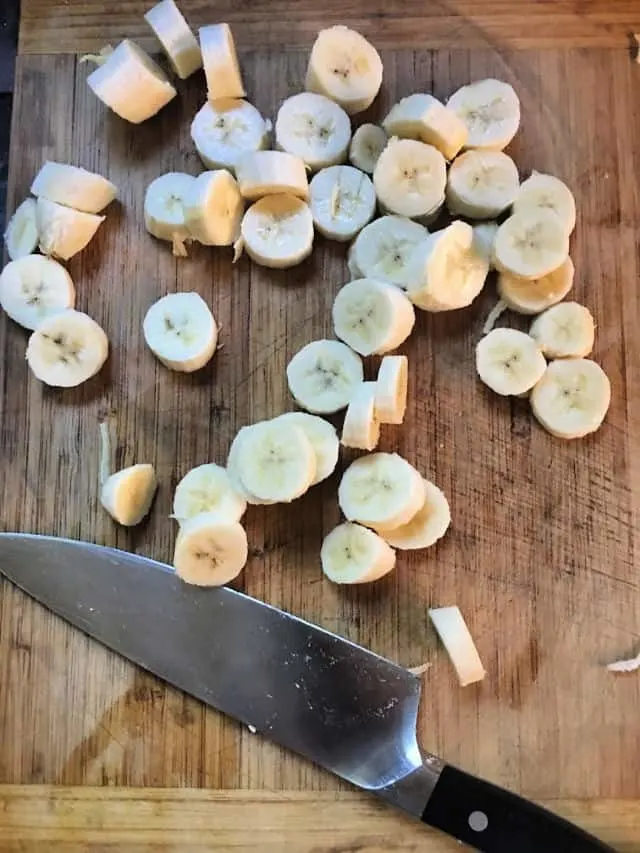 STEP 2. Place the tray into the freezer for at least 2 hours.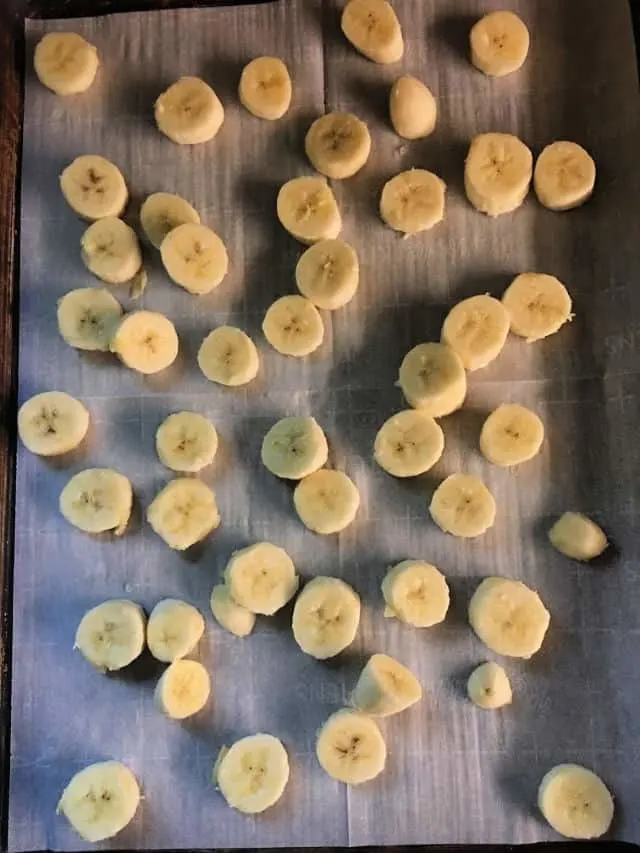 STEP 3. Remove from the freezer and then measure out quantities for each bag. Label the bags before filling for easy use.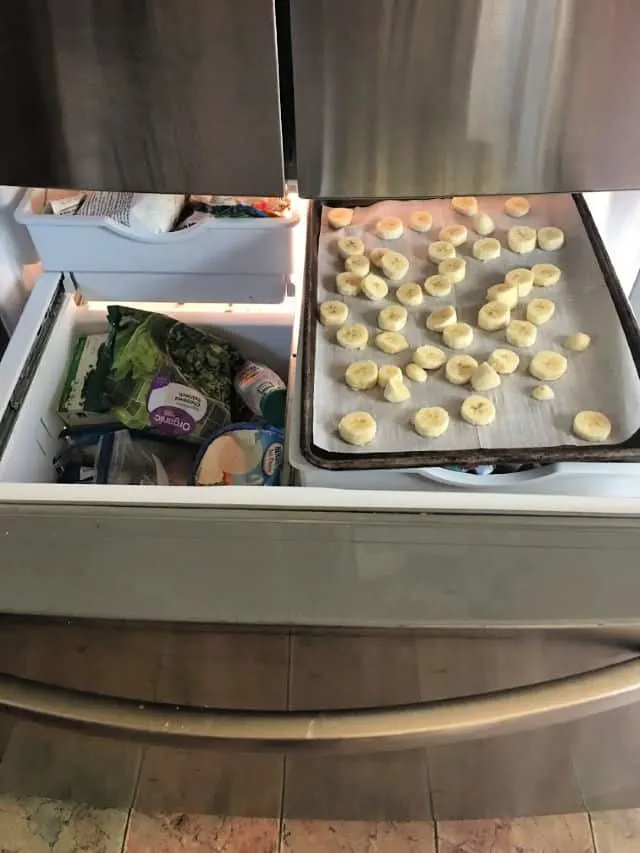 Do Bananas Freeze Well?
Yes, they do freeze well. Simply follow the recipe listed below.
Can You Freeze Bananas?
Yes, you can freeze Bananas! It is so simple that you will be surprised! Follow the recipe card below. It's one of the easiest fruits to freeze!
Freeze Bananas How Long?
Keep Frozen Bananas for 3-6 months. Be sure to keep them as close to 32C as possible. Squeeze as much air from the bag as possible before placing into the freezer.
How To Freeze Bananas
Spread the cut Bananas out on a baking sheet. Place baking sheet into the freezer for 2 hours. Remove from the freezer and place into labeled freezer bags. Remove as much air as possible from the freezer bag. Lay the bags as flat as possible into the freezer. Rinse the fruit with cool water before using.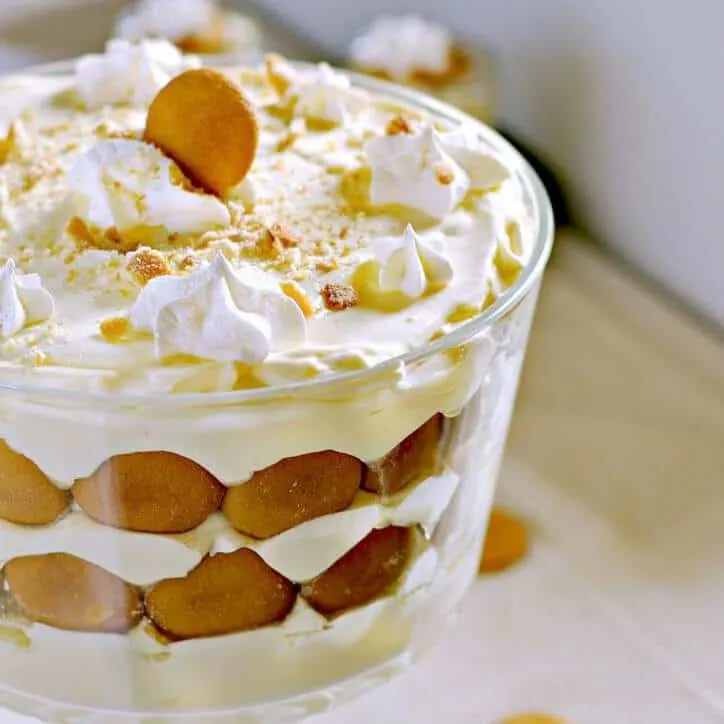 Frequently Asked Questions (FAQ's)
How Do I Freeze Bananas to Keep Them From Getting Mushy ?
Freezing the Bananas individually and keeping them dry like described in the recipe card below will help to keep the Bananas from becoming overly mushy and dark. However, all frozen fruit does become softer than fresh fruit and you will want to use these Bananas in baked goods or smoothies. Don't plan to use them as a fresh fruit application.
How Do I Freeze Bananas Without Them Turning Brown?
Slicing and flash freezing the way that I have described in this post (see recipe at bottom of the page) will keep them from turning brown. Then just bag them up for later use.
Can I Freeze a Whole Unpeeled Banana?
Yes, absolutely you can! Just stick it in the freezer. You'll need to understand that the peel will turn BLACK but this will not affect the taste at all.
Do I Need To Thaw Bananas Before Using Them In Baking?
No, you don't need to thaw Bananas before using them in baking. Use in whatever recipe you have planned.
Can I Freeze Bananas With The Peel?
Yes, you can freeze bananas with the peel. The peel will turn black and look terrible. I find its much better to slice and freeze the slices so they are ready for immediate use.
How Long Does It Take To Freeze Bananas?
Bananas freeze in about 2 hours.
How Long Can Bananas Be Frozen?
Freeze bananas for 3-6 months. Longer than that and you run the risk of the texture starting to change.
How To Freeze Bananas Without Sugar?
You can without sugar by simply doing as described here. It's easy and simple! You can do it!
Can You Just Eat Frozen Bananas?
Sure you can! Pop them right in your mouth! It's like a little popsicle! What a great fresh treat that is even good for you!
How Do You Thaw Frozen Bananas?
There's no need to thaw before using in your recipe, but if you want to thaw them, run cool water over them for a minute or two. If you put the bag that they are frozen into the fridge, they will also thaw. You will notice some of liquid in the bag. No need to use this liquid in your recipe.
Can Frozen Bananas Be Substituted For Fresh?
Yes, you can substitute frozen Bananas for fresh in most cooking applications and in smoothies. You won't want to use them instead of fresh for puddings and desserts.. All fruit that has been frozen will be somewhat mushy when completely thawed and that just won't look nice.
Does Freezing Bananas Affect the Taste?
Freezing Bananas does not affect the taste. It will taste the same BUT it does affect the texture. They become mushy as does all fruit. It is best to use them in baking, cooking and smoothie recipes.
How To Know If they are Bad
If you notice….
Appears encased in ice crystals or frost

Becomes very light colored and dry

It has been in the freezer longer than 6 months.

There was a lot of air in the package.
What's the Best Way to Do This?
Simply follow the instructions listed below and you'll have the very best method.
Be sure to select ripe, perfect fruit for freezing. The quality of what you freeze will be reflected in the final product you have at the end.
Tips and Tricks
They are naturally sticky and you'll want to be careful when putting them on baking sheets so that they don't stick together.
Bananas DO turn dark a little when you cut them. No worries, they taste great anyway.
If you have older bananas on hand (the kind with spots), those work best for this because they have more impactful flavor.
Want to learn A LOT about this fruit? Check out the world banana forum!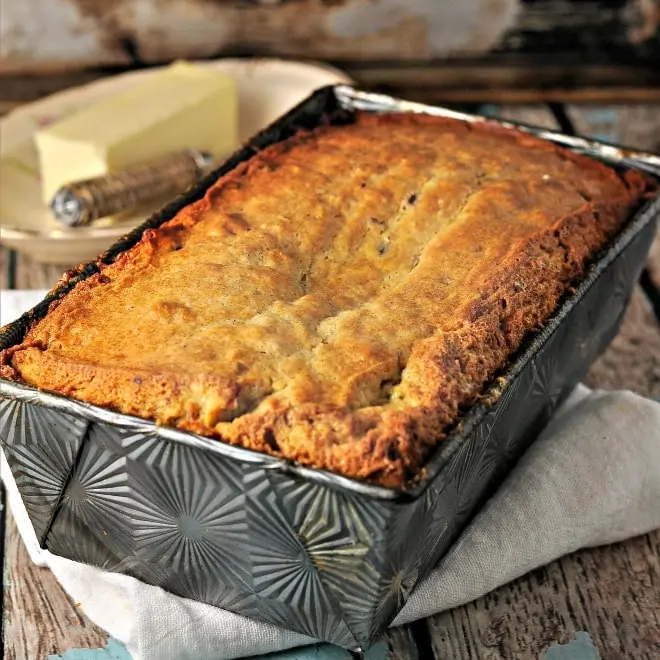 If You Enjoyed this Banana Recipe, You Might Also Enjoy…
If You Want To Know More About Freezing Other Foods, Check Out….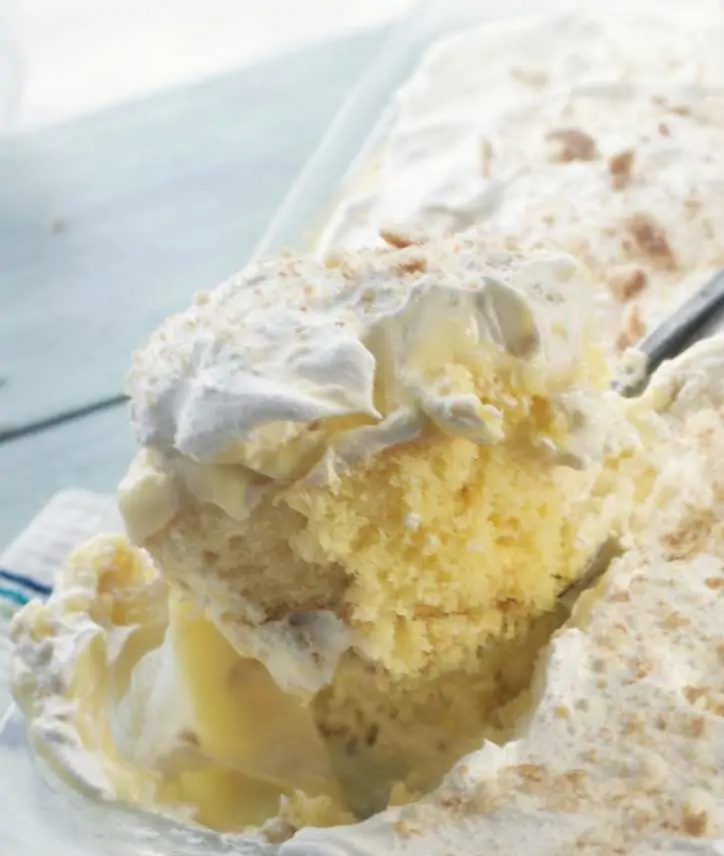 Hey, Ya'll, Help Me Out, OK?
Leave me a 5 START comment in the comment section below. This helps other people to find recipes on Loaves and Dishes!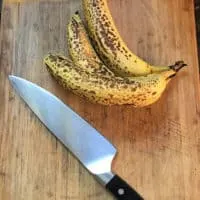 How to Freeze Bananas
Freezing fresh Bananas is EASY and is a SUPER way to preserve the great taste and low prices of Bananas! Besides, when you know how to freeze Bananas, it only takes about 5 minutes!
Print
Pin
Rate
Ingredients
1

lb

Bananas

any variety or size
Instructions
Label the freezer bag with a sharpie marker to indicate what will be in the bag and how many. Label with today's date and a "USE BY" date (3-6 months from now).

Cut the bananas into disks. Place the fruit onto a baking sheet and spread them out

Place the baking sheet into the freezer for at least 2 hours.

After 2 hours, remove the tray from the freezer, measure out the fruit and place them into a resealable top plastic bag.

Squeeze as much air as possible from the bag.

Seal the bag. Finish labeling the bag if necessary.

Place the bag into the freezer and lay flat so that it will freeze flat.
Notes
Use good quality freezer bags (this doesn't necessarily mean name brand). Just check to make sure that the bag feels heavy and thick in your hand and that the seal works very well.
It's so easy to use the type of bag with the zippers, but I've had more bag failures with the zipper bags than with the press and seal type bags.
Buy yourself a sharpie marker to keep in the kitchen in your "junk" drawer OR tape it to the front of your freezer bag box. Then you'll always have one.
The flater that you can make the bag, the better for saving space in your freezer.
When putting things in the freezer, put the newer things on the bottom of the stack so that the older things are near the top and you'll use those first.
Squeeze air out of the bag after you put the meat into the bag by rolling it up. Air in the bag will equal freezer burn later.
PRO TIP: Label the bag BEFORE you put the food in the bag. It's so much easier to write on a bag with nothing in it BEFORE it has water or grease on it.
Nutrition
Nutrition Facts
How to Freeze Bananas
Amount Per Serving
Calories 50
Calories from Fat 9
% Daily Value*
Fat 1g2%
Sodium 1mg0%
Potassium 203mg6%
Carbohydrates 13g4%
Protein 1g2%
Vitamin A 36IU1%
Vitamin C 5mg6%
Calcium 3mg0%
Iron 1mg6%
* Percent Daily Values are based on a 2000 calorie diet.
A VERSE TO SHARE
I have a dog who LOVES to howl. He howls about everything and honestly, it gets on my nerves. I find that there's a number of verses about noisy stuff in the Bible. I guess I'm not alone. lol.
Isaiah 31:4
For thus says the LORD to me, "As the lion or the young lion growls over his prey, Against which a band of shepherds is called out, And he will not be terrified at their voice nor disturbed at their noise, So will the LORD of hosts come down to wage war on Mount Zion and on its hill