This vinegar pie is the perfect extraordinary balance of sweet and tart for a surprisingly wonderful taste. The gooey center goes wonderfully with the crispy upper crust and like any type of chess pie is melt in your mouth goodness from the very first bite!
You'll enjoy this recipe because it is so easy and yet so different! Then, you'll be able to quote a line from one of my favorite tongue in cheek songs by Laura Blackley where she says, "You're as sweet a vinegar pie".
WHY THIS RECIPE WORKS
It's EASY!
You get the natural wonder of a chess pie with the layering of flavors, the soft center and the crispy upper crust
The flavors balance perfectly between sweet, tart and crunchy buttery crust
You can use store bought crust!
HERE'S A QUICK VIDEO OF WENDI MAKING A VINEGAR PIE…
DOES VINEGAR PIE TASTE GOOD?
I have to tell you one thing before we open up the express lane. IT IS GOOD! IT IS DELICIOUS!! YOU WON'T EVEN BELIEVE IT IF YOU TASTE IT!! It is kind of like an oddball surprise – but, there it is.
WHAT IS THE HISTORY OF VINEGAR PIE?
Now as for the vinegar pie recipe itself it seems like if you google "Vinegar Pie", you will find all kinds of wonderful and old fashioned vinegar pie recipes. There is even one very old handwritten vinegar pie recipe noted if you look in the images. wow. I love old recipes, don't you?
There is a vinegar pie recipe from the Ann Arbor News that looked pretty interesting yet but the pie would have been too thin for my tastes.
Martha Stewart had a gorgeous photo of a vinegar pie then again, when I tried to see the recipe there were too many popups to deal with – so, I just got out of there. I'm not even including a link to that, you can google it yourself. I'm not sending you somewhere where a big ad comes over your screen. To heck with that – just stay here, I want you here anyway.
Garden and Gun – which I love to look at also had a similar recipe. But they use Cheerwine vinegar and there is no chance I will run up on any of that any time soon (unless of course my friend Nancy hooks me up again).
BUT WHAT IS VINEGAR PIE?
Finally, I resorted to my cookbooks and then combined everything that I saw into something that I could use in my own kitchen. This is basically a chess pie and according to the research I did, it has been a popular pie since the colonial days.
Let's See How This Is Made
First press out your crust into the pie plate and then using a whisk, mix the ingredients together in a bowl…
Then, pour the ingredients into the prepared pie shell…
IS THIS PIE HARD TO MAKE?
Chess pies are awesome and easy and this literally took me 5 minutes to throw together.

I made one while my three year old grandbaby watched a sesame street video, if that tells you anything.

Nothing fussy, no equipment needed, no strange ingredients.

These vinegar pies are just made from stuff you already have in your kitchen. So Elegant, I love that. I am guessing that is how this vinegar pie recipe came to be in the first place. Mama needed something sweet to feed the family and this was easily come by and delicious to eat, despite the name!

Try this easy pie crust!
WHERE CAN I FIND AN ACTUAL COOK BOOK WITH VINEGAR PIE?
The pie book I have at home, which I love is Nancie McDermott's "Southern Pies A Gracious Plenty of Pie Recipes, From Lemon Chess to Chocolate Pecan".
Every pie I have made out of this book has been spot on, however, I do note that her vinegar pie calls for 1/4 Cup of vinegar. Now, if you LOVE Apple Cider Vinegar, by all means then load it in. But, I'm not crazy about it and think that just the little taste is enough in my pie.
You be the judge and see what you like. I'm including it so you will know what it looks like in case you run across it! But really this is the best pie cook book ever!
***I am an Amazon Affiliate and this photo of the cookbook is an Amazon link. If you should click the photo and go through to Amazon and purchase, I will earn a percentage of the purchase price***
If you enjoyed Vinegar Pie, you might also enjoy….
The Secret to Perfect Old Fashioned Pinto Beans
FAQ and Tips and Tricks for Vinegar Pie
DOES VINEGAR PIE NEED TO BE REFRIGERATED?
It is best if you can refrigerate your vinegar pie, it will keep longer and hold together better. If not refrigerated, vinegar pie becomes wet and loose after a day or so.
CAN I ADD ANYTHING TO MY VINEGAR PIE?
Some recipes have the raisins or pecans added to the vinegar pie. Try adding a handful and see what you think!
HOW LONG AFTER BAKING CAN WE EAT THE VINEGAR PIE?
Wait until the pie is completely cooled before slicing into the pie. All chess pies will be loose and run into the dish if you cut them too soon after baking. You might even want to refrigerate for half a day before slicing.
VINEGAR PIE IS A CHESS PIE! TRY OUT THESE OTHER CHESS PIES..
YA'LL HELP ME OUT
Please leave me a 5 star 🌟🌟🌟🌟🌟 comment below in the comment section for vinegar pie, all right? I would LOVE to know if you made this recipe or even if you are planning to! Of course, head on over to Pinterest, Facebook and Instagram and tag me with some photos of your creation!
I can't wait!
Ya'll know I love your comments!! ❤
THE RECIPE FOR VINEGAR PIE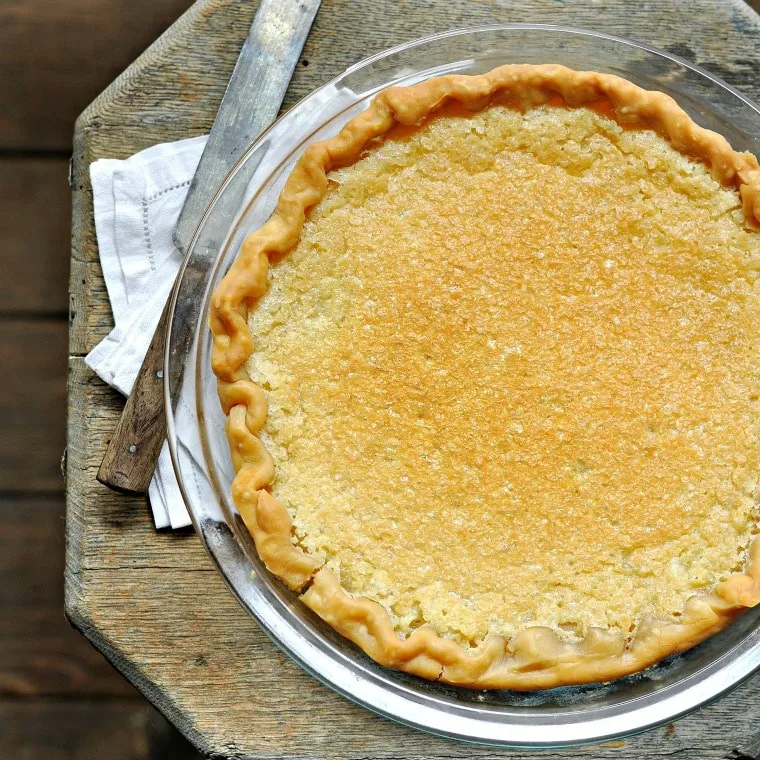 Vinegar Pie
This delightful old chess style pie uses simple ingredients that you probably already have on the shelf. Give it a try and see what you think!
Print
Pin
Rate
Ingredients
1

refrigerated pie crust

the red box brand is best

1/2

Cups

Granulated Sugar

1

Tbs

Flour

all purpose is fine

¼

tsp

salt

3

eggs

beaten well

¼

Cup

melted sweet cream unsalted butter

3

Tbs

heavy cream

1

Tbs

apple cider vinegar

you can use white vinegar if that is what you have - any vinegar will work except balsamic
Instructions
Preheat the oven to 350. Place your pie crust into your pie plate and pinch the edges for decoration.

In a small bowl mix together the sugar, flour and salt with a whisk to remove any possible lumps.

In a medium bowl, using a whisk (you can use the same one), whisk the three eggs until they are a homogenous color or till you would say they are well beaten. Then add the melted butter and milk. If the butter is still hot from melting add it slowly while you stir everything else otherwise, your butter will cook your eggs - ew. Add the vinegar and stir it into the other ingredients.

Pour your small bowl content (sugar mix) into your medium bowl and mix together well with a large wooden spoon. Mix until is is thick and smooth.

Pour this mixture into your prepared pie crust and bake on the bottom rack of your oven for 30 minutes. Half way through baking, turn the pie half way around to even brown the top. The pie is done with the pie is a little puffy and wiggles only a little when you gently shake the pan. In my oven, this was about 35 minutes, in your oven, it could take 45. Start checking at 30 minutes.

Cool the pie well before serving. you want it to be room temp or even chilled in the fridge.
Notes
The pie plate seen in this image is fairly shallow - about 1 1/2 inches deep.
If you use a deep dish pie plate, the contents will probably fill it up about 1/2 way. You could always double the pie ingredients but you will need to adjust the baking time.
When adding hot butter to the recipe, you will want to add it very slowly so as not to cook the eggs.
If you seriously LOVE apple cider vinegar, it is ok to add as much as 1/4 cup but this makes for a much stronger apple cider vinegar flavor to your pie.
The pie is done when you can shake the edge of the pie and it only jiggles slightly in the center like jello.
Nutrition
Nutrition Facts
Vinegar Pie
Amount Per Serving
Calories 366
* Percent Daily Values are based on a 2000 calorie diet.
***This recipe for Vinegar Pie originally appeared on Loaves and Dishes on February 14, 2016 and has been updated with NEW information***
A VERSE TO SHARE
1 Corinthians 13:4-7
"Love is patient, love is kind. It does not envy, it does not boast, it is not proud. It does not dishonor others, it is not self-seeking, it is not easily angered, it keeps no record of wrongs. Love does not delight in evil but rejoices with the truth. It always protects, always trusts, always hopes, always perseveres".
What does that verse to mean to you? Is this verse talking about the love you feel towards your significant other? Does this verse refer to loving your parents or friends? Could this verse possibly be talking about loving your enemies?
ENEMIES…
Seriously, could it? Jesus told us to LOVE OUR ENEMIES, didn't he? Then in Paul's letter to the Corinthians, he tells us these qualities of love. Seems like that while there are different types of love, maybe love has these similar qualities?
I don't know, I'm not an authority. Rather, I am simply a food lover with a website while YOU on the other hand are the captain of your own boat. It does seem like that we, as Christians, should consider these qualities of love in all of our dealings.
What do you think?
Maybe it's best if we pray about it. Hence, that is what I will recommend.