Jump to Recipe
A few weeks ago, I dreamed up what may be my best tasting pie yet.  But then, I got a *little bit busy* and haven't been able to show it to you until today.  All of the newsletter readers will know exactly what I'm talking about.  For those of you who don't, I'm talking about THIS Kentucky Bourbon Pie plus a new brussel sprout recipe, the secret to deeply southern fluffy biscuits and a few more I haven't had a chance to show you just yet.  They are ALL coming, I promise.
Creating this pie was a LOAD of fun (and I did NOT get loaded), (see what I did there?).  You won't either, by the way.  It is only a tiny bit of bourbon spread across an entire pie and then baked.  But the flavor is there – for sure!
In a few weeks, I will be cooking dinner for a few local dignitaries and I specifically want a menu that honors the person who will be hosting the dinner, an artist from Kentucky who has traveled and done good throughout the world. He is a wonderful mix of both down home country and well traveled.   
When sending in my menu, I thought, I'll just make a Kentucky Bourbon Pie – KNOWING that there would be a recipe out there that I could work with.  Let me tell you a secret.  ANY time that you believe you have completely dreamed up a dish – you likely haven't – it probably already exists.  
The best you can usually do is give credit for the recipes that came before yours.  In this case, there really aren't many.  There are some Bourbon Chocolate Pecan Pies on Allrecipes,  David Lebovitz has a chocolate bourbon pie, the kitchn has a Kentucky Bourbon Walnut pie and Just a Pinch has a Kentucky Bourbon Pie as well – but overall, it is SLIM pickings.  Could the pie I thought of ACTUALLY be an original?  OH MY GOSH! 
In pursuit of my dreams,  for my own Kentucky Bourbon Pie, I used my Pecan Pie and amped up the ingredients.  It took a few tries, until I had a pie that was crusty and chewy on top with the crust done just the way I wanted, buttery pecans and enough bourbon to let you know that it is in there.  
My husband says that this one is, in fact, just right.  He knows.  He is the official taste tester around these parts and he nearly ate the whole thing in one sitting (hello elevated A1C).  I believe I have told you before that I have to take these pictures FAST or someone will come along and eat everything leaving YOU, my dear readers, nothing to see but crumbs.
PHOTO INSTRUCTIONS FOR KENTUCKY BOURBON PIE
TIPS AND TRICKS FOR KENTUCKY BOURBON PIE
Use Kentucky Bourbon – which are brands such as Makers Mark, Woodford Reserve, Jim Beam, Wild Turkey and Jefferson Reserve.  You can google your own list, there are more, of course.  

This is my rule whenever alcohol is involved in a recipe – always use a type of alcohol that is something you would serve to yourself and friends.  If you wouldn't drink it that way, then do not put it in your food.

Be like Julia Child who said, "I always cook with wine and sometimes I even put it in the dishes I prepare"  (lol).  

It is important to allow this pie to cool all the way before slicing.  If it isn't completely cool, the guts will run all over the plate and you will have a loose sloppy pie.  It will taste fine, no worries there, but if you are going to the effort to make a pie, then hide it from everyone until it is completely set and cool.  Just my advice.

I think really cold Kentucky Bourbon pie tastes best – so, keep it in the fridge once you have allowed it to cool.  Cover with plastic wrap, or the equivalent.  
IF YOU ENJOYED KENTUCKY BOURBON PIE, YOU MIGHT ALSO ENJOY….
Old Fashioned Peaches and Cream Pie
Peach Pie with Brown Sugar Crumble
and
Hey – I would love to chat with you!  If you don't feel comfortable leaving a public comment or emailing me, just hit me up on my Facebook page.  You can send a private message or leave me a comment.  I would LOVE to see a picture of what you are having for dinner!  Come on over and see what we are talking about!  HERE IS THE LINK>>> LINK TO FACEBOOK
Wendi
THE RECIPE FOR KENTUCKY BOURBON PIE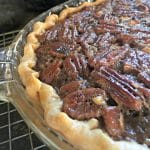 Kentucky Bourbon Pie
What is more southern than a pecan pie that includes delicious Kentucky Bourbon? Ummm. Nothing! Boozy and superb!
Keyword:
kentucky bourbon pie, bourbon pie
Ingredients
9

inch

premade refrigerated pie crust

½

Cup

White granulated sugar

½

Cup

Dark Brown Sugar

⅔

Cup

Dark Corn Syrup

Karo

¼

Cup

Whole Sweet Cream Unsalted Butter

4

large eggs

¼

Cup

Kentucky Bourbon

1

tsp

real vanilla extract

½

tsp

real almond extract

¼

tsp

Kosher salt

1

Cup

Pecans

mix of halves and pieces is good
Instructions
Preheat the oven to 325

In a 9 inch deep dish pie plate, press out your pie dough and flute the edges (crimp).

Place the brown sugar and corn syrup in a medium size bowl. Melt the butter in the microwave for 1 minute and 10 secs on high and then add it to the dark brown sugar and corn syrup while still hot. Mix very well (it will take a minute or two of mixing).

In a separate medium size bowl, whisk together the eggs, bourbon, vanilla, almond and salt. Whisk until the eggs are beaten well and everything is mixed well.

Whisking continuously, mix the sugar mix into the egg mix.

Gently fold in the pecans

Pour the mixture into the pie shell.

Bake on the center rack in the center of the oven for 50-55 minutes at 325. The pie is done when the center no longer giggles loosely when you bump the edge of the pie.

Remove from the oven and allow to cool on a cooling rack or folded towel until completely cooled and gelled. Place in the refrigerator until time to eat.
Recipe Notes
If you LOVE all foods southern, then you will be jonesing for this pie the moment it hits your lips!  Read all of the "tips and tricks" located in the post at www.loavesanddishes.net
Nutrition Facts
Kentucky Bourbon Pie
Amount Per Serving
Calories 503
* Percent Daily Values are based on a 2000 calorie diet.
A VERSE TO SHARE
I hadn't really planned to share this with ya'll, but in my daily prayers, it seems the Lord was leading me this way – so here goes.
Try to increase your happiness through science.  Sounds weird doesn't it?  It is an especially weird practice if you are already about as happy as you can be.  Which would describe me.  In terms of my own life as well as compared to others, I think I have it MADE and I am so grateful for that.  
And there we have it.  Grateful.
You could say that I am an avid podcast listener and that would be a TOTAL understatement.  On a recent episode of Oprah's Super Soul Sunday (find that HERE)  (this takes you to the youtube video of the podcast – but you can look it up wherever you get your own podcasts).  Oprah interviewed Shawn Achor who has spent his life researching happiness and putting scientific applications to what he has learned
He suggests a 5 part daily practice that has been proven to increase one's own happiness and I've been giving it a whirl.  I added a 6th step and I believe that is the POWERBALL (but I have no scientific proof of that).  
Here are the 5 that Shawn Achor sites.  
I found these listed on Huffington Post (find that article HERE) and it matches what I heard on Super Soul Sunday:
1) Bring gratitude to mind: Write down three NEW things that you are grateful for each day
2) Journal: About a positive experience you've had recently for two minutes once a day
3) Exercise: Engage in 15 minutes of mindful cardio activity
4) Meditate: Watch your breath go in and out for two minutes a day and
5) Engage in a random, conscious act of kindness: Write a two-minute positive email thanking a friend or colleague, or compliment someone you admire on social media Do these steps for 21 days, and you will begin to see a lasting shift in your mindset towards more positivity.
And here is my number 6:
6) Each morning, before starting your day and after you have completed at least 4 of the above, bow your head and thank God for the things you are grateful for, thank God that you are able to exercise this vessel that he has given you, thank God for the ability to breath, in whatever capacity you can and thank God that you are able to show kindness to others.  Then thank him for everything else that you didn't already say thank you for.  Especially thank him for your own salvation.  Neither  you nor I deserve it, but He gives it just the same.  Ask nothing in return.  Ask for no blessings.  Simply thank God.  Then end the way that Jesus taught us to pray by reciting the Lord's Prayer.  God already knows your needs anyway.  
New Age and Quirky?
Now you might think this is all a little new age and quirky.  You might think this isn't in line with your religious upbringing.  Sometimes that is what I think about these things too. So, I dig in my Bible and try to find an answer.  It's best to be the voice rather than the echo with these things.
In digging around about this, I found a passage that I believe supports this gratitude practice.  In this reading, Paul is encouraging the church in Corinth to be generous.  It is in our nature and our faith to be generous to others with our gratitude.  God wants us to be generous in our prayers of thankfulness.  
In Conclusion:
In conclusion, I'll say after practicing this 5 step happiness activity (with my one added step) for the past few weeks, I am finding more joy in small things.  I'm noticing when someone does something nice for me.  The exercise portion is putting fresh air in my lungs and freeing me from feeling closed in and tight.  
Perhaps  you will give it a go.  Would you come back and let me know how it went?  I would love to know.  You can reach me at wendi@loavesanddishes.net, you can message me through the Loaves and Dishes page on facebook (although, that never pings me the way it should and I don't get those as quickly) or you can leave a comment  here on the bottom of the page.  I'll answer you!  I promise!  
2 Corinthians 9:  6-15
Remember this: Whoever sows sparingly will also reap sparingly, and whoever sows generously will also reap generously. Each of you should give what you have decided in your heart to give, not reluctantly or under compulsion, for God loves a cheerful giver. And God is able to bless you abundantly, so that in all things at all times, having all that you need, you will abound in every good work.As it is written:
"They have freely scattered their gifts to the poor;
their righteousness endures forever."
Now he who supplies seed to the sower and bread for food will also supply and increase your store of seed and will enlarge the harvest of your righteousness.You will be enriched in every way so that you can be generous on every occasion, and through us your generosity will result in thanksgiving to God.
This service that you perform is not only supplying the needs of the Lord's people but is also overflowing in many expressions of thanks to God. Because of the service by which you have proved yourselves, others will praise God for the obedience that accompanies your confession of the gospel of Christ, and for your generosity in sharing with them and with everyone else. And in their prayers for you their hearts will go out to you, because of the surpassing grace God has given you. Thanks be to God for his indescribable gift