This simple side dish offers you a quick and easy 4 ingredient way to serve green beans without worrying about sauces and expensive ingredients. I'll teach you how to saute green beans the easy way!
These green beans are the easy one pot side dish hits the spot using only 4 ingredients and a single skillet! Plus you can spice it up any way you want once you learn how to saute green beans!
HERE'S A QUICK VIDEO OF WENDI SAUTEING SOME GREEN BEANS…
WHY THIS RECIPE WORKS
It's EASY
Can you say CHEAP?

It's also elegant

Fresh green beans are flavorful!

Lots of vitamins and nutrients

You can change things up by adding different herbs and spices!
HAVE YOU EVER ASKED YOURSELF, "CAN I JUST SAUTE GREEN BEANS?"
The answer is, of course you can! It's easy. Follow my simple instructions in the recipe card below and you'll be on your way to a delicious, satisfying, elegant and EASY side dish of sautéed green beans!
CAN I SAUTE GREEN BEANS WITHOUT BLANCHING THEM FIRST?
Yes, of course you can! That is how I am recommending that you saute green beans here.
You DO need to know that green beans cooked this way are a little more green tasting than you are probably used to.

If you want your beans to be more soft, add a ¼ cup of water to the hot skillet and then quickly cover the beans. They will steam and soften more quickly.
HOW DO YOU SAUTE GREEN BEANS ON THE STOVE?
Very easily! Here's the long and short of it,
Get your skillet out,

Put a little oil in the bottom.

Set the heat on medium.

Cut the ends off of the green beans and wash them.

Put them in the pan.

Sprinkle with salt and pepper and then cook them until they are as done as you like.
HOW LONG DOES IT TAKE TO SAUTE FRESH GREEN BEANS?
It takes about 5-10 minutes for a handful of green beans cooked over medium heat on the stove in a skillet.
HOW DO YOU PAN FRY GREEN BEANS?
This is so simple, you will just put your washed and trimmed green beans in the pan with a little oil, salt and pepper and cook for 5-10 minutes. Isn't that easy?
YOU CAN ADD SOME MORE FLAVOR TO YOUR SAUTEED GREEN BEANS BY ADDING:
OILS
I recommend in my recipe to use vegetable oil, but it is also fine if you use…
Peanut oil

Sesame oil

Butter

Olive oil

Coconut oil

Bacon fat

Lard

Canola Oil
Each of these will give your sautéed green beans a slightly different flavor. Choose what you like best!
SPICES AND HERBS
Add some of these herbs for a wonderful flavor combination with your sautéed green beans…
Garlic powder

Onion powder

Cayenne pepper

Red pepper flakes
SAUCES
Add some of these sauces while cooking or just after, they are delicious with sautéed green beans…
Soy Sauce

Braggs Aminos

Worcestershire Sauce

Ketchup

Appalachian Mountain Tiger Sauce

Yum Yum Shrimp Sauce
OTHER ADDS…
Some folks really enjoy some of these other items with their sautéed green beans…
Almonds – sprinkle on as the green beans finish cooking.
Carrots – cook right along with the green beans
Mushrooms – Add mushrooms (drained) along with the green beans while they cook.
Onions – Saute the onions in the oil first until you can nearly see through them and then add the green beans. YUM!
Bacon – fry some bacon in the pan before you cook the green beans. Remove the bacon, crumble it up. Cook the green beans in the bacon fat and then sprinkle the bacon over the top.
Garlic – mince the garlic and cook it in the oil before adding the green beans then cook them all together.
Parmesan Cheese – Sprinkle over the top when done cooking
SOME GREAT COMBINATIONS TO TRY…
Cook in bacon fat, add garlic, onions, mushrooms and top with bacon crumbles.

Add carrots while cooking and then top with parmesan cheese and have Yum Yum Shrimp Sauce on the side.

Enjoy and elegant meal with green beans, mushrooms with almonds sprinkled over the top.
PRO TIP:
As someone who has southern parents and who lives in the south, I want you to know that sautéed fresh green beans are NOT going to taste like typical cooked green beans that are cooked until very soft.
Fresh sautéed green beans have a more "GREEN" taste. If you are looking for Southern Style green beans then I recommend my slow cooker green beans with bacon or even my Carolina Christmas Beans.
If you are looking for how to cook canned green beans on the stove , then I have that covered too.
WHAT TO SERVE WITH sautéed GREEN BEANS
What not to serve with green beans is probably an easier question! lol.
If You Enjoyed This Green Bean Recipe, You Might Also Enjoy…
How to Cook Canned Green Beans
YA'LL HELP ME OUT NOW, YA HEAR?
Please leave me a 5 star 🌟🌟🌟🌟🌟 comment below in the comment section, all right? I would LOVE to know if you made this recipe or even if you are planning to! Of course, head on over to Pinterest, Facebook and Instagram and tag me with some photos of your creation!
I can't wait!
Ya'll know I love your comments!! ❤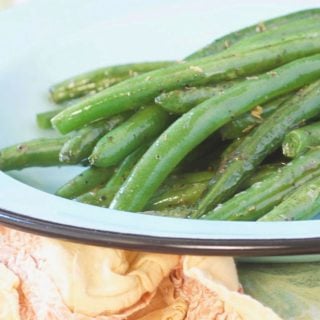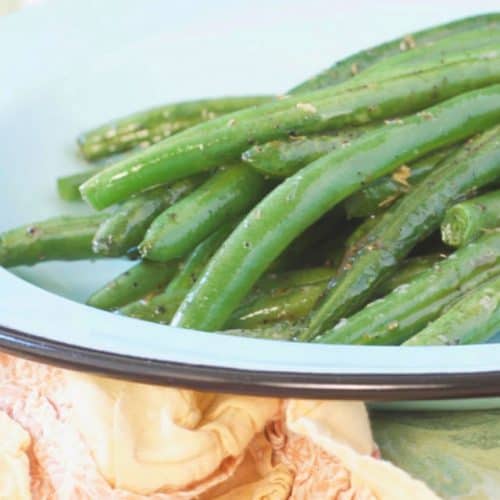 How to Saute Green Beans
This simple side dish offers you a quick and easy 4 ingredient way to serve green beans without worrying about sauces and expensive ingredients
Print
Pin
Rate
Ingredients
2

tbs

of vegetable oil

½

lb

of fresh green beans

1

tsp

kosher salt

½

tsp

of black pepper
Instructions
Heat the oil in a skillet over medium heat on the stovetop.

When the oil is shimmering in the pan and is hot add the green beans to the skillet.

Use kitchen tongs and move the green beans around frequently.

Sprinkle with the salt and pepper. Add more if needed. Cook for 5-10 minutes until soft per your own tastes
Notes
Make sure to remove the ends from the green beans and wash them well before using.

Add other ingredients as per your tastes to spice things up a bit: garlic, onion, almond slivers, cayenne pepper, parmesan cheese, ketchup, carrots, etc.

If the beans are still more crunchy than you would like at the end of 10 mins or if it seems that they are getting crispy but not cooked through, then add ¼ cup of water to the hot pan and place a lid on the top. The beans will steam and soften.

Consider some sauces with your green beans as well. Soy Sauce is a favorite as is Yum Yum Sauce.
Nutrition
Nutrition Facts
How to Saute Green Beans
Amount Per Serving
Calories 100
* Percent Daily Values are based on a 2000 calorie diet.
A VERSE TO SHARE
Do you ever feel absolutely exhausted? Sometimes, for no reason at all? Me too. It's important to remember that during those times we simply have to have faith. (PS, we also need to rest sometimes). I love Romans 8 for this reason. Even in my groaning, the spirit is there. Hallelujah.
Romans 8:26-27
In the same way, the Spirit helps us in our weakness. We do not know what we ought to pray for, but the Spirit himself intercedes for us through wordless groans.And he who searches our hearts knows the mind of the Spirit, because the Spirit intercedes for God's people in accordance with the will of God