So – as I had told you a few weeks ago – my friend brought me a BUNCH of Bell Peppers and hot peppers! They are beautiful!  I have enjoyed just looking at them.  Now, however, it is time to preserve them for some future date, because honestly, could anyone eat that many hot peppers in one week?  Well, my step-son probably could.  But, I digress.
Anyway, this post almost seems like a cheat because preserving those hot peppers is almost too easy. No joke.  You will laugh when you see how easy this is.  You will bonk yourself right on the forehead with one of those peppers if you have ever thrown one away.  You can preserve ANY AMOUNT of hot peppers this way.  Don't throw any more away – just follow these easy instructions.
One important instruction before we move on to the instructions. WEAR GLOVES WHEN WORKING WITH HOT PEPPERS. You do not want to spend the next few days with your hands feeling like they are larger than normal, throbbing and with a  heart beat in your pointer finger.
Thank you for visiting Loaves and dishes I hope its been a blessing to you. I hope you will come visit again really soon and bring some friends!
Now go and be fruitful, spicy and hot!
Let's eat ya'll.
Then God said, "Behold, I have given you every plant yielding seed that is on the surface of all the earth, and every tree which has fruit yielding seed; it shall be food for you; and to every beast of the earth and to every bird of the sky and to every thing that moves on the earth which has life, I have given every green plant for food"; and it was so~ Genesis 1: 29-30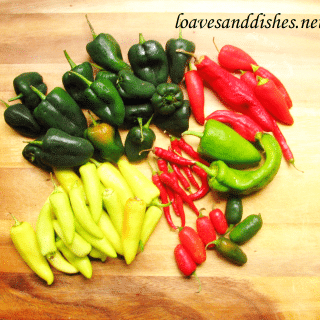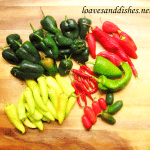 Preserving Peppers Part 2
How to preserve hot peppers
Ingredients
Any amount of hot peppers

A sharp knife

Quart

sized freezer bags

Sharpie pen
Instructions
Wash the peppers in cool water.

Allow peppers to dry thoroughly.

Cut the tops from the peppers

Remove ribs and seeds as much as possible

Label zip lock bags with name and date

Place in zip lock bags

Squeeze slightly to remove as much air as possible

Zip closed

Place in freezer and use in the next year
Nutrition Facts
Preserving Peppers Part 2
Amount Per Serving
Calories 100
* Percent Daily Values are based on a 2000 calorie diet.
And now for my faithful readers, a post blog dessert. You know how it is when you feel overwhelmed and overcome with the way things are and yet you feel powerless to change things? Yep. We all feel that way sometimes. I often feel that way as Christmas approaches.  The days are so short.  Darkness comes so fast and lasts so long.  Nothing is growing in the garden. People, friends, I get so rushed that I easily lose the meaning of the season. (Wait, this isn't feeling like dessert yet – you are bringing us down Wendi!  ).  Well, its going to get better – that is the point!  It is in those times that we have to remember that God is in there working on us.  We can't see it, but spring is just under the cold layer of dirt waiting to peek through. Most all creatures are patiently waiting out the cold winter in order to burst forth with new life.  I pray that as we enter into winter that you and I will use the time to dig deep, find new paths and re-energize ourselves.  With that – a picture of one of the all-time great symbols of spring and renewal.  A bunny held by my husband who we like to joke is the "puppy whisperer" (give him any crying puppy and the puppy will go instantly to sleep) – but apparently he works equally as well with bunnies.