Freezing fresh Peppers of any kind is EASY anda SUPER way to preserve the great taste and low prices of in season Peppers! Besides, when you know how to freeze Peppers, it only takes about 5 minutes!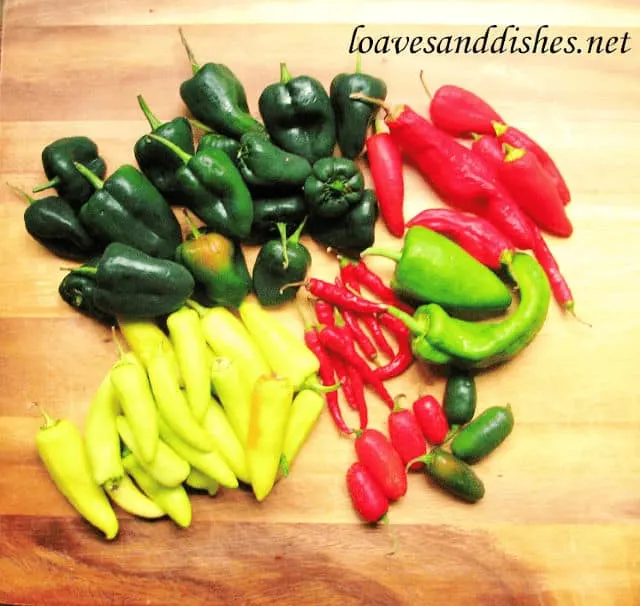 Why This Recipe Works…
Fast
Easy
Saves Money!
Can be used in all kinds of recipes!
Here's How It is Done
STEP 1. Wash the Peppers, dry very well. Cut into 1" chunks (remove seeds and ribs). Spread the peppers out so that they have plenty of room on a baking sheet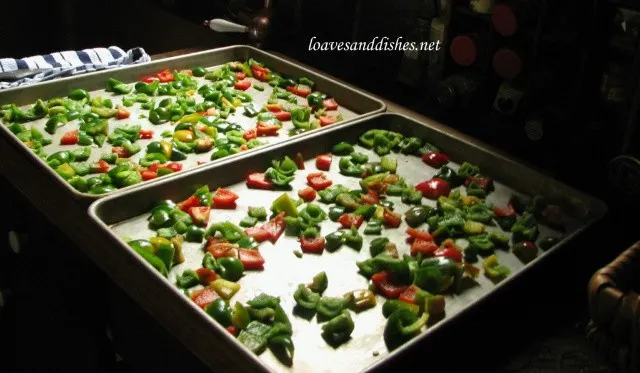 STEP 3. Place the tray into the freezer for at least 2 hours.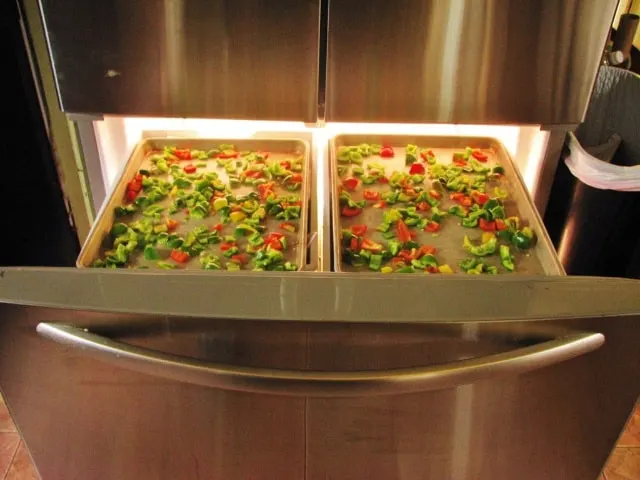 STEP 4. Remove and then measure out quantities for each bag. Label the bags before filling with Peppers for easy use.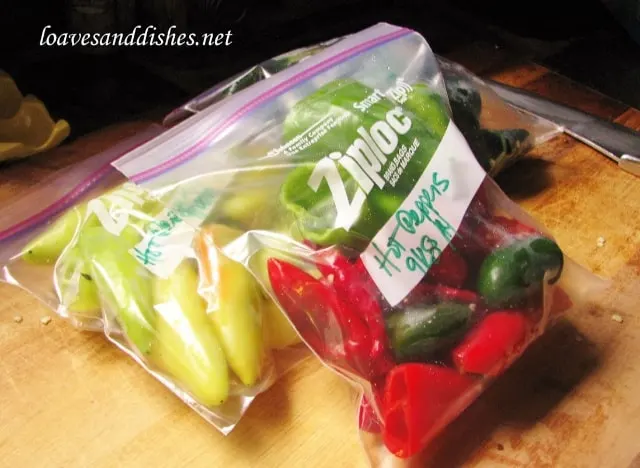 Do Peppers Freeze Well?
Yes, they do freeze well.
Can You Freeze Peppers?
Yes, you can freeze Peppers! It is so simple that you will be surprised! The easiest way to preserve peppers is to freeze them. Peppers are one of the few vegetables that can be frozen without having to do anything to first. So EASY and FAST!
Freeze Peppers How Long?
Keep frozen Peppers for 6 months to 1 year. Be sure to keep them as close to 32 degrees as possible. Squeeze as much air from the bag as possible before freezing.
How To Freeze ALL Peppers
Wash and cut the peppers into bite size pieces and place on a flat sheet pan. Place baking sheet into the freezer for at least 2 hours. Remove and place into labeled freezer bags. Remove as much air as possible from the freezer bag.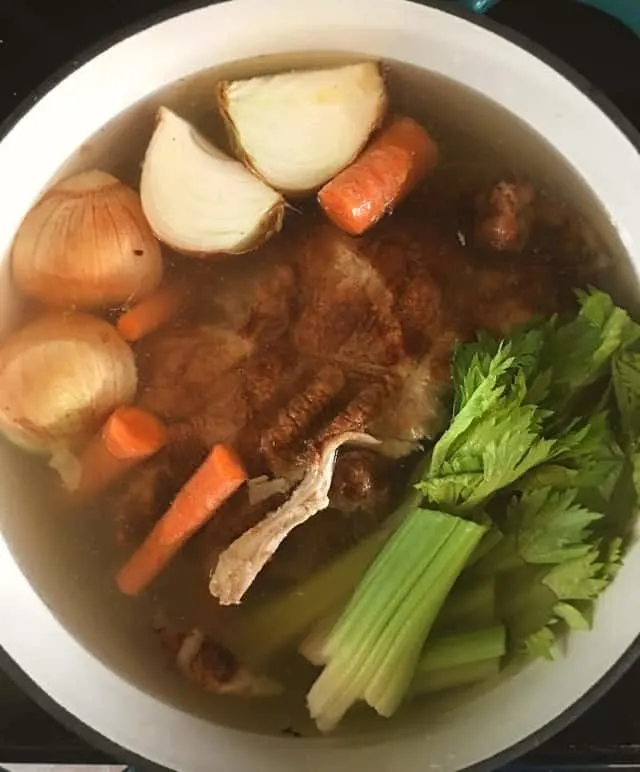 Frequently Asked Questions (FAQ's)
How Do I Freeze Peppers to Keep Them From Getting Mushy?
Freezing the Peppers in individual pieces will help to keep them from becoming overly mushy. However, all frozen veggies do become at least a little mushy after freezing and you will want to use in cooked items.
Do I Need To Wash Peppers Before Freezing Them?
Unless they are unusually dirty, a rinse should be sufficient.
Do I Need To Thaw Peppers Before Using Them?
No, you don't need to thaw Peppers before using them. You can add them directly to the dish you are cooking and they will cook right up!

Add them to baked casseroles, soups and stir fries!
Can You Just Eat Frozen Peppers?
Sure you can! You'll just need to remember that thawed peppers will be a little mushy. It's is a great cold treat on a hot day, especially when dipped in veggie dip or ranch dressing!
How Do You Thaw Them?
There's no need to thaw them before using in your recipe, but if you want to thaw them, run cool water over them for a minute or two. If you put the bag that they are frozen into the fridge, they will also thaw. You will notice a lot of liquid in the bag. No need to use this liquid in your recipe.
Can Frozen Peppers Be Substituted For Fresh?
Yes, you can substitute for fresh in most cooking applications . You won't want to use them in salads or anything where you would use fresh raw veggies.
Does Freezing Peppers Affect the Taste?
Freezing Peppers does not affect the taste but does affect the texture. They become slightly mushy after freezing as do all veggies. It is best to use them in baked and cooked dishes.
How To Know If Frozen Peppers are Bad
If you notice….
The Peppers appears encased in ice crystals or frost

If very light colored and dry

If it has been in the freezer longer than 6 months.

You note a lot of air in the package.
What's the Best Way to Freeze Peppers?
Simply follow the instructions listed below and you'll have the very best method.

Be sure to select ripe, perfect fruit for freezing. The quality of what you freeze will be reflected in the final product you have at the end.

It might be more information than you ever wanted to know, but the

USDA

can tell you all you want to know!
Tips and Tricks for Freezing Peppers
This recipe will work for ANY amount of peppers you want to freeze.

The most important instruction is to spread the peppers out so that they have enough space between them that they won't stick together.

Best uses for these peppers will be stir fry, baking, and casseroles.
PRO TIP: Put as many of the frozen pieces as you want in a large gallon size ziploc bag and just use the amount you need each time, reseal the bag and save it for later.
PRO TIP: For most peppers you will want to use gloves when handling. Do NOT EVER wipe your eyes while handling peppers.
Here's a great way to use FRESH peppers: How to Cut Peppers for Kabobs
If You Want To Know More About Freezing Other Foods, Check Out….
Hey, Ya'll, Help Me Out, OK?
Leave me a 5 STAR comment in the comment section below. This helps other people to find recipes on Loaves and Dishes!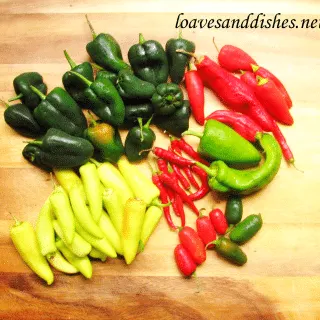 How to Freeze ALL Peppers
This is the recipe for how to freeze any pepper at all and any quantity of pepper.
Print
Pin
Rate
Instructions
Wash the peppers in cool water.

Allow peppers to dry thoroughly.

Cut the tops from the peppers

Remove ribs and seeds as much as possible

Label zip lock bags with name and date

Place in zip lock bags

Squeeze slightly to remove as much air as possible

Zip closed

Place in freezer and use in the next year
Notes
This recipe works with any kind of pepper
Do NOT EVER rub your eyes while working with peppers.
You might want to wear gloves while doing this job.
Place the frozen peppers together in a gallon size bag and then just use what you want for your recipe from the bag, reseal it and place it back in the freezer.
Nutrition
Nutrition Facts
How to Freeze ALL Peppers
Amount Per Serving
Calories 8
Calories from Fat 9
% Daily Value*
Fat 1g2%
Sodium 1mg0%
Potassium 66mg2%
Carbohydrates 2g1%
Protein 1g2%
Vitamin A 140IU3%
Vitamin C 30mg36%
Calcium 4mg0%
Iron 1mg6%
* Percent Daily Values are based on a 2000 calorie diet.
***This post originally appeared on the pages of Loaves and Dishes on October 14, 2014 and has been updated with "why this recipe works", step by step instructions, frequently asked questions, video, resized photos, updated recipe instructions, recipe notes, nutrition information, equipment information, and superfluous information has been removed***
A VERSE TO SHARE
What does this verse mean to you? Do you sense that God wants us to take care of the earth he has given us? I mean, He asks us to take care of other things He has given us, why not the earth?
Genesis 1: 29-30
Then God said, "Behold, I have given you every plant yielding seed that is on the surface of all the earth, and every tree which has fruit yielding seed; it shall be food for you; and to every beast of the earth and to every bird of the sky and to everything that moves on the earth which has life, I have given every green plant for food"; and it was so~