Welcome to Loaves and Dishes hungry people! Today's "Meatless Monday" dish is so satisfying that you won't even notice the missing meat in the Spinach Cheese Tortellini ! This dish features Creamy Cheese Tortellini with beautiful bright green pieces of spinach against the velvety smooth tomato sauce – it is OH SO DELICIOUS!!! I'm drooling just thinking about it.
If someone in your home is the type to holler "WHERE'S THE MEAT???" this pairs nicely with an Italian sausage or Kielbasa – and that is easily cooked up in a separate pan. But I challenge you – try this on your meat lover and just see if they miss the meat? I bet they won't.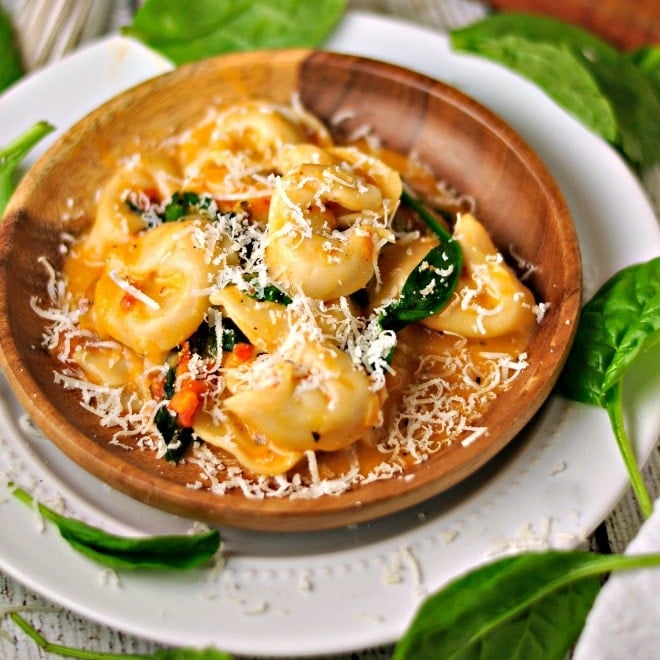 This is a recipe that I created on my own based on my own spaghetti sauce adapted for the cheese tortellini. For 7 years I was a Lacto-Ovo Vegetarian (Ate cheese and eggs along with my veggies – but not seafood, chicken, beef, pork, etc) and learned how to cook many meals like this that are totally satisfying.
Regarding the tortellini, this recipe will work with any that you can find. I have made it with tortellini that is in the box in the pasta section of the store, frozen and fresh. For these pictures, I used the frozen tortellini that you can find in the freezer section of the store. I don't have a preference concerning types of tortellini – just pick the best you can find and follow the package directions. If you know how to make your own – bless you! This is something I plan to learn, but haven't yet. When I do – I'll share the knowledge! J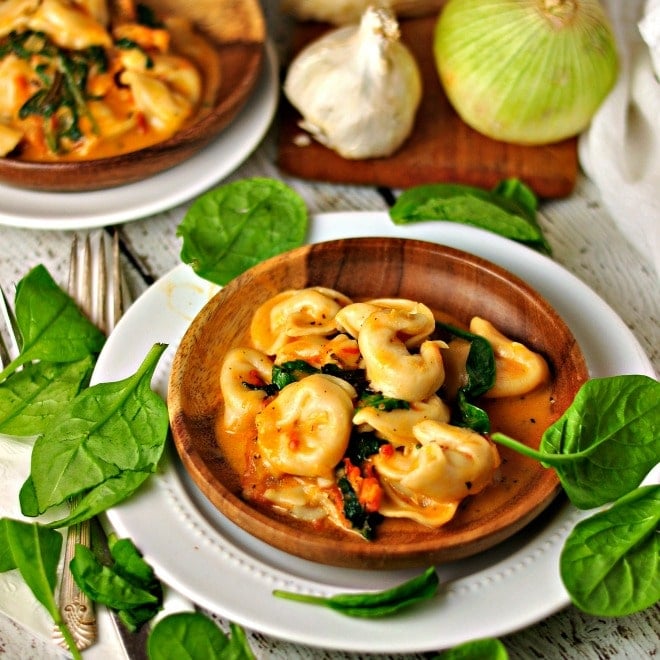 Don't forget to subscribe to Loaves and Dishes so that I can send you an email notice when the next recipe posts. I PROMISE to never give (or sell) your email address to anyone else – and I PROMISE not to bug you to death!
Serving suggestions for Spinach Cheese Tortellini
I like to serve this Creamy Spinach Cheese Tortellini with a simple salad and some crusty bread. This is also terrific with some roasted broccoli or cauliflower. As mentioned above, if meat is a necessity at your home, then an Italian sausage works perfectly with this dish.
Now I ask you, Make Dinner, Not War.
For if you forgive men when they sin against you, your heavenly Father will also forgive you. 15 But if you do not forgive men their sins, your Father will not forgive your sins. ~ Matthew 6: 14 and 15.
Thank you so much for visiting, please come again!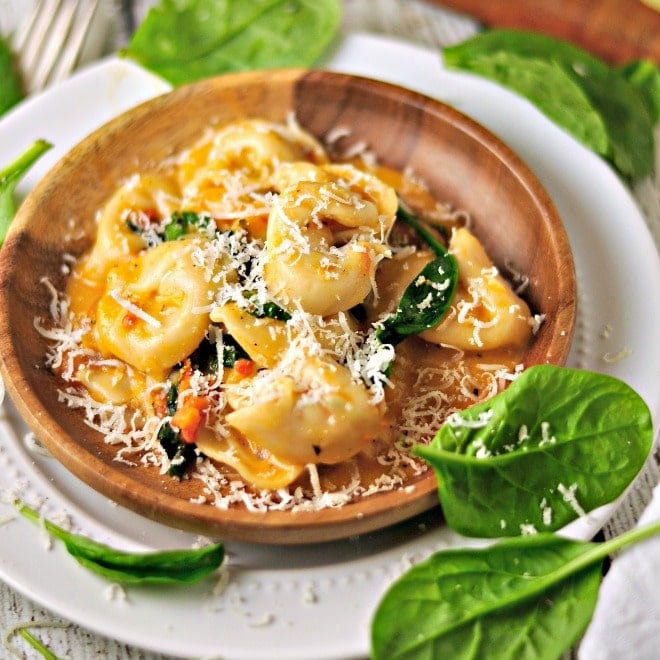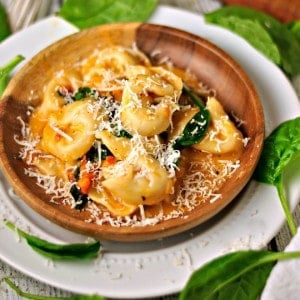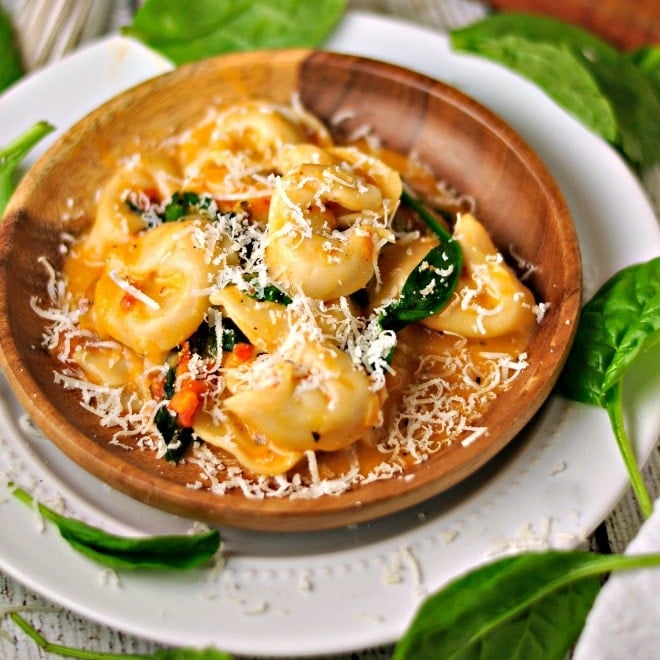 Spinach Cheese Tortellini
Easy weeknight meal that the family will love.
Print
Pin
Rate
Ingredients
1

package of cheese tortellini

dried, frozen or fresh – prepare per package instructions

2

tbs

olive oil

2

tbs

butter

1

small onion – diced

2

cloves

garlic – minced

1

large can of crushed tomato

4

cups

fresh spinach

Pepper and Salt to taste

1

tsp

garlic powder

1

tsp

onion powder

¼

tsp

red pepper flakes

1

tsp

thyme

1

tsp

oregano

1

tsp

cumin

1

tsp

dried basil

2

tsp

raw sugar

2

Tbs

flour

¾

C

milk

¾

cup

heavy cream

¼

c

Parmesan Cheese – grated

fresh is best. Plus more to taste.
Instructions
Prepare tortellini per package instructions.

In a large stainless steel pan, heat onions in olive oil and butter over medium heat until onions are soft and translucent (about 3-4 minutes). Add the garlic and allow to cook x 1 minutes. Add the tomatoes (juice and all), salt and pepper, garlic powder, onion powder, red pepper flakes, thyme, oregano, cumin and dried basil and raw sugar and allow to simmer for 5 minutes. Add spinach leaves all at once and place lid on the pan so that spinach can wilt. Stir occasionally until leaves are wilted. If tomato mixture becomes to dry – you can add water ¼ cup at a time as needed to wilt the spinach. Continue to allow the tomato mixture to simmer.

Once the spinach is wilted, in a small bowl, mix flour, milk and cream together and whisk together with a fork or a whisk. Once well blended, add to the tomato/spinach mixture. Add the Parmesan Cheese.

Using a slotted spoon, remove the tortellini from its cooking water and place into the tomato mixture. Gently mix with a wooden spoon being careful not to tear up the tortellini. Heat on stove top until all is heated through. Serve immediately. Garnish with parmesan cheese and fresh basil
Nutrition
Nutrition Facts
Spinach Cheese Tortellini
Amount Per Serving
Calories 330
* Percent Daily Values are based on a 2000 calorie diet.