Sometimes you make a pie because you have a good reason and sometimes the good reason is that your sweet tooth will soon devour your tongue if you don't feed it. Who needs an excuse to eat pie, anyway? No one we want to be friends with, right? That is especially true with Chocolate Chess Pie.
My friend Olivia, agent of all things truly southern asked for a simple, easy Chocolate Chess Pie recipe and also a Lemon Chess Pie recipe (you can find it HERE). Here is a Plain Chess Pie. So here you go Olivia, you probably have the ingredients in your cupboard and fridge right now. Go see!
The pie in the photo ended up being a gift and therefore – no photos of the inside – but I promise, it is DELICIOUS! Chocolatey. Smooth. And every other flattering adjective that you can ascribe to chocolate pie. The flavor here is much enhanced by the addition of espresso powder (see the tips and tricks).
This recipe is adapted from the chocolate chess pie in "Southern Pies: A Gracious Plenty" by Nancy McDermott. I think I've told you before that this is my very favorite pie book. The photos in the cookbook are LOVELY. The recipes are on point. If you want your own copy you can click the photo below to check it out on Amazon. (affiliate link)
If I went in your kitchen and looked at your cookbooks, how would I know which one is your favorite? Is the binding broken and is there stuff spilled on the pages? Are notes written in every margin? If so, that book is WELL LOVED! That is what my pie book looks like!
TRY THESE OTHER TYPES OF CHESS PIE!
THE RECIPE FOR CHOCOLATE CHESS PIE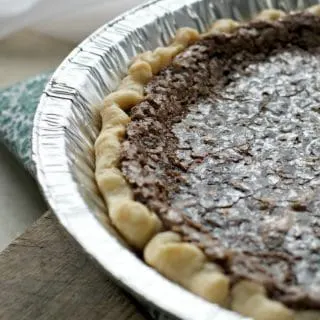 CHOCOLATE CHESS PIE
This old fashioned chocolate chess pie is creamy delicious and perfect for any day of the week.
Print
Pin
Rate
Ingredients
1

refrigerated pie crust

½

Cup

+ 1 Tbs unsalted sweet cream butter

3

Tbs

unsweetened cocoa powder

1

Cup

granulated white sugar

2

large eggs - beaten well

1

tsp

real vanilla extract

½

tsp

real almond extract

1

tsp

espresso powder

see tips and tricks
Instructions
Preheat the oven to 325.

Line a 9 inch pie pan with the refrigerated pie crust and crimp the edges

Keep refrigerated until ready to use for recipe

In a small sauce pan combine the butter and cocoa over medium heat on the stovetop.

Heat stirring often until the butter is melted and the chocolate has mixed well (about 5 minutes).

While this is heating, mix together in a medium sized bowl the sugar, eggs, vanilla, almond and espresso powder.

Once the butter is melted, temper the egg mix in the usual method (see tips and tricks) and then combine everything until a smooth filling is developed.

Pour this filling into the pie crust and place on a rack at the bottom of the oven.

Bake for 35-45 minutes until the center of the pie is slightly wiggly when jiggled. The pie will be puffed.

Remove the pie from the oven and place on a cooling rack and let cool for at least 15 minutes. Serve warm or at room temp. Best with an exceptional ice cream.
Notes
For this pie, make sure to get the correct kind of chocolate as listed in the ingredients.
Mix eggs well.
Never mix eggs into hot ingredients, always temper first.
Nutrition
Nutrition Facts
CHOCOLATE CHESS PIE
Amount Per Serving
Calories 220
* Percent Daily Values are based on a 2000 calorie diet.
TIPS AND TRICKS FOR CHOCOLATE CHESS PIE
I said before that the ingredients are easy and inexpensive. I forget that many of you probably don't keep espresso powder. You should. I've never ever made espresso with it. I ALWAYS put a tsp full in any chocolate recipe I make. The espresso enhances the flavor of chocolate. You will never taste the espresso at all. Just try spooning in a small amount to any chocolate recipe. Espresso powder and chocolate go together like peas and carrots (said in my best Forrest Gump voice). I bought mine at Williams Sonoma and it keeps forever. The last bottle I had came from Lowes Foods – instant espresso – which worked fine. Here is a link to the King Arthur Flour Brand you can find on Amazon – just click the picture (affiliate link). (PS, I trust ANYTHING made by King Arthur – they are just that good. And they aren't paying me to say that either).

It is IMPORTANT that when you mix the eggs with the melted butter that you temper the eggs. This means that the eggs are cold and the butter is hot. If you just slam the eggs into the butter, they will cook and give you something like scrambled egg floaties in your butter. Ewww. Not what you are going for. Instead, take a tbs full of butter and put it in the eggs while vigorously stirring the eggs, then another, then another and then another. Stir continuously as you mix. Keep repeating this until you have added at least ½ cup – then it is safe to put the eggs into your butter mix. Now, you have just tempered eggs!! See, that was easy!

The jiggle test. This pie, like many others, is done when it is no longer sloppy in the middle. You check by giving the pie a little shake. If the center is sloppy loose, then it isn't done yet. When the center is just a little wiggly jiggly, it is done. Pull it out and let it cool. It will finishing firming up as it sits. Cooking almost never stops as soon as you pull something from the oven – that is something good to remember for everything you cook!

Like many pies, it is probably a good idea to place a baking sheet on the rack below this one. I didn't have any trouble with it running over, but if you use a pie plate with shorter walls, it could. No one wants a messy oven. So, be safe.
A VERSE TO SHARE
This past week I heard the most bizarre conversation coming from the booth behind me in a restaurant. Admittedly, I shouldn't have been eavesdropping. However, the people were talking loudly, I do not think they intended to keep their conversation private.
They were discussing what they had learned at church about dealing with their enemies. All three agreed that they had a hard time with their enemies. Admitting even that most of their enemies were relatives.
Wow. Enemies is a strong word.
Who qualifies as an enemy? I don't know if people do or not. If you have a lot of human enemies, you should probably take some time to evaluate your life. However, many of us suffer from a common enemy.
We have an enemy in our thoughts and beliefs that steals our joy. That belief is self loathing. Self loathing and shame is said to be the basis of depression. Self loathing pulls us down to very low depths. I'm going to tell you the truth – right here – if you participate in self loathing and shame, then you are being deceived and it is stopping you from doing what you are called to do.
Think about it.
The way to deal with self loathing and shame is to talk to someone. Once you shine light on whatever you are suffering from, you will be set free. Perhaps you have done something you shouldn't? I'm not saying that you shouldn't be sorry for whatever it is – you should. However, hating yourself isn't going to help anyone. In fact, your self-loathing might just be a way to focus the attention on yourself rather than moving forward to make amends. Not a good thing.
Instead, fight this enemy (and all enemies) with LIGHT. Light fights darkness. Adding more negative thinking on top of darkness doesn't fight it – it adds to it.
Pull out your bible. Read. Pray. Find other believers and talk to them. Take action. When you give to others you will find that you think LESS about the negatives!
You are a child of God my friend. That is something to think about with some seriousness. God doesn't make junk. You are carefully and wonderfully made. If you believe anything else, then THAT is the enemy and you should cast it out.
John 1: 1-14
In the beginning was the Word, and the Word was with God, and the Word was God. He was with God in the beginning. Through him all things were made; without him nothing was made that has been made. In him was life, and that life was the light of all mankind. The light shines in the darkness, and the darkness has not overcome it.
There was a man sent from God whose name was John. He came as a witness to testify concerning that light, so that through him all might believe. He himself was not the light; he came only as a witness to the light.
The true light that gives light to everyone was coming into the world. He was in the world, and though the world was made through him, the world did not recognize him. He came to that which was his own, but his own did not receive him. Yet to all who did receive him, to those who believed in his name, he gave the right to become children of God- children born not of natural descent, nor of human decision or a husband's will, but born of God.
The Word became flesh and made his dwelling among us. We have seen his glory, the glory of the one and only Son, who came from the Father, full of grace and truth.