It happens to me and I know it happens to you too. You go to the pantry to pick up an item that certainly must be there only to find it isn't? ARRRGGHH! That is how you learn to make EASY PIZZA SAUCE FROM SCRATCH.
It isn't even difficult. In fact, it is EASY, saves a TON of money and TASTES better! What's not to love? Those are all of my qualifications for my favorite recipes!
WHAT IS IN AN EASY PIZZA SAUCE FROM SCRATCH?
Pizza sauce is made of just a few ingredients that give your pizza that wonderful saucy flavor! It is made out of…
Tomato Paste

Spices

Salt and pepper

Lemon Juice

Anchovy Paste

Water
HOW CAN I MAKE EASY PIZZA SAUCE FROM SCRATCH AT HOME?
Making pizza sauce at home is as easy as mixing a few ingredients together with a whisk. Just follow the recipe at the bottom of this post and you will be in business.
WHAT IS THE DIFFERENCE BETWEEN PIZZA SAUCE AND SPAGHETTI SAUCE?
Spaghetti Sauce and Pizza Sauce are two different animals although both are simple to make from scratch at home. You can find a terrific and simple Spaghetti Sauce HERE.
Spaghetti Sauce usually starts with crushed tomatoes and then you add in some tomato paste, spices, salt, pepper and then simmer for a while. You apply spaghetti sauce to the noodles once everything is cooked and hot.
Pizza Sauce starts with Tomato paste which is much thicker and then you thin it down slightly with some water. Pizza sauce is put on the pizza cold and it heats through in the oven as the pizza cooks.
HOW DO YOU MAKE EASY PIZZA SAUCE FROM SCRATCH?
You make pizza sauce from scratch by using:
Tomato Paste

Spices

Salt and pepper

Lemon Juice

Anchovy Paste

Water
KITCHEN TOOLS I USE TO MAKE EASY PIZZA SAUCE FROM SCRATCH
A bowl and a whisk are all that is needed to make terrific pizza sauce from scratch. Here is a very good whisk, if you don't have one (this photo is an affiliate link that takes you to Amazon so that you can compare prices of whisk and anything else you want to buy!).
IF YOU ENJOYED MAKING EASY PIZZA SAUCE FROM SCRATCH, YOU MIGHT ALSO ENJOY…
How to cook canned pinto beans
Weeknight Fast Chicken Alfredo
TIPS AND TRICKS FOR EASY PIZZA SAUCE FROM SCRATCH
You will find that tomato paste runs the gamut in price. I saw everything from 0.44c to $1.07 per 4 oz can. For pizza, I think it is fine to use the less expensive variety.

Regarding the herbs and spices. You can use Italian seasoning OR you can use a mix that you make yourself out of Oregano, basil, thyme, rosemary, onion and garlic powders. I used Italian because I had it on hand.

Make the sauce thinner if you prefer by adding more water

You can make the sauce thicker, if you prefer, by adding less water.

If you are a person who LOVES a lot of sauce, simply make a double batch and slather it on.

Perhaps a lot of sauce is not for you. In that case, just use less and refrigerate the rest. This sauce should last in the fridge at least a week.
I HOPE YOU WILL SIGN UP FOR THE NEWSLETTER
I hope you will sign up for the newsletter! There is a banner at the top of this post where you can do so. I PROMISE that I will not share your email with anyone. There is only one email per week (on Fridays), unless there is an urgent and pressing matter.
As a bonus, you will get a free ebook, "9 Immediate Steps to Kitchen Confidence" as well as the weekly newsletter which has the Hot Cooking Tip of the Week!
YA'LL, HELP ME OUT, OK?
Please leave me a 5 star comment below in the comment section, all right? I would LOVE to know if you made this recipe or even if you are planning to! Of course, tool on over to Pinterest, Facebook and Instagram and tag me with some photos of your creation!
I can't wait!
Ya'll know I love comments!! ❤
THE RECIPE FOR EASY PIZZA SAUCE FROM SCRATCH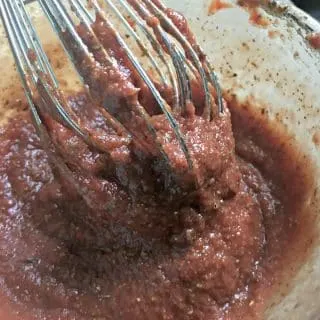 EASY PIZZA SAUCE FROM SCRATCH
This is a recipe for a simple recipe that is easy pizza sauce from scratch
Print
Pin
Rate
Ingredients
1 4

oz

can of Tomato Paste

½

Cup

water

1

Tbsp

Italian Spice

½

Tsp

Salt

½

tsp

pepper

1

tsp

lemon juice

4-6

inch

string of Anchovy Paste
Instructions
In a medium sized bowl, mix together all of the ingredients.

Taste the sauce and see if it needs more salt, if so, add some.

Spread directly onto the pizza crust and then add your toppings

Bake per your usual routine.
Notes
Simple recipe for easy pizza sauce from scratch
Nutrition
Nutrition Facts
EASY PIZZA SAUCE FROM SCRATCH
Amount Per Serving
Calories 300
* Percent Daily Values are based on a 2000 calorie diet.
A VERSE TO SHARE
This week I wanted to share with you something that has been helping me in my day to day. While I try to AVOID seeing God as a big Santa Claus wish granter, I know that it can sometimes seem that way with ever present requests for help.
Jesus himself even tells us that we only need to pray the Lord's Prayer because God already knows what we need and the contents of our heart. Think about that for a second. God already knows what we need and consequently, he also knows if we appreciate it or not.
That said, don't you think that God likes for us to be genuinely thankful? If you think about that for just a second, I believe it will lead you to be more thankful not only your day to day life but also in your minute to minute life.
FOR EXAMPLE…
For example, I ask God all the time to please make me an instrument of His Love. Please, God, help me to show kindness and love even to those people who irritate the living heck out of me.
Then, when I have encountered such a person and I have successfully managed my own emotions and put them first, what do I do? Here is where I have a tip and it certainly has helped me.
For the past few weeks, I have been allowing a second to just look heavenward and say, "Thank you God for helping me".
I'M FINDING…
I'm finding that the more that I remember to take a small second to just say, "Hey thanks God" or "THANK YOU JESUS!" then some things are becoming easier for me.
Try it and see what happens for you. If you want to share your results, I would love to hear back from you. You can email me at wendi(at sign)loavesanddishes.net