Thick, red, flavorful hearty spaghetti sauce is just exactly what most of us love! No more watery thin sauces when you know how to thicken spaghetti sauce!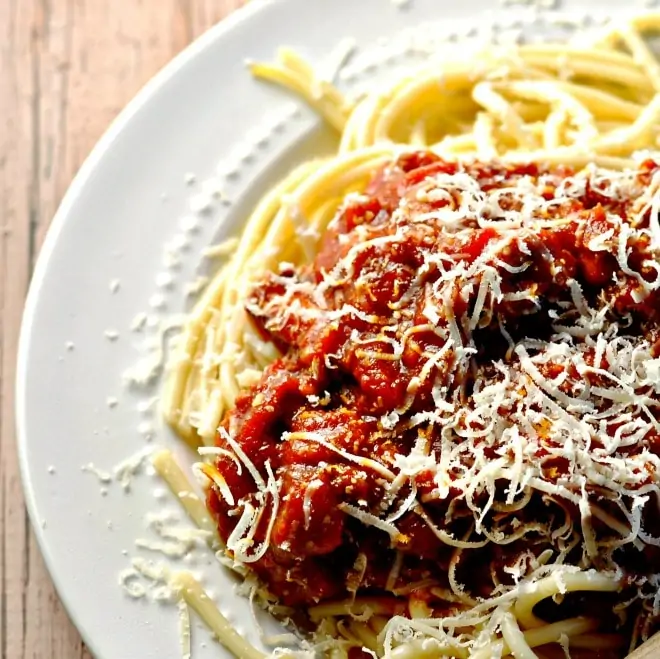 How To Make Thick Tomato Sauce
Despite our best efforts to make a thick lovely sauce, sometimes sauces turn out thin and disappointing.
I've had it happen. You have too. However, we don't have to simply serve up a wimpy weak sauce!
Here's several ways to thicken tomato sauce so that you'll serve up a tasty dinner today!
Here's What You'll Need For The Preferred Method…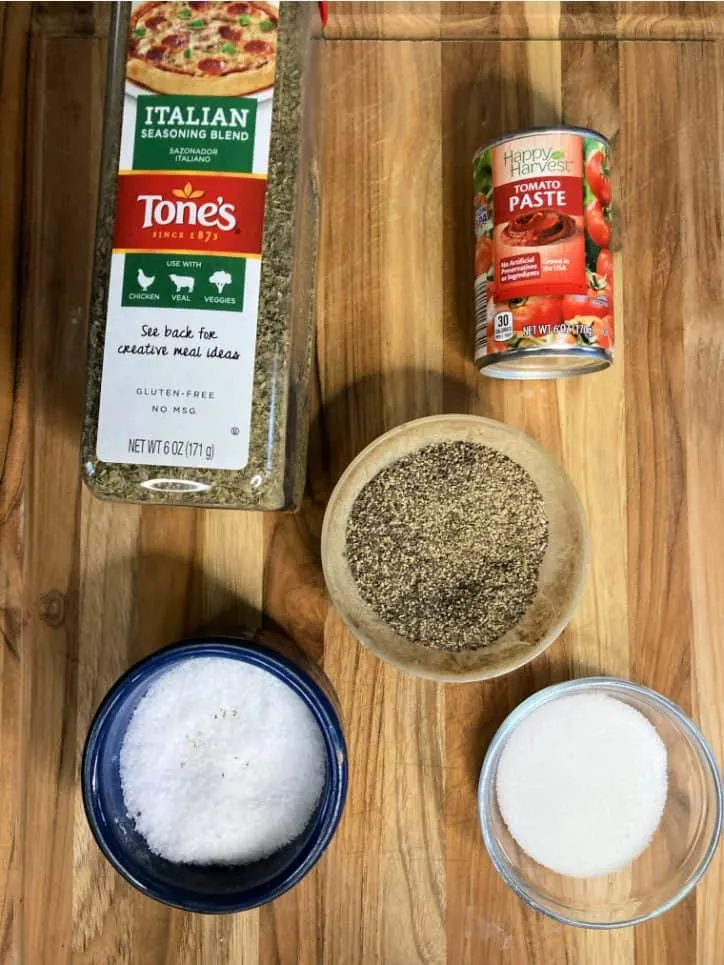 Tomato Paste – adds thickness, flavor and color. You'll need to add some more salt and sugar, depending on the flavors you like in your sauce.
Sugar – often, the tomato paste is a little over powering and you can soften it with a little sugar.
Seasonings – like Garlic Powder and Italian Seasonings. When adding the tomato paste, you'll be upsetting the delicate spice balance. You can fix that, no problem at all by adding more of the seasoning you prefer.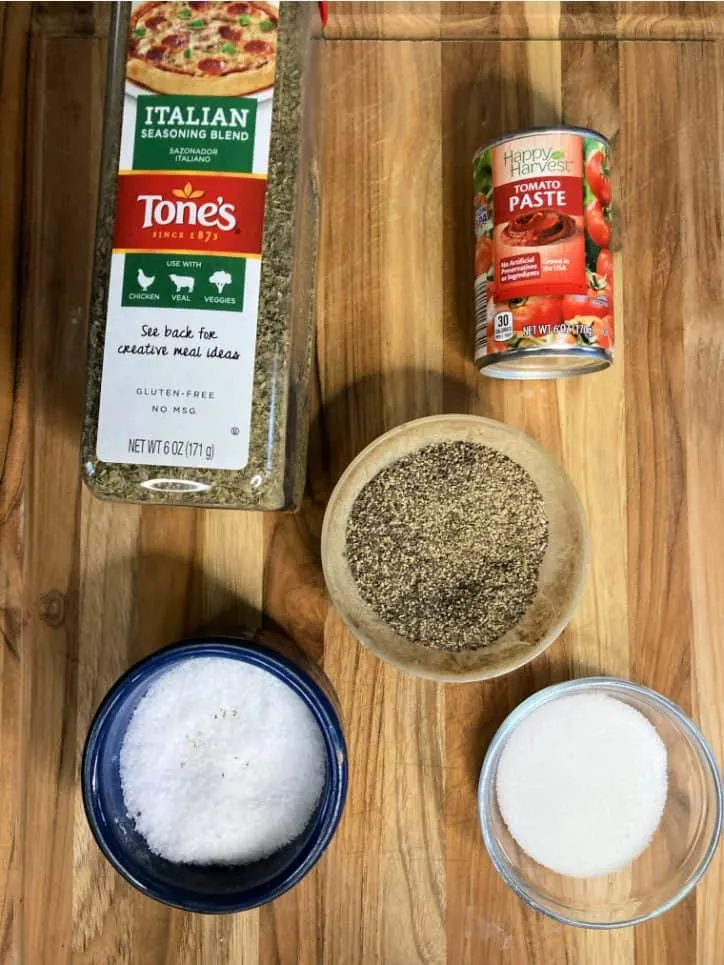 Its Easier Than You Think…
Adding tomato paste is an automatic thickener, but you'll find that the seasoning is off slightly and so, you'll have to make a few adjustments.
If you are concerned, then check out one of the other methods listed below.
Add a 4 oz can of tomato paste, stir well until fully incorporated.
Taste your sauce.
Add more sugar, garlic powder, salt, pepper and/or Italian Seasoning as needed until it tastes just like you think it should. See recipe below for suggested amounts.
Other Methods to Thicken Tomato Sauce
There are a number of ways to thicken your spaghetti sauce, no worries. I've listed the preferred method above and in the recipe card below.
However, there are other easy methods which are described here for you.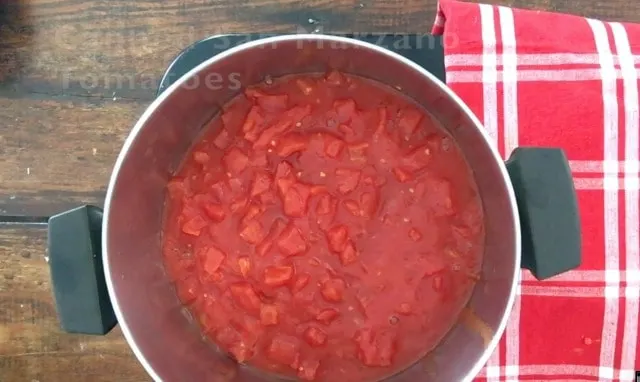 #1. Thicken Spaghetti Sauce Without Tomato Paste by Simmering.
While adding tomato paste will thicken the sauce and give it a rich deep red color, sometimes we just don't have tomato paste in the cupboard.
A thin spaghetti sauce is a sauce that has too much water and therefore an easy way (but sometimes longer way) is to simply SIMMER THE SAUCE.
To simmer a sauce, simply allow the sauce to heat on the stove top over medium low to medium heat. Eventually the sauce will give off enough of it's extra water and will become thicker.
This may take some time. How long it takes will depend upon how high of a temp you simmer, how thin the sauce is to begin with and how thick you want the final sauce to be.
#2. Thicken Your Spaghetti Sauce With Corn Starch.
Nearly any thin sauce can be thickened by using corn starch. It's like a miracle.
Corn starch does not add any unwanted flavors but may slightly alter the color of the sauce.
A corn starch thickener has a certain mouth feel that those with more delicate sensibilities may notice.
To thicken with cornstarch, simply add 2 heaping tablespoons of cornstarch to a small bowl and add 2 scant tablespoons of COOL water. Use a fork to mix (it will be hard to mix at first) until it loosens and begins to look like milk. Mix until there are no lumps.
Pour the water/cornstarch mix straightaway into your spaghetti sauce and then stir constantly for a minute or two. The thickening will happen within this timeframe.
Repeat until the sauce is as thick as you desire.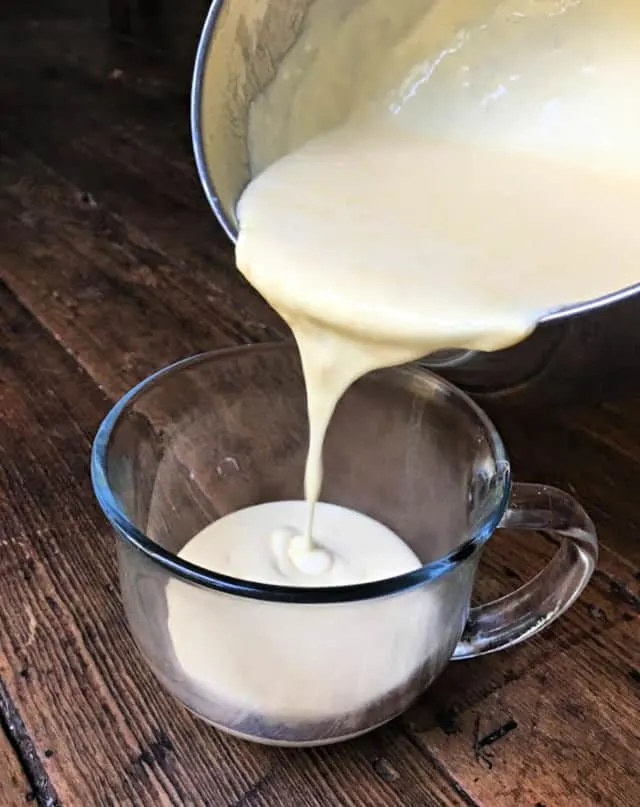 #3. Thicken With Cheese
I mean, you do know who you are asking, right? Of course I'm going to say to thicken anything with some cheese!
It's easy! Use grated parmesan (and actually, I prefer the kind in the green can for thickening). Start with 1/2 cup, stir it in and see where it is. You might need to add a little more.
#4. Thicken Spaghetti Sauce by Adding a Little Noodle Cooking Water
This one can be a little tricky. If your sauce is very slightly thin, you can try adding a half cup or so of your noodle cooking water.
The starch from the noodles acts as a thickener. Add this water, stir well and allow to simmer until thickened.
Only use this method if your sauce is very slightly too thin.
It's easy to cause your sauce to become WAY too thin using this method, so I really don't recommend it, but it IS one suggestion.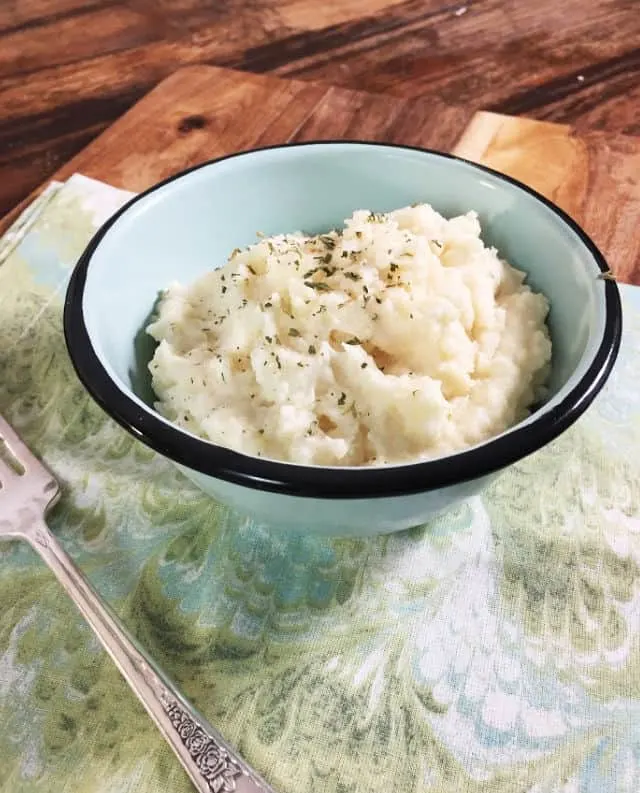 #5. Thicken Your Spaghetti Sauce Using Mashed Potatoes
Weird suggestion? Well, maybe, but sometimes we have to use what we have.
Unflavored mashed potatoes CAN be used to thicken a tomato sauce. The flavor will change slightly and you will need to add more seasonings and salt to your sauce.
Depending on how much thickening you need to do, start with 1/2 cup of mashed potatoes and you can add more from there.
That said, this IS one of the ways that a sneaky mom can get more veggies into her kids. You can also use cooked and mashed butternut squash, carrots or cauliflower.
#6. Use Flour To Thicken Your Spaghetti Sauce
You've heard that you can thicken sauces with flour, right? So, do you just dump some flour in there?
Ummmmmm…… no. Don't do that.
I mean, you CAN, but you won't end up with a thicker sauce, instead you'll end up with clumps of uncooked flour floating around in your sauce. Ewww.
To use flour to thicken your sauce, you'll need to
Melt 2-4 Tbs of butter in a different pan over medium heat on the stovetop.
Add the same amount of all-purpose flour and whisk these together.
Keep whisking until it forms a creamy and thick liquid.
Add this thickened liquid to your spaghetti sauce and mix well.
Allow to simmer for 5 minutes. Repeat if needed.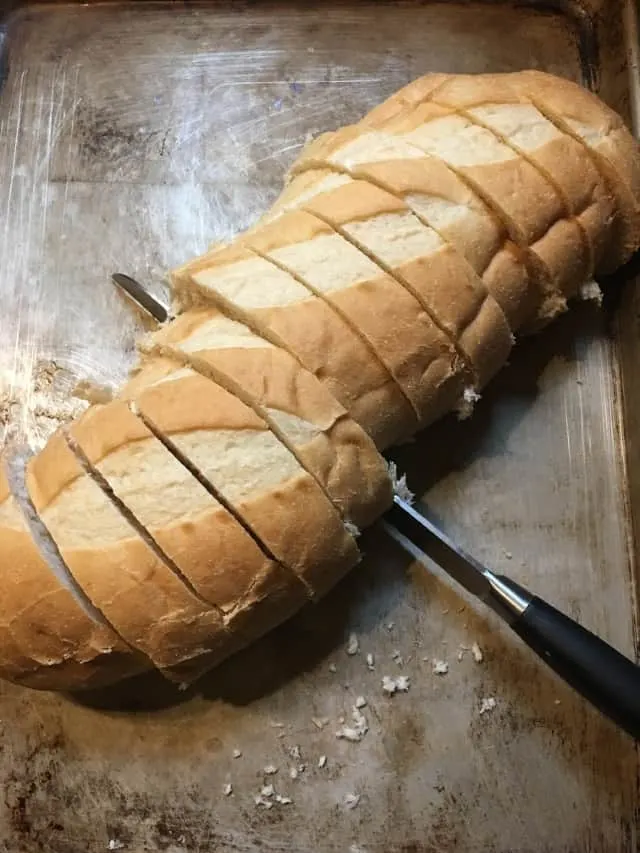 #7. Use Bread to Thicken Your Sauce
That sounds crazy, I know, but it works.
Cut the crust from two slices of white bread and cut the bread into 1″ squares.
Place the bread in a small bowl and add 1 cup of your spaghetti sauce liquid to the bread.
Allow to sit for 5 minutes. The bread will become goopy.
Add more of the liquid sauce to the bread and use a fork or whisk to stir together until the bread comes completely apart.
Add this to your sauce and simmer for 5 minutes.
#8. Add Arrowroot as a Thickener
To use arrowroot, mix 1 Tbs arrowroot powder with 1 Tbs cool water. Mix well and heat in a sauce pan over low heat to warm just a tiny bit.
Mix this into your spaghetti sauce and repeat until it is as thick as you prefer.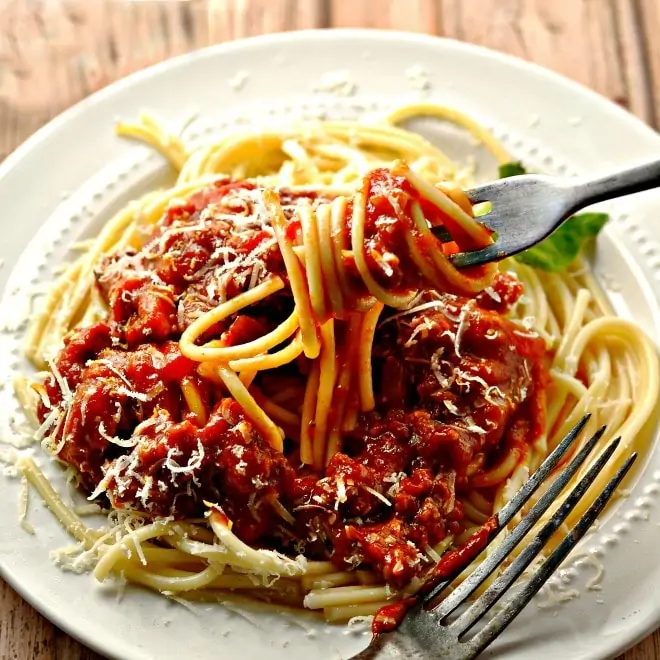 Frequently Asked Questions (FAQ's)
How Do I Make Spaghetti Sauce That Isn't So Watery?
If you will use my homemade tomato sauce recipe, you'll never have watery spaghetti sauce. If you are making yours from fresh tomato, drain the tomatoes very well before starting. This will help.
How Do I Add Flour To Thicken My Sauce?
That's super easy to do! Look at the list above, it's number #6.
Does Spaghetti Sauce Need to Be Thick?
That all depends on how you prefer a sauce. At our house, yes, it better be thick. Some people prefer a thinner sauce. It's all up to you and what you prefer.
Can I Cook Spaghetti Sauce Too Long?
Well, yes, you can. If your sauce becomes so thick that it doesn't fall over the pasta nicely, then, it might be too thick.
No worries, you can thin it by adding some water and stirring well. Add water little by little until it is as thin as you prefer.
I followed the Ball Canning Book Recipe for Meat Sauce and it is WAY TOO THIN, What Can I Do?
This is one area where you will not want to use cornstarch. Instead, use clear jel (just like you would for some other canned recipes).
How Do I Thicken Spaghetti Sauce Quickly?
The fastest way to thicken your sauce is with cornstarch, see #1 in the list above. This is not my own preferred method, but if you need fast, then, that is the fastest way.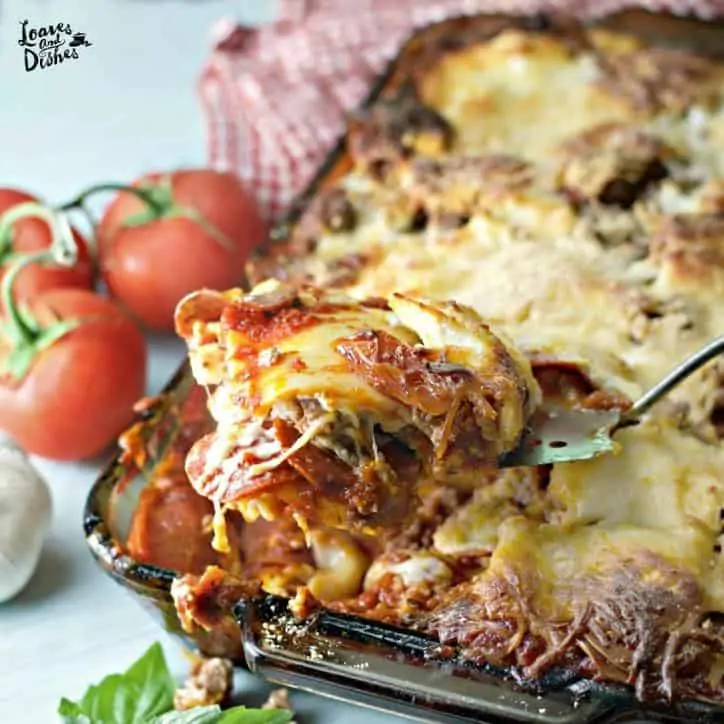 How To Thicken Spaghetti Sauce in a Crockpot
The best way to thicken tomato sauce in a crockpot is to use cornstarch. Why, you ask? Because in a crockpot, you don't have the ability to adjust the heat quickly and that is what it takes to do many of the other techniques.
Cornstarch will not affect the flavor of your sauce. Simply follow the instructions for mixing a little cornstarch and cool water together as stated in #2 in the list above.
Add the cornstarch/water mix, stir and replace the cover for about 5 minutes. Stir again and you may need to repeat if your sauce started out very watery.
If You Enjoyed This Recipe, You Might Enjoy These Other Tomato Sauces…
Creamy Cheesy Ham Tomato Sauce
Watch How To Thicken Spaghetti Sauce
Hey, Would You Help Me Out?
Please leave a 5 STAR comment in the comment section below. This helps others to find the recipes at Loaves and Dishes. Thanks!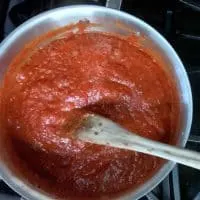 How To Thicken Spaghetti Sauce
Thick, red, flavorful hearty spaghetti sauce is just exactly what most of us love! No more watery thin sauces when you know how to thicken spaghetti sauce!
Print
Pin
Rate
Ingredients
4

oz

tomato paste

1/2

tsp

salt

kosher

1/2

tsp

pepper

1

tsp

sugar

1

Tbs

Italian Seasoning
Instructions
Heat your thin spaghetti sauce on the stove until simmering. Add 4 oz of tomato paste. Stir well until incorporated.

Add the salt, pepper, sugar and Italian seasoning. Stir well, allow to simmer for 5 minutes. Taste and add more seasonings as needed.
Notes
There are a number of other methods for thickening spaghetti sauce. This is just oe example. Check out the other methods listed on this article.
Depending on the amount of sauce you have, you may need to double this recipe.
The longer you simmer the sauce, the more thick it will become.
The tomato paste adds a lovely deep rich color.
Nutrition
Nutrition Facts
How To Thicken Spaghetti Sauce
Amount Per Serving
Calories 31
Calories from Fat 9
% Daily Value*
Fat 1g2%
Sodium 515mg21%
Potassium 307mg9%
Carbohydrates 7g2%
Protein 1g2%
Vitamin A 455IU9%
Vitamin C 6mg7%
Calcium 31mg3%
Iron 1mg6%
* Percent Daily Values are based on a 2000 calorie diet.
This just hit my heart today and I thought I would share it with you.
Psalm 139:14
I praise you, for I am fearfully and wonderfully made. Wonderful are your works; my soul knows it very well