Jump to Recipe
Trust me, this is the southern chicken salad recipe of champions! Not only is it creamy, luscious, tangy, flavorful, slightly sweet and just the right kind of crunchy, it is ridiculously easy to boot. This Southern Chicken Salad Recipe is going to become your "go to" chicken salad recipe for all time. I know it's mine!
Amazingly, you will be eating this delectable southern chicken salad in less than 15 minutes and it will be hard to make it out of the house if you are going to take it to a potluck. You better double the recipe just in case.
WHY THIS SOUTHERN CHICKEN SALAD RECIPE WORKS.
It's easy to assemble.
Use any leftover chicken you have on hand OR use rotisserie chicken, it's delicious!
The other ingredients you probably have laying around the pantry.
It's the perfect balance of sweet, savory, creamy and tangy.
WHAT DO I PUT IN A SOUTHERN CHICKEN SALAD RECIPE?
The following elements make for a perfect delicious easy rotisserie chicken salad or southern chicken salad recipe.
The list of ingredients for any chicken salad is as long as you like, but if you follow these general guidelines, you'll be doing great with your easy rotisserie chicken salad! I would love to hear about your favorite ingredients for easy rotisserie chicken salad! Leave me a comment in the comment section (end of the post) and tell me all about what YOU put in easy rotisserie chicken salad!
1. Flavorful SOUTHERN Chicken! (pick one)
Home Roasted Chicken

Store Bought Rotisserie Chicken

Poached chicken breast
2. Creaminess (pick one or mix together)
Mayo – homemade or store bought

Yogurt – a thick plain greek yogurt is best OR you can mix with regular mayo for a slightly lighter chicken salad sandwich.
3. Sweetness (pick one or two)
Grapes

Kiwi

Pineapple

Apples

Raisins

Craisins
4. Tartness (sour) (pick one)
Lemon juice

Splash of vinegar

Pickle relish (sweet and sour)
5. Crunch (pick one or two)
Pecans

Almonds

Celery

Green onion

Crunchy bacon
6. Seasoning (at least use salt and pepper but you can pick a few others as well)
Salt and pepper

Garlic powder

Onion Powder

Cumin Powder

Curry Powder

Hidden Valley Ranch Seasoning
HOW CAN I PREPARE A SOUTHERN CHICKEN SALAD RECIPE?
No worries, just follow the basic rules above, gently mix your easy rotisserie chicken salad and you'll be fine. If you aren't sure, follow my recipe below for southern chicken salad recipe and if there is something you don't like, simply substitute something you DO like in the same category.
Mix it all together in the same bowl and you'll have a winning easy rotisserie chicken salad on your hands!
HERE ARE MY OWN FAVORITE MIXING BOWLS
(affiliate link – you can click the photo below to go straight through to amazon to check it out). These are lightweight, so they don't hurt my wrists. They stack beautifully and clean up easily. I used to LOVE pyrex and stoneware, I still do, but they are so very heavy. These are much more practical. Plus, no worries of plastic leaking off into your food!
HOW MANY DAYS CAN I KEEP SOUTHERN CHICKEN SALAD RECIPE ?
Don't keep easy rotisserie chicken salad more than 6 days in the fridge.
If you set easy rotisserie chicken salad out on the counter and it stays out for more than 30 minutes at a time, then reduce the number of days you keep it in the fridge.
If easy rotisserie chicken salad doesn't pass the sniff test after a few days – throw it out.
PHOTO INSTRUCTIONS FOR EASY ROTISSERIE CHICKEN SALAD
First – collect your ingredients…
2. Slice and dice everything…
3. Put it all in a bowl and gently mix together….
4. Serve it up!….
TIPS AND TRICKS FOR DELICIOUS SOUTHERN CHICKEN SALAD RECIPE.
Use fully cooked fresh chicken for this dish.

Always use a combination of the flavors indicated above (chicken, creamy, sweet, sour, crunchy and seasoning) and you'll be golden

Serve on a bed of lettuce or other greens (especially terrific with bitter greens) with crackers.

Serve on a toasted bun – something with some toothiness is wonderful – like a pretzel bun or a croissant is perfect.

When you toast the bun, add just a smidge of butter and a sprinkle of salt for extra crispiness. You can thank me later for that little tip!

If you can get your hands on a slice of fresh tomato – hello tomato with this chicken salad!

French Fries too – just saying
The Flavorings
The grapes make a difference – use the sweetest dark purple seedless grapes you can find, make sure to taste them at the grocery before buying. Those fingerling grapes are almost always sweet, if you can find them.

Cumin and curry are not a flavor that everyone enjoys – taste it as you go.

Salt and pepper are a must. MUST.

PRO TIP: If you allow this easy rotisserie chicken salad to sit in the fridge, covered of course, for a few hours – the flavors have time to meld, marry and generally get to know each other – its a good thing. Let them become friends before you serve up the easy rotisserie chicken salad.
IF YOU ENJOYED THIS SOUTHERN CHICKEN SALAD RECIPE, YOU MIGHT ALSO ENJOY…
Southwest Chipotle Chicken Salad
Creamy Spinach Stuffed Pimento Cheese Chicken
YA'LL HELP ME OUT
Please leave me a 5 star 🌟🌟🌟🌟🌟 comment below in the comment section , all right? I would LOVE to know if you made this recipe or even if you are planning to! Of course, head on over to Pinterest, Facebook and Instagram and tag me with some photos of your creation!
I can't wait!
Ya'll know I love your comments!! ❤
THE RECIPE FOR DELICIOUS SOUTHERN CHICKEN SALAD RECIPE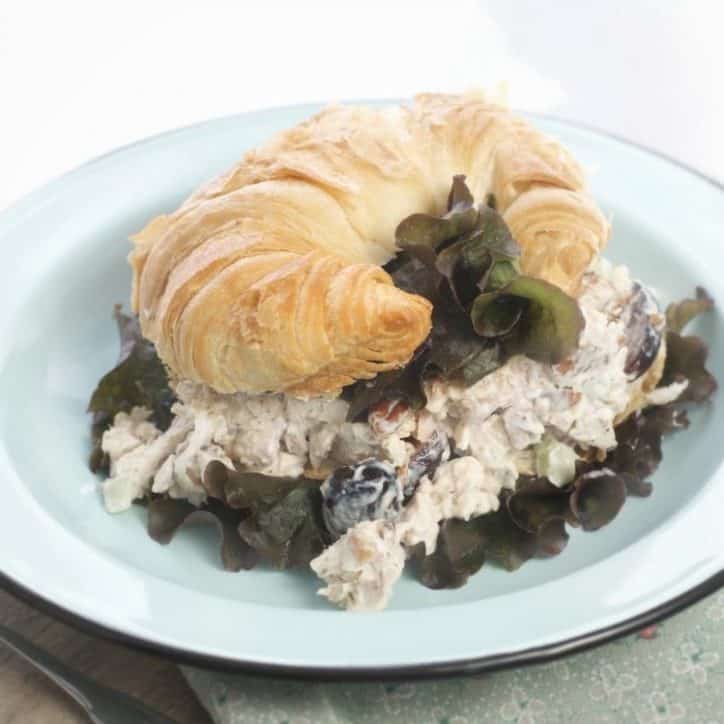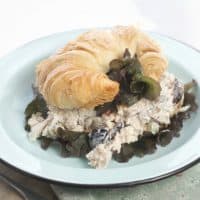 Southern Chicken Salad Recipe
This simple recipe includes instructions for how to go rogue and make your own chicken salad concoction!
Print
Pin
Rate
Ingredients
½

Rotisserie Chicken - chopped or shredded

1/2

Cup

Mayonnaise

1

stalk of celery - chopped small

1

cup

dark purple grapes - the sweetest you can find - cut in half

1

tsp

kosher salt - plus more per taste

1

tsp

black cracked pepper - plus more per taste

1

tsp

ground cumin

½

tsp

onion powder

½

tsp

garlic powder

2

Tbs

lemon juice

½

cup

chopped pecans
Instructions
Prepare all of the ingredients by chopping, slicing or whatever is required.

Place all ingredients in a medium sized bowl

Mix gently with a rubber spatula

Serve
Notes
Change up the flavors by using different types of fruit like: 
Pineapple
Apples
Pear
Add some other savory flavors like chives or scallions.
PRO TIP: Toast the pecans for added flavor.
Nutrition
Nutrition Facts
Southern Chicken Salad Recipe
Amount Per Serving
Calories 330
* Percent Daily Values are based on a 2000 calorie diet.
***This post was originally made on Loaves and Dishes on March 18, 2108 and has been updated with new information, video, photos, etc. ***
A VERSE TO SHARE
I'm just wondering, does ANYONE besides me ever read the New Testament and think of Jesus and the disciples as if they were a group of fellas that you know personally? I do. All the time.
Not trying to be sacrilegious or anything, this just helps me think of Jesus as a real person (exactly the point of God sending his Son to be with us, right?).
For example, in the story of Jesus and the woman at the well, Jesus heads over to the town watering hole and finds a lady drawing water. He strikes up a conversation with her. She wonders why he is speaking to her, Jews and Samaritans don't talk to each other. I won't name names here, but that is similar to some groups in my own county.
Jesus explains to her just who she is talking to. The Samaritan woman goes and tells EVERYONE else in her town what was said. Now, everyone believes in Jesus.
That is just exactly like what happens around these parts.
So, you see, when I read things like this, I say in my own head, "Jesus an 'em went over to Sandy Ridge and Jesus talked to a woman at the Dollar General (local watering hole of sorts) and now EVERYONE from Sandy Ridge to Pine Hall to Danbury knows all about what happened".
Jesus gets REAL, real fast this way!
The rest of 'em show up as the woman walks off and want to know who he is talking to and why. Then they want to know if he wants to go grab some dinner at the Red Top Cafe.
See how this works?
Try it sometime, think about the story you are reading in your own hyper-local terms and see what happens. Think of Jesus and 'em as wearing jeans, boots and a flannel shirt and driving
around in their pickup trucks (I'm making my story up for rural North Carolina, you make up your story to suit your own area).
I mean NO disregard to Jesus or the disciples. I LOVE them. This way of thinking simply helps me think of Jesus in terms of someone who is REAL in my own life.
Jesus is very real to me.
John 4: 7-26
When a Samaritan woman came to draw water, Jesus said to her, "Will you give me a drink?" (His disciples had gone into the town to buy food.)
The Samaritan woman said to him, "You are a Jew and I am a Samaritan woman. How can you ask me for a drink?" (For Jews do not associate with Samaritans.
Jesus answered her, "If you knew the gift of God and who it is that asks you for a drink, you would have asked him and he would have given you living water."
"Sir," the woman said, "you have nothing to draw with and the well is deep. Where can you get this living water? Are you greater than our father Jacob, who gave us the well and drank from it himself, as did also his sons and his livestock?"
Jesus answered, "Everyone who drinks this water will be thirsty again, but whoever drinks the water I give them will never thirst. Indeed, the water I give them will become in them a spring of water welling up to eternal life."
The woman said to him, "Sir, give me this water so that I won't get thirsty and have to keep coming here to draw water."
He told her, "Go, call your husband and come back."
"I have no husband," she replied.
Jesus said to her, "You are right when you say you have no husband. The fact is, you have had five husbands, and the man you now have is not your husband. What you have just said is quite true."
"Sir," the woman said, "I can see that you are a prophet. Our ancestors worshiped on this mountain, but you Jews claim that the place where we must worship is in Jerusalem."
"Woman," Jesus replied, "believe me, a time is coming when you will worship the Father neither on this mountain nor in Jerusalem. You Samaritans worship what you do not know; we worship what we do know, for salvation is from the Jews. Yet a time is coming and has now come when the true worshipers will worship the Father in the Spirit and in truth, for they are the kind of worshipers the Father seeks. God is spirit, and his worshipers must worship in the Spirit and in truth."
The woman said, "I know that Messiah" (called Christ) "is coming. When he comes, he will explain everything to us."
Then Jesus declared, "I, the one speaking to you—I am he."