Jump to Recipe
Homemade Big Fluffy Soft Southern Buttermilk Biscuits with a crunchy top and bottom crust should be so easy! My grandmother made them as did yours probably. Why is it a mystery now? Good question. Today, I'll show you how.
HOW DO YOU MAKE HOMEMADE SOUTHERN BUTTERMILK BISCUITS?
It is so easy to make Southern Buttermilk Biscuits. You simply need a few proper ingredients and you will be well on your way to easy homemade Southern Buttermilk biscuits like you find at Hardee's.
Furthermore, your family and friends will be in AWE of your ability to throw some comfort food on the table fast! Some of my other favorite ways to make biscuits? You can improve your canned biscuits with this simple technique. Ever try sweet potato biscuits? You should!
HOW DO YOU MAKE BISCUITS WITHOUT BAKING SODA?
You might be wondering how in the world you make Southern Buttermilk Biscuits without baking soda. That answer is simple! Do not use all-purpose flour. Instead, use Self Rising flour because it has all of the good stuff in there already. The real secret is to ONLY use White Lily Brand® for biscuits. I'm serious (and they don't pay me to say that either).
There is something about that soft winter wheat that will make your biscuits turn out creamy, soft, fluffy and perfect. That is what you are after, right? You want perfect, Southern Buttermilk Biscuits rather than tough rocks? Now you know.
HERE IS THE KIND I USE: (You can click the photo to go to Amazon – this is an affiliate link – I mostly just want you to make sure you use the correct flour).
HOW DO YOU MAKE FLAKY BISCUITS?
The secret to a flaky Southern Buttermilk Biscuits is the fat. I know, you didn't want to hear that, but it is true. It is IMPORTANT that you keep the Crisco® in the fridge until time to use it. Rather than an equal amount of butter use Crisco® because butter is harder to cut in.
If you are after the easiest path to a fluffy Southern Buttermilk Biscuits with flaky layers and a crunchy top and bottom, then use the Crisco®. Please use Crisco® if you are a beginner. Furthermore, I don't want you to give up and think this is too hard.
HERE IS THE CRISCO I USE: (This is an affiliate link – you can click the picture to go through to Amazon to look at the product)
Finally, one other important point. You will want to cut the Crisco® into your flour with a dough cutter. The less that your hands touch the dough the better.
The point being that the heat in your hands will melt the crisco slightly and this takes some of the "bang" out of the Crisco® melting in the oven where you want it to melt while the biscuit bakes causing flaky delicious layers in your Southern Buttermilk Biscuits!
HOW DO YOU USE A DOUGH CUTTER?
Using a dough cutter is simple. Just rock and chop with it until the Crisco® is mixed in well – see the photos below.
By the way, I recommend Deiss kitchen products where applicable because they are sharp and stay sharp use after use.
HERE IS THE DOUGH CUTTER I USE: (This is an affiliate link – you can click the photo to go through to Amazon to look at the product)
How you cut the biscuit is important. Slice straight down into the dough. Do not TWIST the biscuit cutter at all. Make a clean straight motion straight down to the countertop.
The cutter I use is one from an antique shop and is about 2 ½ or 3 inches across. Mine has a little ridge on the inside and that is why you can see a circle on top of my biscuits.
HOW TO GET A CRUNCHY TOP AND BOTTOM CRUST ON A BISCUIT?
The secret to the crunchy top crust is to brush with evaporated milk just before baking. When the biscuits are fresh out of the oven, brush them again with melted butter.

A secret to A crunchy bottom is to allow 4 Tbs (½ stick of butter) to melt in the rimmed baking sheet till very hot, then place the biscuits in the butter and put them back in to bake as quickly as possible. This fries the bottom of the biscuit a little.

Be careful, the butter can burn quickly – keep a sharp eye on it. When there is a puddle of butter in your pan and the outer edges of the butter are looking brown, this is the time to add the biscuits.
HOW DO YOU MAKE A FLUFFY BISCUIT?
The biscuit becomes fluffy as the buttermilk in the biscuit starts to steam. Layers are formed as the crisco cooks. This is possible when the dough has been worked properly.
Only work and knead the dough enough so that the ingredients are incorporated and the dough is smooth. If you work it any more than that, it will cause the biscuit to become tough.
The BIG SECRETS to perfect Southern Buttermilk Biscuits are:
Use White Lily Soft Winter Wheat Self Rising flour® ONLY.

It's best to use Crisco® as the fat in your biscuit – it is easier to cut in – especially if you are a beginner. Keep it in the fridge until ready to use.

Cut the Crisco® in with a dough cutter so that you don't melt the fat before it goes in the oven.

Use a straight motion to cut the biscuits, cutting straight down towards the countertop. Do not twist the cutter when cutting the biscuits.

Allow 4 Tbs butter to melt into the baking dish first (this fries the bottom of the biscuit a little)

Bruth the tops of the unbaked biscuits with evaporated milk (makes a crunchy top).

Once baked, brush the tops of the baked biscuits with melted butter when fresh out of the oven (makes a buttery crunchy top)
You can find ALL of the Secrets to Perfect Southern Biscuits .
PHOTO INSTRUCTIONS FOR SOUTHERN BUTTERMILK BISCUITS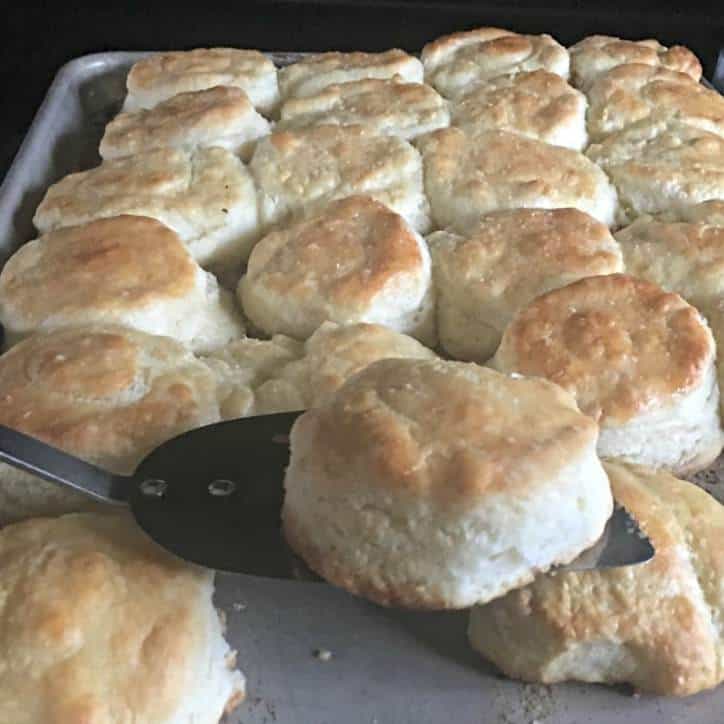 Ready for your plate!
TIPS AND TRICKS FOR SOUTHERN BUTTERMILK BISCUITS
It is important to follow the instructions exactly.

Only use the White Lily Soft Winter Wheat Flour. I have tried countless other flours and none have yielded the soft fluffy flaky biscuits that come from this recipe. Trust me, it makes a difference. You can find White Lily on Amazon if you can't find it in your local grocers. They aren't paying me to say that either – its my best advice.

Use crisco – the quality is dependable. I know you might want to use real butter or maybe you think margarine is better for you. Whatever. Use Crisco if you want your biscuits to turn out right. They aren't paying me to say that either. Butter makes a lovely biscuit – if you already know how to make biscuits and you are able to get the butter cut in correctly. However, if you are new to biscuit making, I believe that the Crisco makes a more dependable biscuit every time. I like to use "real" ingredients like butter too – but I want you to have the best biscuit possible – so, try the crisco.
THE DOUGH
Usually I tell you to use your hands to mix things – not this time. Keep your hands out of there! It is important that those ingredients stay cold and you ONLY use your hands to pat out the dough and the light kneading. Otherwise, the heat from your hands will start to melt the crisco – and then we have problems.

Light kneading. What is kneading? It is folding the dough over on itself a few times. In this case, about 6-8 times is perfect.The dough will feel silky and smooth as you pat it out for cutting.

The dough will look really sticky when you turn it out onto the board to knead it – that is OK.
HANDLING THE DOUGH…
You want to handle the dough as little as possible so that it stays soft and pliable.

Cut the biscuits in one single downward motion towards the countertop. Do NOT twist the cutter. When you twist – you pinch the dough and that will make it more difficult for the biscuit to rise. Give that dough every possible chance to rise!

It seems a shame to waste an entire can of evaporated milk on brushing the tops of these biscuits. So…. save the rest and use it in recipes instead of milk. I used mine in some FAST baked macaroni and cheese that I am going to show you later!
IF YOU ENJOYED SOUTHERN BUTTERMILK BISCUITS, YOU MIGHT ALSO ENJOY:
A VERSE TO SHARE
Sometimes when I read my Bible I think that God sounds like my best teachers from school. You know the ones, right? You have been taught everything that you need to know. The teacher has covered all of the material. No one in class raises their hands to ask a question.
What does the teacher do?
The teacher gives a test. Some folks haven't been listening, some have been seriously fooling around, some have listened and studied. Those last folks are the ones who pass the test.
The Bible gives us numerous examples of times that God issues a test. It isn't without warning. It isn't a pop-quiz when the material is only half covered. It is a test.
A test over things that should have already been digested. God has asked us to have a little strength. Do not deny him. He asks us to persevere.
He commands us
to hold tightly to our crown so that no one takes it.
I think I told you last time that lately I have been trying to look at EVERYONE (even people I am not particularly fond of) as a beautiful child of God. Lovely and perfect in God's eye. It isn't my place to judge anyone else.
We all have a beautiful crown that has been bought and paid for. All we have to do is put it on and hold on to it. Which isn't without consequence, by the way.
So, hold to your crown beloved sibling of mine. Be honest. Proclaim your truth. Be kind as you do. You never know what test someone else is facing today.
Revelations 3: 7-13
And to the angel of the church in Philadelphia write,
'These things says He who is holy, who is true, "The One who has the key of David, who opens and no one shuts, and shuts and no one opens" "I know your works. See, I have set before you an open door, and no one can shut it; for you have a little strength, have kept My word, and have not denied My name. Indeed I will make those of the synagogue of Satan, who say they are Jews and are not, but lie I will make them come and worship before your feet, and to know that I have loved you.
BECAUSE…
Because you have kept My command to persevere, I also will keep you from the hour of trial which shall come upon the whole world, to test those who dwell on the earth. Behold, I am coming quickly! Hold fast what you have, that no one may take your crown. He who overcomes, I will make him a pillar in the temple of My God, and he shall go out no more. I will write on him the name of My God and the name of the city of My God, the New Jerusalem, which comes down out of heaven from My God. And I will write on him My new name.
"He who has an ear, let him hear what the Spirit says to the churches
THE RECIPE FOR SOUTHERN BUTTERMILK BISCUITS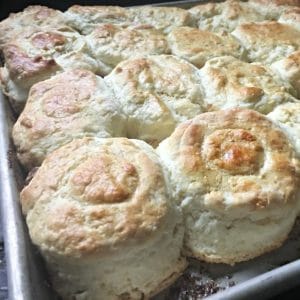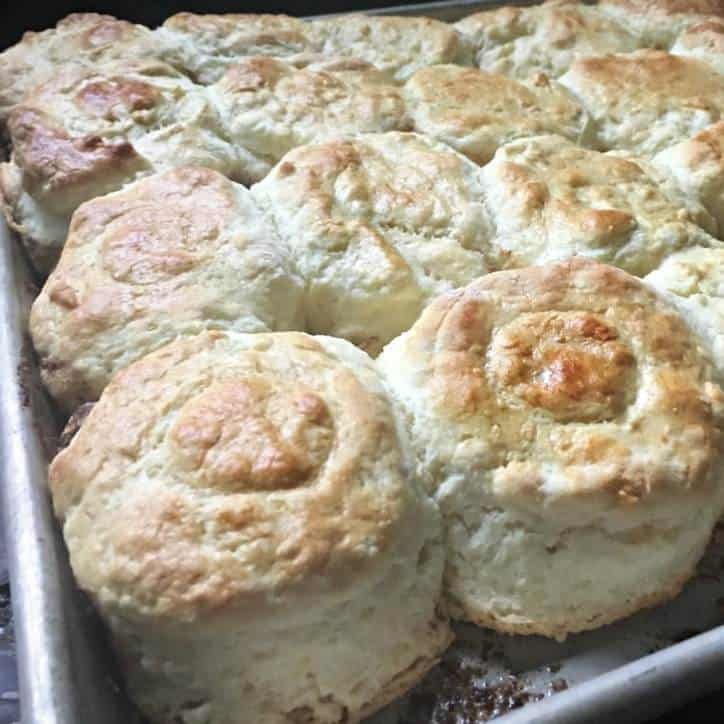 Southern Buttermilk Biscuits
These Southern Buttermilk Biscuits are fluffy and flaky with a crispy upper and lower crust. The instructions are given for beginners. You will find that these are similar to a Hardee's or Bojangles biscuit or maybe like your grandma made!
Print
Pin
Rate
Ingredients
4

Cups

Self Rising Flour

White Lily Soft Winter Wheat plus extra for dusting the bread board and for kneading.

1

Tbs

Baking Powder

1

tsp

Granulated white sugar

1

Tsp

Kosher salt divided

⅔

Cups

Crisco Shortening

2

Cups

Very Cold Buttermilk

⅓

Cup

Evaporated Milk

2

Tbs

unsalted sweet cream butter - melted
Instructions
Preheat the oven to 425 degrees.

In a large mixing bowl, mix the flour, baking powder, sugar and a ½ tsp salt together with a whisk.

Drop the Crisco into the flour mixture and use a dough cutter to cut the crisco in. Rock the cutter and make chopping motions until the crisco is in small pieces and the flour has a wet clumpy appearance throughout (see photo). Do NOT use your hands to mix the crisco in.

Keep the buttermilk in the fridge until ready to use. Add the buttermilk all at once and mix together with a rubber spatula until it just comes together.

Place ½ a stick of butter (4 Tbs) in a rimmed half sheet pan (jelly roll pan) and allow it to melt in the oven as the oven comes to temp. Do not allow the butter to burn. The butter should be melted and bubbly (but not black) by then end of the next 3 steps.

Turn the dough out onto a floured surface and sprinkle the surface with a small amount of flour. Knead the dough by folding it over on itself about 6-8 times. The dough should feel soft and smooth.

Using your hands press the dough down into a flat circle that is 1" thick (no need to use a rolling pin).

Cut the biscuits using a biscuit cutting and cut in a straight motion down towards the counter. DO NOT twist the cutter. Remove the hot buttered pan from the oven. Sprinkle half of the remaining salt onto the hot buttered pan.

Gently lay the cut biscuits onto the hot pan into the butter. The biscuits may touch one another. Put the biscuits in the pan quickly so as to return the pan to the oven as quickly as possible. Brush the tops of the biscuits with evaporated milk using a pastry brush. Return the pan to the hot oven. Shut the oven door and DO NOT open it again for at least 10 minutes.

Bake biscuits for 18-25 minutes. The biscuits are done when they are golden brown and risen.

On removing the biscuits from the oven, brush with hot melted butter and sprinkle with the remainder of the salt. This recipe will yield 18-24 biscuits.
Notes
The idea behind the fluffiest biscuits possible is to handle the dough as little as possible.  
Keep the ingredients cold (especially the shortening) until time to use it.  This allows flaky biscuits to happen! 
You will need a little extra flour on hand for dusting your board to keep things from sticking. 
Nutrition
Nutrition Facts
Southern Buttermilk Biscuits
Amount Per Serving
Calories 260
* Percent Daily Values are based on a 2000 calorie diet.