I'm absolutely in LOVE with my new Breville Smoking Gun and I want to show you how to use it. This IS NOT a paid ad of any type. Breville didn't send me a free smoking gun. I paid full price and am using it just like you would do. I love what it can do and the quality.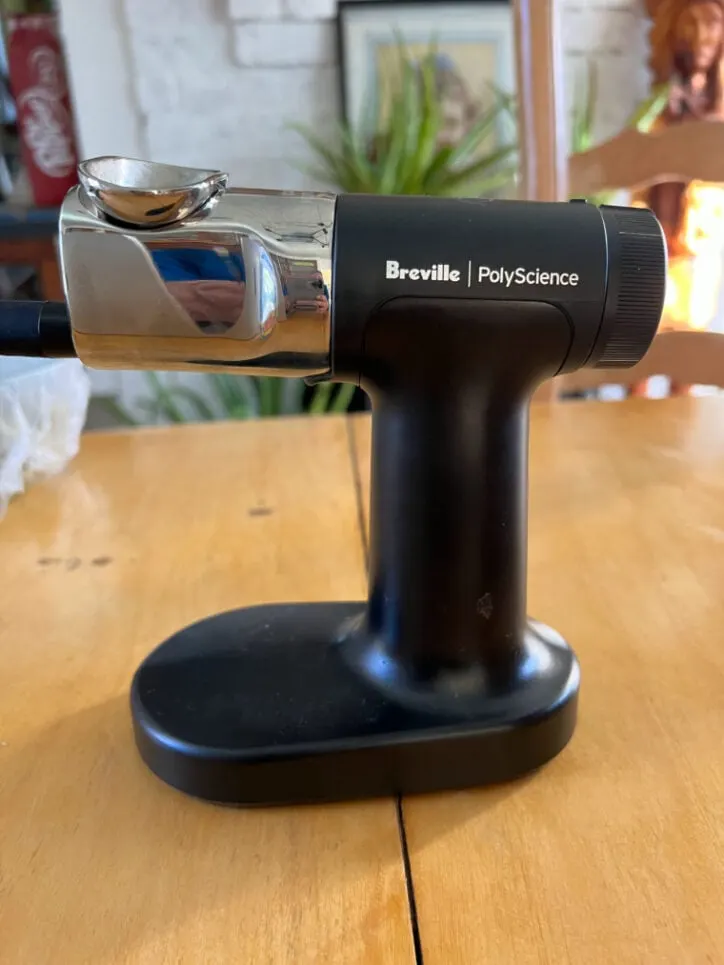 This Breville Smoking Gun
This Breville Smoking Gun is an absolute BEAST and I love the quality and how easy it is to use. I believe you will too.
Unboxing the Breville Smoking Gun
I wish I had recorded video, but the unboxing is unique in its ease and the way that everything just makes sense.
The directness of items in the box is unparalleled and makes immediate sense. Just like the operation of the whole device.
You'll feel the quality as soon as you lift the Breville Polyscience Pro Smoking Gun from its box. Its sturdy and has a quality weight to it. The parts you must move are quality and have a nice feel.
How to Use the Breville Smoking Gun
It's so simple that you probably won't need this short description but…
Assemble the gun by placing the tubing and batteries.
Add wood dust to the removable chamber.
Turn it on and light the dust. That's it!!!
What Can I Smoke with the Breville Smoking Gun?
You can smoke all kinds of things that require a colder temperature smoke. For example, I've smoked…
Cheese
Olives
Any pickled item
Black Tea
Whisky
Fruit
Tofu
*** I recommed that if you are wanting smoked hot meat, like smoked Ribeye for example, go ahead and purchase a smoker and learn to use it. You won't be sorry.
What Is Cold Smoking
Cold smoking is how you add a smoky flavor to something that you can't cook on a typical smoker. On my backyard smoker, I cook meats like ribs, ribeyes, chicken and brisket.
But what if I would like to enhance my martini with a smoked olive? I can't very well smoke that on a smoker because it will overheat and shrivel.
Try to make a smoked cheese on the smoker and it will melt away into the charcoal.
Instead, this requires cold smoke from a cold smoker like the Breville Polyscience Pro that I'm using here. This device blows a high quality smoke over the cooler temp foods and adds the smoked flavor without the heat.
Why Use the Breville Cold Smoker Smoking Gun
Before purchasing the Breville Smoking Gun, I did a lot of research. A friend at a party told me about constructing his own cold smoker out of a dorm fridge and running a pipe from his Traeger grill.
That seemed like a lot of work and might cause me to have to cut a hole in my own Weber Smoky Mountain Grill, which I didn't want to do as it doesn't have the exhaust pipe already built in.
Then I looked at other brands of store bought cold smokers and kept coming back to the Breville Smoking gun.
When I examined online reviews, it seemed that the most favorable reviews were for the Breville.
Then, I checked out some reviews on Cooks Illustrated and Breville almost always rates well with them.
I have some other Breville appliances and am happy with all of them.
Then, upon trying to figure out which model to choose, I decided that I have almost always been happiest with a top of the line product even if the price is more. It's a one time price that I won't be paying again if I go ahead and pay a little more for top of the line right now.
I chose this Breville Smoking Gun.
The following pictures are an Amazon Affiliate link and I am an amazon affiliate, if you choose to purchase through these links, I will receive a small commission and that helps to keep the doors open at Loaves and Dishes, so thank you very much.
You can click this picture to go straight through to Amazon where you can compare prices
Breville Smoking Gun Review
Every step of the way, this smoking gun has been a quality item, from opening the box to smoking various food items.
Pluses:
Easy to use and assemble
High Quality feel and use
The batteries last a LONG time.
Tubing is easy to connect and stays connected.
Comes with enough wood dust to do several smoking projects.
Comes with extra screens so that you can replace them as needed.
The box is quality and offers a terrific way to store the smoking gun when not in use.
Minuses:
I was fearful of having to replace the batteries frequently and would prefer an electric plug, actually. That said, I haven't replaced the batteries yet and have smoked several whole jars of olives, some cheeses and a few beverages.
Suggestions:
If I were buying this again, I would go ahead and buy a smoking cloche. That would make the entire job easier. There are a lot of options ranging from $25-$300. Take a look around.
I'm currently using a metal bowl and the sticky cling wrap, but that isn't ideal.
Fix a place where you can do your cold smoking outside. Some of the smoke is going to escape and you don't want to smell up your entire home ( I have done more than once).
Go ahead and purchase some extra wood, that way you are ready to smoke all the things!
Buy some of these long handled lighters, you'll need them
Here's a Video of Me Using My Breville Smoking Gun
Here's a Link to My Smoked Olives Recipe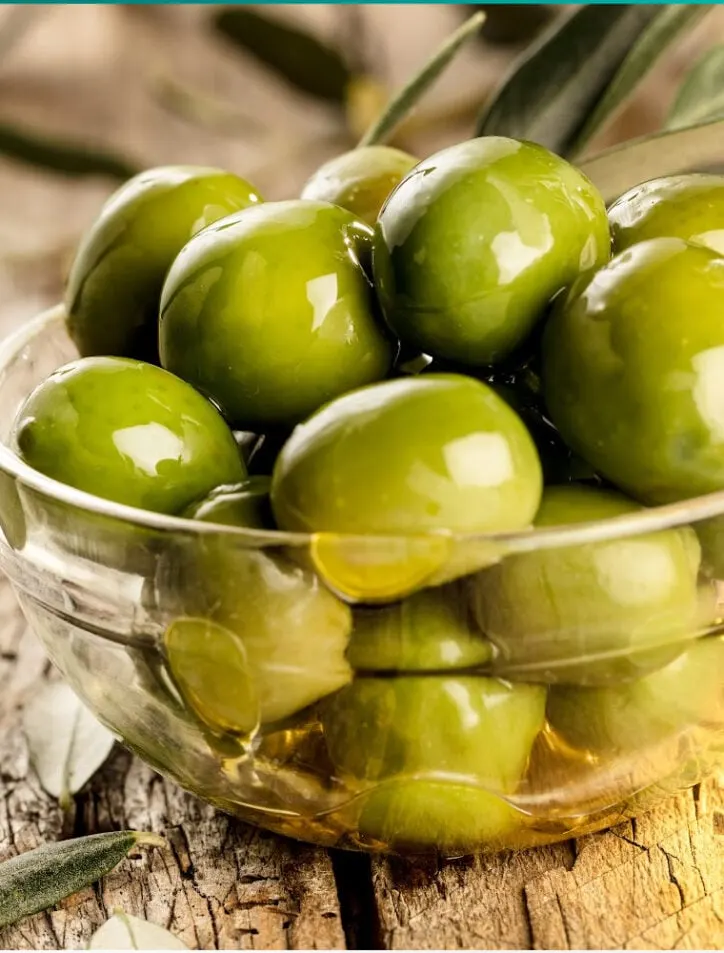 General Recipe for Smoking Things With a Cold Smoker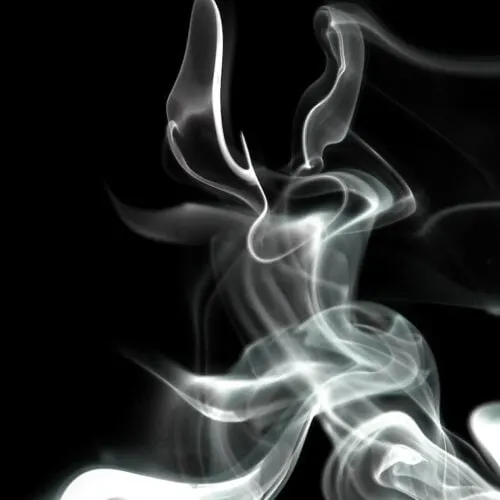 How to Cold Smoke with Breville Smoking Gun
This quick recipe informs you how to cold smoke most any cool food item using the Breville Smoking Gun
Print
Pin
Rate
Ingredients
1

cup

item to be smoked

olives, cheese, tea, whisky
Instructions
Follow the instructions in the box for basic set up of the Breville smoking gun. (attach the tubing, insert the batteries, check to make sure it turns on and off appropriately, add the smoking chute to the top of the gun, set up outside).

For wet items like pickled okra or olives, remove them from the brine (reserve the brine in the jar). set the items into the bowl so that all the items are exposed to the air (see the smoked olives recipe video above for more information about that).

Add the wood to the smoking chute. Turn the smoking gun on about half way. Use the lighter to light the wood chips. Adjust the airflow so that the smoke is coming in a steady stream out of the tubing.

Insert the tubing into the bowl and cover tightly with plastic wrap making sure to cover the tubing well so that smoke does not escape. If using a smoking cloche, insert the tubing into the side hole and fill the container with smoke.

When container is filled with smoke, turn the smoking gun off and allow to sit until smoke begins to dissipate. Reignite the smoking gun and repeat until the items are as smoky tasting as you prefer. For most items I do, this is about 10 – 15 minutes.

Once your item is smoked, cover with plastic wrap or return to the brine and then refrigerate as needed until ready to use.
Notes
Make sure that all items that are being smoked are exposed to the air before smoking so that when smoke fills the chamber, it will infiltrate each item appropriately.
If using a bowl to smoke your items, choose a glass or metal bowl, not plastic. Plastic tends to take up the flavor of the smoke and hold it for a long time.
Only fill the chamber on the smoking gun 1/4 to 1/2 way and pack loosely so that it has the opportunity to really burn.
Stir the chips slightly after burning for a bit to allow all of them to burn.
Do not use a torch burner to light your smoking gun.
Replace the screen when it becomes too sooty to allow air to pass easily.
Return pickled items to their brine after smoking and then when the items are gone, you can use the brine for a smoky addition to other foods like deviled eggs for example.
This weekend I encountered some folks talking about their Christianity and in the same breath, nearly, speaking of their hate for people of color in the U.S, hate for those in middle eastern countries and their hate of northerners.
I don't think that's how Jesus called us to be when he said to love your neighbor, which he said many many times.
Matthew 22: 36-40
Teacher, which is the great commandment in the Law?" And he said to him, "You shall love the Lord your God with all your heart and with all your soul and with all your mind. This is the great and first commandment. And a second is like it: You shall love your neighbor as yourself. On these two commandments depend all the Law and the Prophets."