Jump to Recipe
Creamy, cheesy, soft, supple, warm, soothing, comforting, southern soul food like easy baked macaroni and cheese is the BEST on a cold day, right?  Macaroni and cheese is good on warm days too. I'm pretty sure macaroni and cheese is good on ANY day, am I right?
My kids were never a baked mac and cheese fan though, so I usually made THIS macaroni and cheese for them.  They LOVE it.
Now, when we get together on Monday nights, I sometimes get a request for macaroni and cheese and I make THIS ONE.  Why? Because we are all adults and why not choose death by mac and cheese? There isn't anything better to celebrate the end of a Monday anyway!
There is just one problem.  I like baked mac and cheese too!  Don't you? Have you ever made one?  
YOU MIGHT BE ASKING, HOW DO YOU MAKE BAKED MACARONI AND CHEESE?
I asked the same question, "How do you make baked macaroni and cheese"?  Every recipe I've seen has been kind of difficult and takes a long time. Who wants to go to all of that trouble, anyway?  Not me.
We want an Easy Baked Macaroni and Cheese, right?  Just throw it together, only a few ingredients. Delicious hot baked goodness hopping in my mouth in a few minutes.  
PHOTO INSTRUCTIONS FOR EASY BAKED MACARONI AND CHEESE
Now, one thing you might have noticed. There are two different dishes in these instructions.  YOU are a smart cookie! That happened because my family gobbled up the first rendition that I was making for photos before I could snap the final photo with cheese pulls and all.
That says something for the recipe, right?  Right. It also says, "My monkeys and my circus are an uncontrolled lot".  You all probably already figured that out though.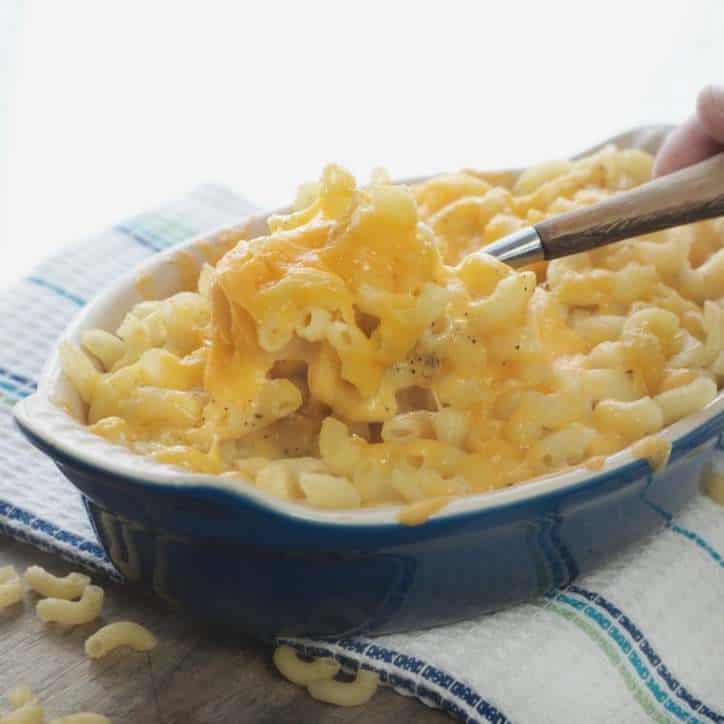 Bake for 30-40 minutes until bubbly and cheesy! YUM!
TIPS AND TRICKS FOR EASY BAKED MACARONI AND CHEESE
Prepare the 9×13 pan with non stick cooking spray.  If you forget, it won't' be the end of the world, but some of the stuff might stick to the pan, which is no fun to clean up.

You will want to buy the blocks of cheese and grate them yourself – the cheese just has a better taste that way.  Cabots is a great choice for this.

Do NOT over cook the noodles when you are pre cooking them – just follow the package instructions for "al dente".  That means the noodles will still be a tiny bit firm or "toothsome" (what al dente means anyway). If you over cook the noodles, they will be floppy and that makes mac and cheese yuck!

Make sure to drain your noodles well – don't rinse them!

You CAN use MORE cheese, if that is what you like!  I LOVE more cheese!

You CAN make a topping for this if you want – just crush up some crackers (like a ritz cracker) and mix in a few tbs of melted butter – sprinkle over the top before baking.  

Nutmeg?  Yep – you'll be glad you did.

Make sure your eggs are beaten well.

I know, I know.  Some of you don't like garlic – just leave it off if you don't.  No harm – but, really, you don't like garlic?

What kitchen utensils do you need for this?  Not anything special – a 9×13 baking dish, a pot to boil the noodles, a whisk is useful for the egg mixture, a can opener for the evaporated milk.  That's about it – you can do it!


That reminds me – EVAPORATED MILK.  NOT Sweetened condensed milk. Believe me, you'll have a problem if you use the sweetened condensed milk.  Ewww. yuck. If you don't have evaporated milk – just use regular milk. This recipe is a GREAT way to use up evaporated milk from making THESE BISCUITS.
IF YOU ENJOYED THIS RECIPE, YOU MIGHT ALSO ENJOY….
Old Fashioned Seven Layer Bars
Perfect Steakhouse Baked Potato
THE RECIPE FOR EASY BAKED MACARONI AND CHEESE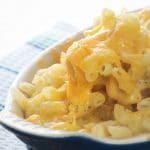 Easy Baked Macaroni and Cheese
This simple and easy recipe for Easy Baked Macaroni and Cheese uses few ingredients and is simple and delicious!
Keyword:
baked macaroni and cheese, mac and cheese
Ingredients
16

oz

macaroni noodles - cooked per package instructions in salted water

1 8

oz

package of sharp cheddar cheese - grated

3

eggs - beaten

½

cup

evaporated milk

½

tsp

salt

½

tsp

pepper

1

tsp

garlic powder

1

tsp

onion powder

½

tsp

ground nutmeg
Instructions
Preheat the oven to 350.

In a prepared 9x13 baking dish, spoon half of the cooked macaroni noodles.

Sprinkle half of the grated cheese over the top of the noodles.

Spoon the other half of the noodles over the grated cheese.

Sprinkle the other half of the grated cheese over the top of the noodles.

In a medium mixing bowl, mix together the eggs, milk, salt, pepper, garlic powder, onion powder and nutmeg.

Pour the egg mixture over the top of the noodles and cheese (pour gently - you may need to use a fork or spoon to make various holes in the noodles and pour the egg mix down into the pan).

Bake at 350 until hot and bubbly - about 30-40 minutes.
Recipe Notes
This is a simple and easy to use recipe for wonderful cheesy baked macaroni and cheese
Nutrition Facts
Easy Baked Macaroni and Cheese
Amount Per Serving
Calories 300
* Percent Daily Values are based on a 2000 calorie diet.
A VERSE TO SHARE
Do you ever get a message from God, right when you need it? Me too.  When is the last time that happened to you?
Me?  I read a meme that said, "I Got You, Just Like I Always Do ~ God".  
That's so true, isn't it?  
Sometimes I think about Jesus' last words on the cross – God why has thou forsaken me?  That hurts my feelings. Jesus dying thinking that God has left him. What could be WORSE?  Nothing.
But God didn't forsake Jesus.  If anything, that shows us just how human Jesus is, right? 
What happened in three days?  The stone was rolled away and he was OUT of there!  He appeared to many and their testimony stands today.  
As we approach this season of Easter, remember Jesus' great commision in those days, because He's got you, just like he always does.
Matthew 28:  16-20
Then the eleven disciples went to Galilee, to the mountain where Jesus had told them to go. When they saw him, they worshiped him; but some doubted. Then Jesus came to them and said, "All authority in heaven and on earth has been given to me.  Therefore go and make disciples of all nations, baptizing them in the name of the Father and of the Son and of the Holy Spirit, and teaching them to obey everything I have commanded you. And surely I am with you always, to the very end of the age.