Jump to Recipe
So many years ago (thinking about it makes my head spin), the lunch ladies at my elementary school (back when lunch ladies REALLY cooked and REALLY knew how to cook!) would lovingly dip a few new potatoes onto my tray once per week.  Know what? I LOVED those canned new potatoes! Today, I'll show you How to Cook Canned New Potatoes
Honestly, I hadn't thought about those new potatoes until I recently ran across some in the grocery and thought, "these new potatoes would be excellent for my 'new cook' series".  
And here those canned new potatoes are, all delicious and ready to go!
As usual, I'll try to answer as many of your questions as possible!

JUMP RIGHT TO THE VIDEO OF WENDI MAKING THESE CANNED NEW POTATOES!
Here's an easy way to see what to do!  In this video, I'll just show you and then you can be on your way to making these delicious potatoes yourself!  The full recipe is at the very end of this post.
BACK  TO THE POST…
WHAT ARE CANNED NEW POTATOES?
Canned new potatoes are simply small baby potatoes that have been dug from the field and peeled before being canned.  They are cooked and safe to eat straight from the can, but will taste better if you add a few ingredients (see the recipe at the bottom of the page)
ARE CANNED NEW POTATOES HEALTHY?
As usual, canned new potatoes are healthy, depending on what you are looking for in your diet.  Potatoes have all kinds of wonderful nutrients and are part of a healthy balanced diet. That said, if you are on a low carb diet or a diabetic diet, then these white potatoes might not be the perfect thing for you.  
WHAT ABOUT CANNED NEW POTATOES WITH GREEN BEANS?
Yes, in fact, you CAN use canned new potatoes with green beans.  The best option for that recipe can be found here in my post GREEN BEANS AND NEW POTATOES.  Simply substitute the fresh new potatoes for the canned ones and you'll be on the right road. The new potatoes will only have to be heated through, they are already cooked.
CAN YOU MASH CANNED NEW POTATOES?
You CAN mash new potatoes, but they won't have the same consistency and color that you are used to with typical fresh potatoes. In fact, simply use the recipe below and once the potatoes are heated through, use a hand masher or a hand mixer and mash/whip your potatoes.  You may have to add some milk or cream to soften your potatoes.
CAN YOU BAKE NEW POTATOES?
Yes, you can bake new potatoes, simply use the recipe below and do NOT add the water.  Instead, sprinkle the new potatoes with the spices and rub with oil/butter then place on aluminum foil on a baking sheet and bake at 350 for 20-30 minutes until heated through.
WHAT'S THE BEST WAY TO PREPARE CANNED NEW POTATOES?
The very best way to prepare canned new potatoes is to follow the recipe found at the bottom of this post.  They are delicious, satisfying and affordable!
TIPS AND TRICKS FOR CANNED NEW POTATOES
Make sure to drain the water from the canned potatoes and use fresh tap water in the recipe.

Some canned foods can be more salty than others, taste before adding salt and pepper and also be careful if you have any issues with salt in your diet.

Try your potatoes with some other spices, you may find you might like things like cumin, thyme, rosemary or other delicious spices!  Potatoes are like a blank canvas!

Do not give whole canned potatoes to a toddler as the small round potatoes could pose a choking hazard.  Cut them or mash them up first.
IF YOU ENJOYED How to Cook Canned New Potatoes YOU MIGHT ALSO ENJOY….
The Secret to Perfect Old Fashioned Pinto Beans
Creamy Garlic Sundried Tomato and Spinach chicken
7 Secrets to the Richest Most Flavorful Cowboy Baked Beans
YA'LL HELP ME OUT
Please leave me a 5 star 🌟🌟🌟🌟🌟  comment below in the comment section, all right? I would LOVE to know if you made this recipe or even if you are planning to! Of course, head on over to Pinterest, Facebook and Instagram and tag me with some photos of your creation!
I can't wait!
Ya'll know I love your comments!! ❤
THE RECIPE FOR How to Cook Canned New Potatoes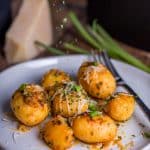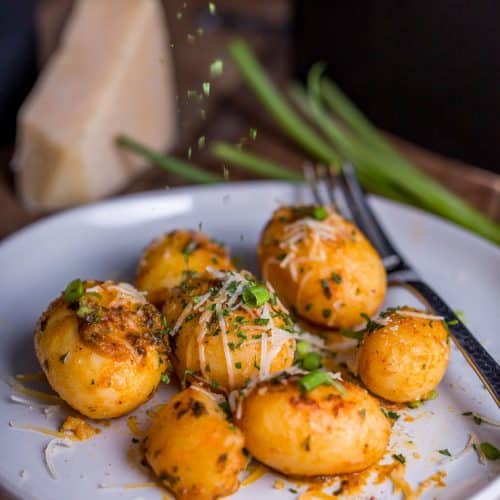 HOW TO COOK CANNED NEW POTATOES
This recipe reviews how to cook canned new potatoes on the stove, the post tells how to roast as well.
Keyword:
canned new potatoes, new potatoes
Ingredients
3

Tbs

unsalted butter

1

Tsp

Onion Powder

1

Tsp

Garlic Powder

1

Tsp

Paprika

1

Tsp

Parsley Flakes

Pinch

of Cayenne Pepper

1 15

oz

can of new potatoes

½

cup

water

1

tsp

lemon juice

Salt and Pepper to taste

3

Tbs

Parmesan Cheese

Chives for garnish

optional
Instructions
Open the can of new potatoes and drain well.

In a medium sized saucepan over medium heat on the stove top, melt the butter.

Add the onion powder, garlic powder, paprika, parsley and cayenne.  Stir into the butter well.

Add the potatoes all at once and mix well so that the potatoes become coated with the butter.

Pour ½ cup water and lemon juice into the pan.

Allow the liquid to come to a boil stirring frequently

Add Salt and Pepper to taste and remove from the heat.

Sprinkle with Parmesan cheese.  Garnish with chives when ready to serve.
Recipe Video
Recipe Notes
This recipe reviews how to make canned new potatoes taste wonderful!  The post at www.loavesanddishes.net also gives instructions for baking and other methods.
Nutrition Facts
HOW TO COOK CANNED NEW POTATOES
Amount Per Serving
Calories 250
* Percent Daily Values are based on a 2000 calorie diet.
A VERSE TO SHARE
This past weekend, Mr. Loaves and Dishes and I went to the movies to see "Won't you be my neighbor".  Something really struck me as I sat in the theater in tears. There are a LOT of people in the world who don't feel loved.
FEELING UNLOVED
How many people go around day in and out feeling worthless and unworthy?  So many are separated from loved ones by distance or attitude that it is unfathomable.  Not only that, but the popular culture of "believing in God is like believing in Santa" will have you believe that God's love for you is farcical.  
IT ISN'T A FARCE
My friend, God's love for you isn't a farce.  It is as real as the potatoes you can prepare by reading this post but much more delicious and nourishing to the important parts of YOU!  
I always pray before I write "A Verse to Share" and ask God to show me what he wants me to share with you.  
A LEADING…
Today, I am led to really share with you the crux of my faith.  I want you to know the peace and life that faith can bring to you.  Peace that happens all because you KNOW that you are a child of God, fearfully and wonderfully made.  You and I have a crown purchased by the Son of God , all you have to do is to put it on.
PERFECTION
None of us are perfect.  I am certainly far from perfect, I regularly struggle with the demons of  bad attitude, anger and resentment towards my fellow man, I curse and sometimes throw things in anger and this is just a sample.  Although I try to stop these things, I frequently fail.
The wages of sin are death.  That's pretty darn serious.
THERE'S AN ANSWER
God's love for us bridges this gap between sins and salvation, thank goodness. He loves you this much too and all you have to do is to accept the free gift of salvation.  To accept this gift, all you have to do is:
Admit that you are a sinner too.

Ask forgiveness and be willing to turn away from your sins

Believe that Jesus died on the cross for your sins

Receive Jesus into your heart and life
AN INVITATION
I invite you to join me in peace and love.  If I can support you in any way, please let me know.  I'm right here cheering you on. Peace. ~w