Tender, Delicious, Juicy and PERFECT chicken breast, every single time! Once you know how to cook chicken breast in a pan, you'll have the info you need to cook MANY chicken dishes from scratch! So EASY and FAST!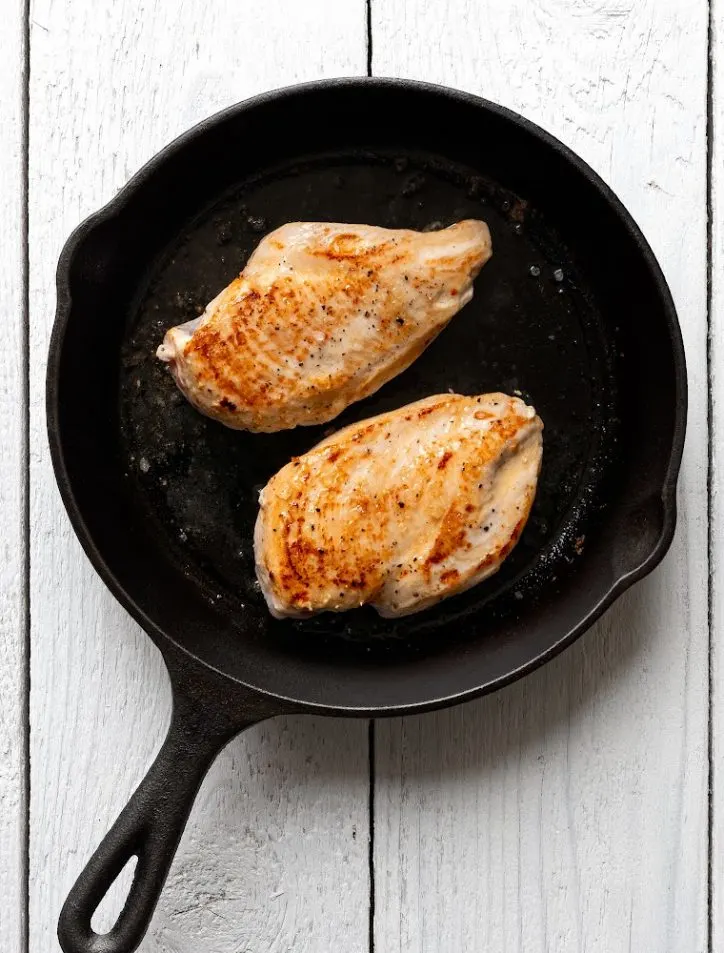 How Long To Cook Chicken In A Pan
That's the question so many people are asking! Seems like there would be a very simple answer, but sometimes, there just isn't. I'll show you how long to cook chicken in a pan and it isn't long!
In this case, we cook it until it is done, which isn't what you wanted to hear, right?
There are several things that you want to consider before attempting a perfectly cooked chicken breast and those are…
How THICK is the chicken breast?
What kind of oil will you use?
What type of pan will you cook your chicken in?
No worries, we will review these in detail below.
But, to answer your question, you cook chicken breast 2-4 minutes per side, depending on the thickness of the chicken to an internal temperature of 165.
What You'll Need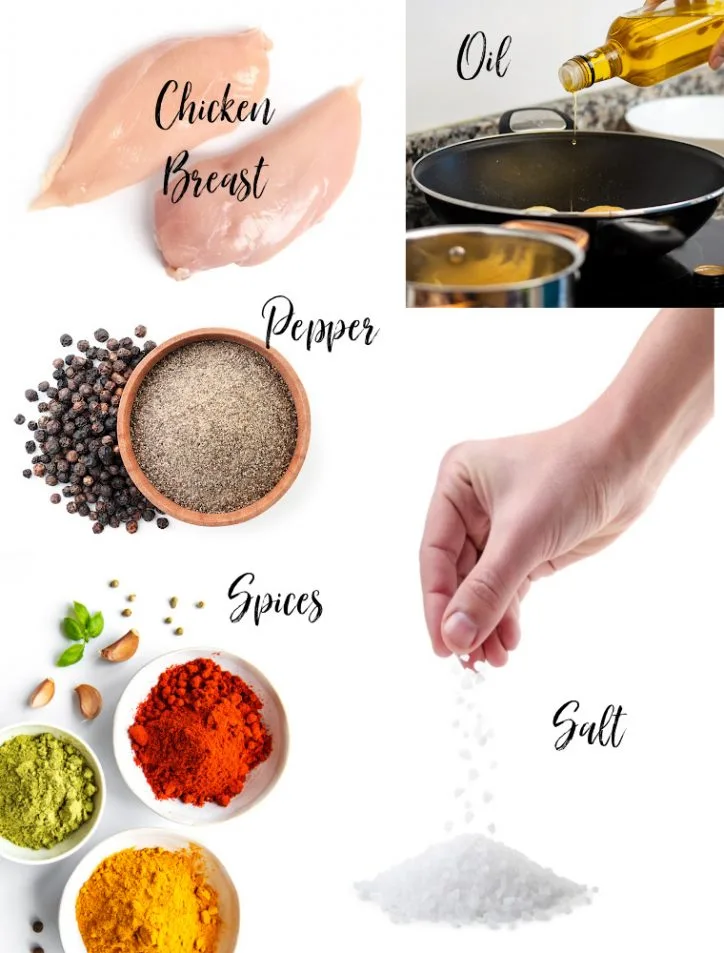 Boneless Skinless Chicken Breasts
Cooking Oil – recommend a high smoke point oil like vegetable or peanut oil.
Salt & Pepper + other desired spices (at a minimum, you'll probably want garlic powder, onion powder and a pinch of cayenne or something with a little kick.
Here's How It's Done
Preheat the pan
Add the oil.
Prepare the breasts
When oil is hot, add the breasts to the pan and cook to internal temp of 165.
Remove to a platter to rest.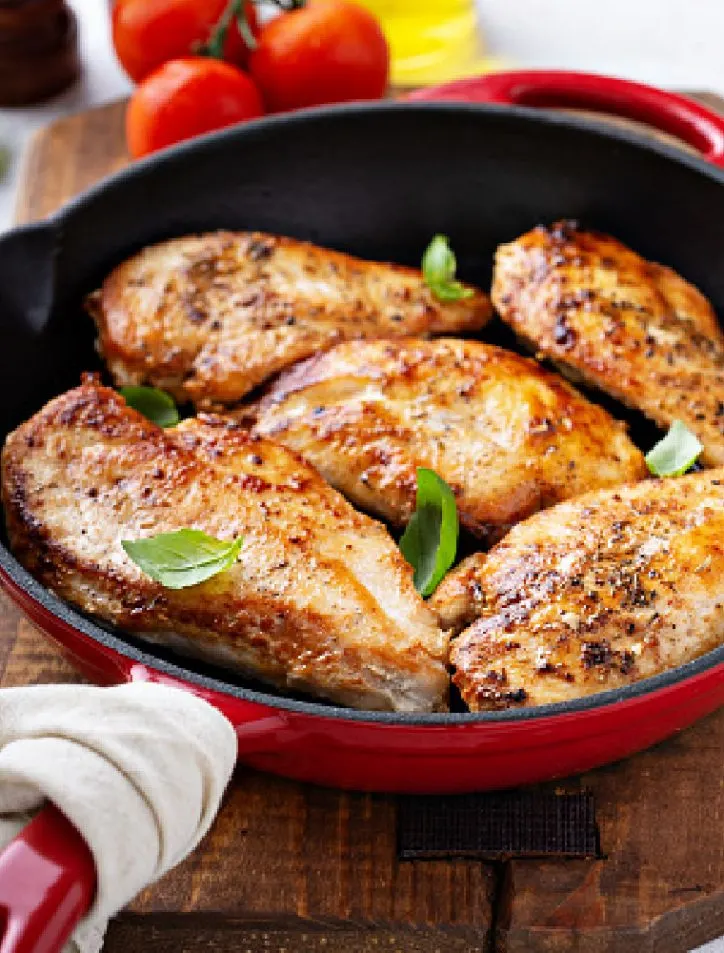 Equipment You Might Need
*Some of these are Amazon affiliate links, I am an Amazon affiliate and any purchase made through these links helps support Loaves and Dishes (thank you VERY much! – purchase through this link does not change your price in any way).
Mercer Culinary Ultimate White, 8 Inch Chef's Knife" target="_blank" rel="noreferrer noopener nofollow">Good Quality Knife
Thermoworks Thermometer (MK4 or the Thermopop are very popular).
Heavy good quality pan (like

What To Serve With Chicken Breast

Looking for ideas about what to serve with your chicken breast cooked in a pan? No PROBLEM! We can hook you up right here!

Chicken is a protein (you already knew that, I didn't need to tell you). A typical well balanced meal will include a protein, a starch and a vegetable.

However, if you are serving guests or a larger family, you might want to opt for a larger meal that is commonly called a "meat and three", meaning a meat with three side dishes. My mom always opted for more veggies.

Just keep in mind that we don't usually serve two starches together, but sometimes, if you are offering a large "smorgasbord" of food, it is fine to do so.

Here are some ideas for you…

Grilled chicken breast, fillet, steak on wooden board, top view, copy space. Healthy keto, ketogenic meal, homemade bbq chicken meat ready to eat.

Frequently Asked Questions (FAQ's)

What Size Chicken Breast Should I Use?

Use whatever size you can find at your grocers, however, if they are very large, you are going to want to pound them thinner or cut them in half butterfly style.

How Do I Make the Chicken Breast Crispy?

For a crispy chicken breast, you'll want to add a light flour dredge to your routine. Once you have thinned the filet, dry it well with a paper towel and lightly pat some seasoned flour into the breast. Then fry in a hot pan set on medium heat to internal temp of 165.

Can I Use Butter Instead of Oil?

Butter will tend to burn for cooking chicken and so it isn't the best choice. If you want a buttery flavor, add a pat of butter after the chicken is already cooked and allow the butter to melt over the top of the chicken.

What Can I Use This Chicken For?

Chicken cooked this way has many uses! You can use it in a sandwich, on a salad or as a stand alone with your dinner. Additionally, you can chop or shred it for use in casseroles, tacos or many other dishes.

Do I Use Chicken with the Bone and Skin or Boneless Skinless?

If you are new to cooking, you'll find it much easier to use the boneless skinless chicken breast.

Tips and Tricks for Perfect Chicken Breast

Make sure that the chicken breast is an even thickness. You'll notice that chicken breasts are thin on one end and thick in the middle and other end.
To achieve an even thickness, you can pound the chicken with a meat pounder (cover with plastic wrap and then gently pound the thicker parts to make it all the same thickness) or butterfly cut the filet in half.
Season the chicken breast well. The number one problem that I find with chicken is that it isn't seasoned well with salt and pepper. Additionally, you'll want to add flavoring ingredients like garlic powder, onion powder and cayenne.
Get the pan hot before adding the oil. Set the heat on medium to medium high.
Add a small amount of high smoke point oil like vegetable or peanut oil.
Do not attempt to use olive oil or butter for your chicken because these burn easily.
Use a good heavy pan that distributes heat evenly.
Once you put the chicken into the hot pan, allow it to sit for a bit before attempting to turn the chicken breast. If you try to turn it too early, it will want to stick to the pan. Only aim to turn the meat 1 time while cooking.
Do NOT cut into the chicken to see if it is done. This will let all of the juices out of the meat and you will end up with dry chewy chicken, ewww. Instead, invest in a decent thermometer (Thermoworks brand is the best and they make a very affordable "thermopop" instant read thermometer). Chicken is done at an internal temp of 165.

PRO TIP: For a nice hit of flavor, use a small pat of butter and allow it to melt over the top of the chicken just before you remove it from the hot pan. This will add a punch of flavor that can't be beat.

If You Enjoyed This Chicken Recipe, You Might Also Enjoy…

Watch How to Cook a Chicken Breast in a Pan

Can You Give Me A Hand?

Please leave a 5 STAR comment in the comment section below. This helps others to find the recipes at Loaves and Dishes!

How to Cook Chicken Breast in a Pan

Perfectly Cooked, Juicy and Moist Chicken breast cooked in a pan is just minutes away.

Print Pin Rate

Ingredients

2

lb

boneless skinless chicken breast

1

tbs

vegetable oil

1/2

tsp

kosher salt

1/2

tsp

black pepper

1/2

tsp

garlic powder

1/2

tsp

onion powder

1

pinch

cayenne pepper

Instructions

Cut the chicken breast in half like a butterfly (see video) or pound with a meat pounder until it is an even thickness. Each breast will provide 2 servings of meat.

While cutting or pounding the chicken, heat the oil in a skillet over medium heat on the stove top.

Sprinkle both sides of the chicken breast with salt, pepper, garlic powder, onion powder and cayenne (divide the spices between the breast pieces).

When the oil is hot (if you sprinkle a drop of water into the oil it should pop and crack), add the seasoned chicken breast to the oil. Do not add more than two breasts to the pan at once. Allow to cook for 2 minutes on one side. Flip to the other side and allow to cook for 2 minutes on that side. Check the temperature. The chicken is done at an internal temperature of 165.

Notes

Make sure that the chicken breast is an even thickness. You'll notice that chicken breasts are thin on one end and thick in the middle and other end.
To achieve an even thickness, you can pound the chicken with a meat pounder (cover with plastic wrap and then gently pound the thicker parts to make it all the same thickness) or butterfly cut the filet in half.
Season the chicken breast well. The number one problem that I find with chicken is that it isn't seasoned well with salt and pepper. Additionally, you'll want to add flavoring ingredients like garlic powder, onion powder and cayenne.
Get the pan hot before adding the oil. Set the heat on medium to medium high.
Add a small amount of high smoke point oil like vegetable or peanut oil.
Do not attempt to use olive oil or butter for your chicken because these burn easily.
Use a good heavy pan that distributes heat evenly.
Once you put the chicken into the hot pan, allow it to sit for a bit before attempting to turn the chicken breast. If you try to turn it too early, it will want to stick to the pan. Only aim to turn the meat 1 time while cooking.
Do NOT cut into the chicken to see if it is done. This will let all of the juices out of the meat and you will end up with dry chewy chicken, ewww. Instead, invest in a decent thermometer (Thermoworks brand is the best and they make a very affordable "thermopop" instant read thermometer). Chicken is done at an internal temp of 165.

PRO TIP: For a hit of flavor, top each piece of chicken with a pat of butter just as it is ready to come off of the pan. Allow the butter to melt before serving while the chicken is resting.

Nutrition

Nutrition Facts

How to Cook Chicken Breast in a Pan

Amount Per Serving

Calories 292

Calories from Fat 81

% Daily Value*

Fat 9g14%

Cholesterol 145mg48%

Sodium 554mg23%

Potassium 850mg24%

Carbohydrates 1g0%

Protein 48g96%

Vitamin A 80IU2%

Vitamin C 3mg4%

Calcium 14mg1%

Iron 1mg6%

* Percent Daily Values are based on a 2000 calorie diet.

This one explains itself and needs nothing from me.

Proverbs 6:16-20

There are six things that the Lord hates, seven that are an abomination to him: haughty eyes, a lying tongue, and hands that shed innocent blood, a heart that devises wicked plans, feet that make haste to run to evil, a false witness who breathes out lies, and one who sows discord among brothers. My son, keep your father's commandment, and forsake not your mother's teaching