Jump to Recipe
It's that season again.  In just a few weeks our gardens will all be full and we will be sharing with neighbors and people will be coming over to Loaves and Dishes looking for some answers like "HOW TO COOK ZUCCHINI ON THE STOVE TOP".
Some of my most popular posts are simple and basic cooking techniques such as How to cook Pinto Beans, Squash on the stove top and How to cook Chicken Fried Steak. Loaves and Dishes is nothing if not helpful with cooking comfort foods! So, let's learn HOW TO COOK ZUCCHINI ON THE STOVE TOP
That is why this series of posts on how to cook things on the stove top.  I'll be following this with one on how to cook some things in the microwave!  
HOW TO COOK FRESH ZUCCHINI
Zucchini is fresh and inexpensive and quite tasty, but if you didn't grow up eating them, you might not know what to do with them! Seriously, they serve zucchini in fresh veggie dishes in fancy restaurants, it might be difficult, right?  Wrong, nothing could be easier.  Just keep scrolling to the recipe and you'll see just how simple it is to learn HOW TO COOK ZUCCHINI ON THE STOVE TOP.
HOW DO I PAN FRY ZUCCHINI
Pan frying is the preferred way to cook zucchini, if you ask me.  It is simple and that is what this recipe for  HOW TO COOK ZUCCHINI ON THE STOVE TOP is based upon. Simply cut the zucchini up into quartered disks and cook in oil with a little salt and pepper.  There are explicit directions in the recipe card at the end of the post.
HOW LONG DOES IT TAKE TO PAN FRY ZUCCHINI?
Zucchini cooks in almost no time at all and it is virtually impossible to undercook it.  That said, it is quite possible to over cook it. Overcooked zucchini is soft and mushy, so stop cooking before you get to that point. A couple of minutes in a hot frying pan is enough for fresh zucchini and  HOW TO COOK ZUCCHINI ON THE STOVE TOP.
TIPS AND TRICKS FOR HOW TO COOK ZUCCHINI ON THE STOVE TOP
There aren't too many other tips and tricks. This is a simple recipe that amounts to heating things up in the frying pan and testing the zucchini until they are how you like them!

If you want to make more servings then cook more zucchini – about 1/2  of a zucchini per person is usually enough, it depends on how much your family likes zucchini.  

You can cook your onions cooked a little more, you can put them in the pan before the zucchini and let them get a head start.  Same goes for the garlic. I put mine in together, but really, it is up to you.

Please cook your squash in a little bit of oil/butter that is why it is in the recipe.

The recipe is at the end of this  post.
IF YOU ENJOYED HOW TO COOK ZUCCHINI ON THE STOVE TOP, YOU MIGHT ALSO ENJOY…
The Secret to Old Fashioned Pinto Beans
How to Cook Canned Green Beans
A VERSE TO SHARE
Have you ever seen God work a miracle?  What is a miracle exactly? I know I have seen what I believe to be miracles.  
Personally, I have seen someone who was a good person and yet not a Christian suddenly go unconscious for three days, then come awake and say, "There were things I can't even repeat to anyone, God showed me things and now I have to get right with God.  I know what I have to do".
The next day, this person said to me, "It has happened and I have done what I have to do and I'm ready when God calls me home"
On the following day, the person died (this person was very ill anyway and the death wasn't exactly a surprise). Yet, the events before the death were quite unexpected.
IN MY MIND…
In my mind, that is a miracle.  Did God call the person to someplace else to show what awaited if things weren't set straight?  That is what it seemed like to me.
God loves his children and he wants the best for us.  We have to do our part though and open hearts and be willing to accept, which sounds easy but is actually quite difficult.  
Romans 10: 9-15
If you declare with your mouth, "Jesus is Lord," and believe in your heart that God raised him from the dead, you will be saved. For it is with your heart that you believe and are justified, and it is with your mouth that you profess your faith and are saved. As Scripture says, "Anyone who believes in him will never be put to shame."For there is no difference between Jew and Gentile—the same Lord is Lord of all and richly blesses all who call on him, for, "Everyone who calls on the name of the Lord will be saved."
How, then, can they call on the one they have not believed in? Can they believe in the one of whom they have not heard? And how can they hear without someone preaching to them?  But can anyone preach unless they are sent? As it is written: "How beautiful are the feet of those who bring good news!"
YA'LL, HELP ME OUT, OK?
Please leave me a 5 star comment below in the comment section, all right? I would LOVE to know if you made this recipe or even if you are planning to! Of course, tool on over to Pinterest, Facebook and Instagram and tag me with some photos of your creation!
I can't wait!
Ya'll know I love comments!! ❤
THE RECIPE FOR HOW TO COOK ZUCCHINI ON THE STOVE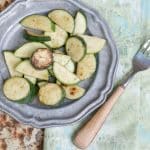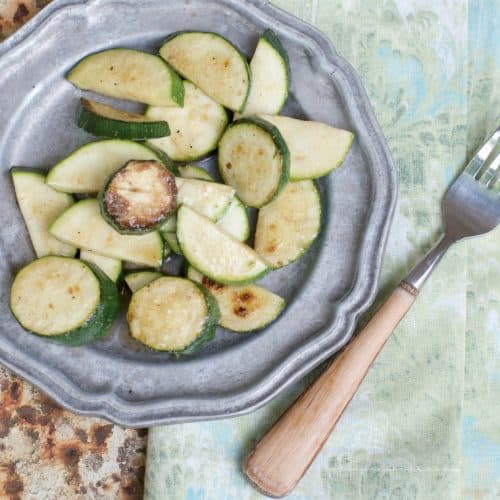 HOW TO COOK ZUCCHINI ON THE STOVE
This recipe details how to use fresh zucchini and cook it on the stove top
Keyword:
how too cook zucchini, fresh zucchini recipe, zucchini recipe, how to make zucchini on the stove, simple recipe for zucchini
Ingredients
2

medium-size zucchini

1

small onion

1

tablespoon

vegetable oil

1

tsp

unsalted butter

1

tsp

minced garlic

salt and pepper
Instructions
Cut the zucchini into disks that are about ½ inch thick. If the disks are larger than mouth size, then cut them into quarters.

Give the onion a rough chop.

Heat the vegetable oil and butter in a large skillet on medium heat on the stovetop until the butter is melted and the oil/butter starts to glisten.

Add the zucchini, onion and garlic to the oil and cook until the squash becomes soft enough for your tastes (for me - that is about 5-6 minutes).

Add salt and pepper to taste - serve hot and with salt and pepper offered on the table.
Recipe Notes
This recipe details how to use fresh zucchini and cook it on the stove top for a simple side dish