Jump to Recipe
There is this one thing. What if you are afraid to try to make perfect pancakes from scratch? I mean – it is probably a reasonable fear. Until I was 23 years old, I had never seen anyone make perfect pancakes from scratch or even imperfect pancakes from scratch. I finally saw MYSELF make them one weekend when I didn't have any money to buy pancake mix but I did have a recipe book and the ingredients listed! Probably just like you, I had only ever seen anyone make pancakes from a mix. When I saw a pancake mix commercial the other day it almost made me believe that it is EASIER to use a mix and that NO ONE would ever make perfect pancakes from scratch – IT IS SIMPLY TOO DIFFICULT! Know what I say to that over here at Loaves and Dishes? PFFTTTT!!! (make a wave down with your hand from ear level to chest level – good – now you fit right in!).
So, my friend. I promise to always tell you the truth about Pancakes. I promise to tell you all of the little secrets about pancakes and when to flip them and how it is done so that your pancakes will be perfect. The truth is, PANCAKES ARE EASY! EVEN PERFECT PANCAKES MADE FROM SCRATCH ARE EASY! Don't believe the lies! Try these perfect pancakes from scratch and your tummy will be happy! And now, the recipe for perfect pancakes from scratch. I want to tell you extra tips and tricks and where this recipe came from – and I'll do that after the recipe. So, join me down there…..
The Recipe for Perfect Pancakes from Scratch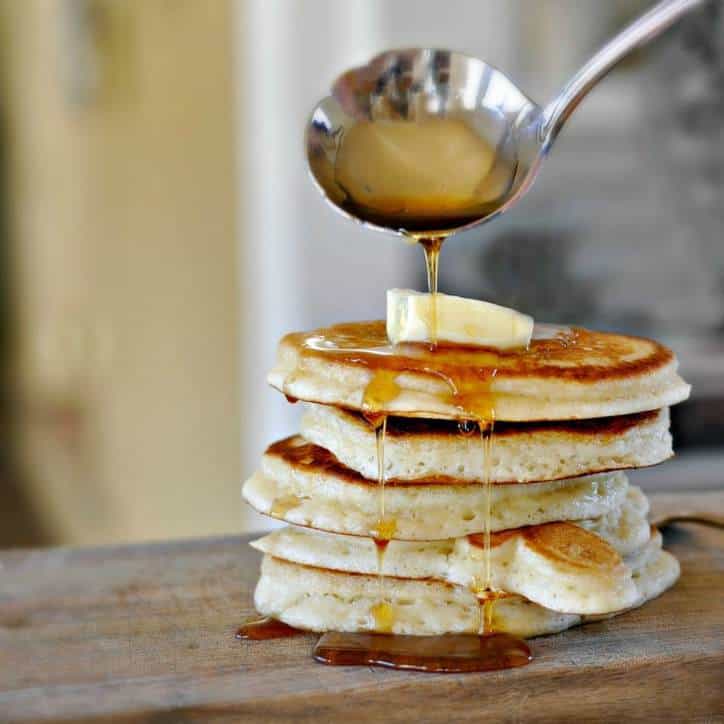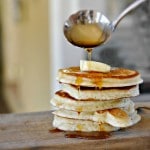 Perfect Pancakes from Scratch
This recipe makes 10 1/4 cup sized pancakes. For a list of tips and tricks related to these pancakes, please see the full post at www.loavesanddishes.net.
Keyword:
scratch made pancakes, homemade pancakes
Ingredients
1

Cup

All Purpose Flour

2

tsp

baking powder

3

Tbs

granulated sugar

½

tsp

kosher salt

½ - ¾

Cup

whole milk

2

Tbs

melted unsalted sweet cream butter

1

Egg - beaten

½

tsp

pure vanilla extract

¼

tsp

pure almond extract
Instructions
Whisk all dry ingredients together in a large bowl.

Mix all wet ingredients together in a smaller bowl

Pour the wet ingredients into the dry ingredients and mix with a spatula. Start with only ½ cup of milk. If the pancake mix is too dry and thick add the extra ¼ cup of milk to thin it out some so that it spreads evenly when dipped into the hot pan.

Pour by the ¼ Cup into a hot pan and cook until done (see recipe tips in section below).
Recipe Notes
Go ahead and make a double recipe, you won't be sorry
Nutrition Facts
Perfect Pancakes from Scratch
Amount Per Serving
Calories 220
* Percent Daily Values are based on a 2000 calorie diet.
Recipe Tips for Perfect Pancakes from Scratch
The first tip – do not OVER mix your pancakes. I think most people stir and stir to get the little lumps out. That is great if you are making The Chocolate Cake – but today we are making pancakes – so the little lumps are what we want! Makes a light and fluffy pancake! If you overmix your pancake will be heavy and no one wants that.

Pan choice. I recommend a well seasoned cast iron skillet. Many people use non-stick – if that is what you have, then by all means, use that. I'll just say that the heavier the pan with a nice thick bottom to hold heat evenly is best. If you only have a thinner pan – then set the heat lower. See the next tip for why.

To avoid burning your pancakes, never turn your pan up higher than medium low. A little above low is best. Allow the pan to heat on the burner for a few minutes before trying to cook the first pancake. You want the pan to be a uniform heat before the first pancake. Patience my dear friend patience.

It takes about 3 pancakes to get your pan just right and even then, you will have to add butter to the pan every pancake or two.

Use a measuring cup to pour your batter out – I use a quarter cup measure. This way the pancakes are all about the same size and are not too big for the pan. Enormous sized pancakes are too hard to flip. Just go smaller and eat more!

Keep your pan oiled by adding butter to the pan – the best way is to brush it on with a bbq brush or a pastry brush. (have some butter premelted from the microwave in a bowl beside the stove) Don't have a brush? Then only add a small amount of butter – a ¼ tsp at a time.

How to know when it is time to turn a pancake. Look for bubbles – lots of them. You will see bubbles in the edge of the pancake within a few moments – but you are looking for bubbles throughout the pancake.

Side two takes less time than side one. When you flip a pancake – you might see a bunch of spatter – that is OK! Just let it cook on side two. You can scrape the spatters out of the way after you take the pancake out of the pan

Your pancake is done on side two when it begins to puff a little.

When you begin cooking your pancakes, set your oven on the lowest setting available. Put a oven proof plate in the oven and set your pancakes there as you cook. Do not leave them there longer than 30 minutes – but while you are cooking up all of your batter – this is the ideal situation to keep everything warm until you are ready to eat.

These pancakes will save too – just cover with plastic wrap and then reheat in the toaster! You can freeze as well. Another reheating option is to lay flat on a cookie sheet and then re-heat in a 350 oven till heated through.

One other tip. 100% Maple Syrup is the answer. I know you didn't ask the question. I'm just telling you. I know it is expensive – but you can use so much less of it and the flavor is so good. Besides, then you know for sure what is in there. Trust me. Remember, I promised to tell you the truth about pancakes. That is the truth.
Process photos for Perfect Pancakes from Scratch
The Recipe for Perfect Pancakes from Scratch Inspiration
The inspiration for this recipe comes from a very old church cookbook that I have from 1974. The original recipe is from a dear little lady from my childhood church and the best cook ever. I added a little more sugar (her recipe says 2 tbs – I use 3), vanilla and almond flavoring. Otherwise, it is her recipe. I couldn't possibly change the recipe further. If you saw the adorable face of anticipation that my sweet hubby makes when he asks, "Do you feel like making pancakes this morning?" on occasional weekend mornings you would understand how good these pancakes are. What other answer could I have but, "Yes. Of course", even though I am not crazy about pancakes myself.
The Final Thought for Perfect Pancakes from Scratch
I made a batch of these pancakes last night thinking that I would have some left that I could take pictures of today on my lunch break from my day job. LOL. That's funny isn't it? Sandy was gone – working at her new job. I don't really like pancakes, so I wouldn't be eating any. That left only sweet hubby to eat some for dinner. Here is his recommendation as of this morning. "Do not eat the entire recipe for these pancakes after 7pm at night all by yourself, it is too much sugar". When I mentioned that these pancakes only have 3 Tbs of sugar for the whole recipe, he said, "well, not when you consider all the pancake syrup that I put on it". After some discussion, he also wants you to know, "If you eat all of the pancakes just before bed, you will have heartburn and that isn't very pleasant at 2am". So – now you know. Do not eat the entire recipe all by yourself. You will be miserable and you will have middle of the night heartburn. Consider yourself warned.
Now – I have to go in the kitchen and make another batch of pancakes for the pictures.