Some of you may be saying, "Why is restaurant style chicken fried rice on a southern comfort food blog"? That is a good question, smart cookie!
Restaurant style chicken fried rice is on a southern comfort food blog because said comfort food blog is THE PLACE to find the recipe for Shrimp Sauce (also known as Yum Yum Sauce, Japanese White Sauce and Benihana Sauce).
While that sauce is SUPERB on just about anything, it is BEST on some restaurant style chicken fried rice! See how that works because you need a recipe for that!

WHAT IS CHICKEN FRIED RICE AND WHERE DID IT COME FROM?
Here in the United States, we associate chicken fried rice with restaurants that serve asian style foods. According to my friend Wikipedia, chicken fried rice comes from a region of China where fried rice is mixed with vegetables and a thick sauce is poured over the top.
WHAT KIND OF RICE SHOULD I USE FOR MY RESTAURANT STYLE CHICKEN FRIED RICE?
You may use any style of white rice, however, in the interest of your finances, I'll just say get plain old white rice. At my grocery the typical bag of rice (about ½ lb) costs 0.82c which is far less than the Jasmine rice or any of the other white rices.
THE SECRET TO REALLY GOOD RESTAURANT STYLE CHICKEN FRIED RICE
Use leftover rice. Cook the rice, then put it in the refrigerator overnight so that the rice gets a little dried out. This makes the best chicken fried rice. If you use freshly cooked rice, it just become mushy in the pan.
DO I NEED TO USE SESAME OIL?
You can really use any kind of oil, BUT, sesame oil has a higher smoke point and a unique flavor that you'll put together with the good flavors you are used to in Asian cooking. Try it, you wont' be sorry.
EQUIPMENT I USE TO MAKE RESTAURANT STYLE CHICKEN FRIED RICE
My rice cooker is invaluable. We use a teeny tiny one for just me and my husband. You might want a bigger one. If you click the photo, it will take you through to Amazon to compare prices. I am an Amazon affiliate and receive some compensation if you purchase through this link.
What is handy is the little insert comes out and you can plunk that right in the fridge.
TIPS AND TRICKS FOR RESTAURANT STYLE CHICKEN FRIED RICE
You MUST use day old (at least) rice for this. Simply cook up a bunch in your rice cooker and set it in the fridge! No problem!
Use white rice for this recipe, other sticky rices will simply be too sticky and brown rices won't really work for this recipe.
It is really essential that you use the cooking sherry, oyster sauce, fish sauce and sesame oil. While I realize those aren't things that you will typically have in your fridge if you don't make asian foods all the time, it truly is worth the investment. Plus, once you have those sauces, you can make this just any time you want!
Please don't try to substitute chicken broth for any of the ingredients, you won't come up with the same taste and the consistency will be terrible.
Day old rice is clumpy. Use a wooden spoon or a spatula to break up the clumps. No worries. By the time you have everything heated through the clumps will be gone.
If you can't find the frozen sugar snap peas, water chestnuts and carrots combo, it is fine to use whatever frozen vegetable you like. Experiment some, I bet you'll find lots of combos you like with this dish!
Need a fast rice? Try this one! Ready in just 5 minutes!
IF YOU ENJOYED RESTAURANT STYLE CHICKEN FRIED RICE, YOU MIGHT ALSO ENJOY….
Fried Apple Cake with Caramel Icing
Creamy Spinach Stuffed Pimento Cheese
Peanut Sauce Chicken on a stick
YA'LL HELP ME OUT…
Please leave me a 5 star 🌟🌟🌟🌟🌟 comment below in the comment section, all right? I would LOVE to know if you made this recipe or even if you are planning to! Of course, head on over to Pinterest, Facebook and Instagram and tag me with some photos of your creation!
I can't wait!
Ya'll know I love your comments!! ❤
THE RECIPE FOR RESTAURANT STYLE CHICKEN FRIED RICE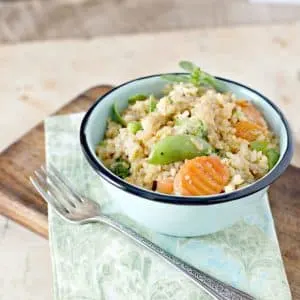 Restaurant Style Chicken Fried Rice
restaurant style chicken fried rice
Print
Pin
Rate
Ingredients
for the stir fry
2

tbsp

vegetable oil

3

large

garlic cloves - minced

1/2

medium onion - chopped

2

boneless skinless chicken thighs - chopped

12

oz

frozen snow peas, water chestnuts, broccoli and carrots - frozen

2

cups

day old packed white rice

4

large

eggs - whisked
for the sauce
1

tbsp

cooking sherry

1

tbsp

oyster sauce

1

tbsp

fish sauce

1

tbsp

braggs soy sauce

1

tbsp

sesame oil

salt and pepper liberally
Instructions
Heat the vegetable oil in a wok or large skillet over medium heat on the stove top.

Place the onion and minced garlic in the pan and allow to cook until you can smell the garlic. Then add the chopped chicken pieces and cook until the chicken is cooked through. Add a sprinkle of salt and pepper.

Now add the frozen veggies and allow to cook until they are a bright color (about a minute or two). Add a sprinkle of salt and pepper.

Spoon the rice in and chop it up with your spatula if needed because it will likely be clumped together. Allow the rice to heat through. Add a sprinkle of salt and pepper.

Push all of the ingredients to the sides of the pan making a well in the center of the pan. Add the whisked eggs to the little well that you have made and cook well

Stir the eggs gently into everything else and add the sauce ingredients.
Notes
restaurant style chicken fried rice.
Nutrition
Nutrition Facts
Restaurant Style Chicken Fried Rice
Amount Per Serving
Calories 250
* Percent Daily Values are based on a 2000 calorie diet.
A VERSE TO SHARE
"I don't have friends like you do, I've never been able to make friends like you", and so went a conversation I had recently. Then a different conversation with someone else, "I've been so down, everything is screwed up and now (name withheld) hates me".
Surely you are aware of people who feel like this. Perhaps you are the one who feels like this. In turning to the Bible, there isn't a LOT about friendship, but there is enough to find guiding principles.
If you are feeling low about the state of your relationships with others, I suggest you dig in to your Bible for some answers. Here is what I found that may give some insight.
AN ENCOURAGEMENT TO BE A FRIEND
Be a friend first. If you see a friend fall or have trouble, GO AND HELP HIM UP. In fact, if you see ANYONE fall, go and help them up.
Check in with your friends often just to say, "How's it going?" "What are you up to these days?" "Lets go grab dinner one day this week".
HERE IS WHAT THE BIBLE SAYS ABOUT THAT.
Ecclesiastes 4: 9-12 Two are better than one, because they have a good reward for their toil. For if they fall, one will lift up his fellow. But woe to him who is alone when he falls and has not another to lift him up! Again, if two lie together, they keep warm, but how can one keep warm alone? And though a man might prevail against one who is alone, two will withstand him—a threefold cord is not quickly broken
TALK ABOUT POSITIVE THINGS AND ENCOURAGE ONE ANOTHER
Maybe your friends have different politics than you. Perhaps they follow a different set of beliefs than you. That doesn't mean that you can't be a positive support for one another, does it? Just don't argue and taunt each other about the points where you can't agree, why does that have to be so difficult?
SAY THIS…
Hebrews 10:24-25 – And let us consider how to stir up one another to love and good works, not neglecting to meet together, as is the habit of some, but encouraging one another, and all the more as you see the day drawing near.
AND FINALLY, ENCOURAGE ONE ANOTHER…
1 Thessalonians 5:11 – Therefore encourage one another and build one another up, just as you are doing.
Surely, it can't be a mistake that the Bible is instructing us to "encourage one another" so many times, can it?
THE SECRET TO HAVING AND KEEPING FRIENDS…
Perhaps that is the secret to having and keeping friends? Don't worry about what you are getting out of the relationship, simply put, build one another up and encourage one another.
Finally, in reviewing my conversations that I started with, I promise that both of these people could benefit from understanding the concept of "Build others up" and "Encourage others".
A CHALLENGE
Here is a challenge to each of you and myself too to begin a campaign of "Build up others and encourage them" and see what happens. From today's reading, I understand…
If I see that someone has fallen (not just literally but figuratively too), I'm going to stop and help them up.

Find friendships with many people, everyone needs that threefold cord.

Stir up LOVE and GOOD works, guard my heart against things that will make it hard. Encourage love and good works in others. (Thusly, this means to avoid teasing and playful comments if someone else might misunderstand the intent and be hurt by what I say. Avoid conversations about politics or conversations where I find that our views are so differing as that it may cause an argument, instead find topics where LOVE and GOOD WORKS are stirred up instead and save the politics or heated arguments for a different time).

Go meet my friends in person, spend time with them.
That seems like sound Biblical advice to me and also advise that may save our relationships during this time of social media altercations where it is easy to lose a friend.