My teenage daughter said, "It's so good, I can't quit eating it!". This from a child who wouldn't eat anything but macaroni and cheese, pizza and hot dogs growing up. Those are words that make a mother's heart shine!
This chicken is more than the sum of its' parts and it's a little bit magic! I didn't taste the whiskey or the preserves or the BBQ sauce or the Worcestershire sauce – but its in there –see the magic! When these things are all combined, whoot whoot! The delicious melding of flavors makes the top of my head tingle! The best thing is that there is enough sauce left to pour over potatoes or rice (or sop up with bread or dip your fingers in or… you fill in the blank!).
By the way, if you are concerned about the peppers, just add as much as you think your family will want – but please add a little – it amps up the flavor! The first time I made this, I used two jalapeño's with the seeds and ribs removed. There was barely any heat at all. The next time, I left the seeds and ribs in, which was just about right for us. For this episode, I'm using some peppers that my friend gave me (see the preserving peppers page https://www.loavesanddishes.net/preserving-peppers-part-2/) and I hope that the three little peppers are about equal to the two jalapeños – I guess we will see in about an hour and half!
On another note – if you are concerned about the whiskey at all – then just use an equivalent amount of chicken stock and 2-5 drops of liquid smoke. What you should know though is that the alcohol cooks off very quickly and you will not be feeding your family an alcohol laden dish! No worries there.
Serving suggestions:
Pair with a starch of some kind – we like mashed potatoes, but rice, egg noodles, crusty bread, sweet potatoes – well, anything starchy would be delish!
A lovely green salad works well too.
Leftover suggestions:
I have frozen the leftovers and then reheated – that worked very well.
Shred the chicken and mix with some of the sauce to make a chicken sloppy joe – serve with French fries. Yum!
This recipe makes a bunch of sauce, more than you will use. I have some frozen to use for gravy when I don't have any!
I hope your family will enjoy this as much as mine did!
Let's eat ya'll!
"The second is this: 'Love your neighbor as yourself.' There is no commandment greater than these." Mark 12:31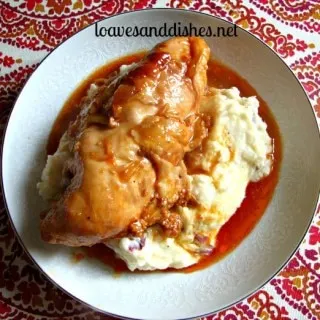 Zesty Drunken Chicken
A tangy sweet bourbon style chicken. You will be so surprised that you were able to cook this delicious dish so quickly!
Print
Pin
Rate
Ingredients
Ingredients

2

Tbs.

olive oil

2

Tbs

butter

½

yellow onion - chopped

5

cloves

garlic - minced

2

Tbs

grated ginger

2

jalapeño peppers – large dice

your choice with or without the seeds and ribs

¾

Cup

Whiskey

½

Cup

apricot preserves

1

Cup

BBQ sauce

1

Tbs

Worcestershire sauce

½ - 1

Cup

chicken broth

Pinch

salt and pepper

1

whole chicken

cut into pieces or equivalent amount of chicken parts – DO NOT use boneless chicken pieces.
Instructions
Instructions

Preheat oven to 300.

On medium heat on stove top in a dutch oven, heat olive oil and butter. When butter is melted, add the onion and cook till translucent. Add garlic, jalapeno and ginger and cook for 2 mins.

Add Whiskey all at once and cook until it is reduced by about half.

Add apricot preserves, BBQ sauce, Worcestershire sauce and ½ Cup Chicken Broth and heat through.

While heating, salt and pepper the chicken.

Add the chicken to the sauce and submerge completely into the sauce. If the sauce is not enough to cover, add the remaining chicken broth.

Cover the dutch oven and place in the oven to cook for 1 ½ hours.
Notes
Serve this dish over noodles or rice for the best results.
Spoon extra "gravy" over the entire dish to serve.
Nutrition
Nutrition Facts
Zesty Drunken Chicken
Amount Per Serving
Calories 220
* Percent Daily Values are based on a 2000 calorie diet.
And now, to my faithful readers – your post blog dessert.
Did you have a favorite book as a child? I'm sure you did. You can probably even remember a line or two from that book – can't you? My favorite book as a child was "Green Eggs and Ham" followed by ANY book by Dr. Seuss. "I am Sam" "Sam I am". I still love Dr. Seuss. With that, here is another uplifting thought from Dr. Seuss…
Today you are you! That is truer than true! There is no one alive who is you-er than you! ~ Dr. Seuss.