READY in 30 MINUTES! Creamy sauce, tangy flavor, fresh dinner bliss that is unforgettable. Everyone needs this Creamy Tuscan Chicken!
Truly a restaurant quality dish made with skinless, boneless chicken breasts, sun dried tomatoes and spinach. An extremely addicting forever favorite!
Why This Recipe Works…
Ready in just 30 Minutes start to finish.
Adding the chicken broth deglazes the pan and adds a TON of flavor!
One pan dish making sauce with the chicken drippings make great flavor!
The chicken breasts cook quickly, the sauce thickens slightly and everything is ready FAST!
Here's a great recipe for delicious tender chicken too! Easy Instant Pot Mississippi Chicken Recipe (w/video)
How It's Done…
STEP 1.
Heat oil in a large skillet and add the chicken breasts to the skillet and cook on medium high heat. You'll cook the chicken till it's no longer pink in the center.
STEP 2.
Remove chicken and add the ingredients for the sauce.
STEP 3.
Once the flavorful sauce is reduced (a few minutes) add the chicken back in, let everything heat through and the chicken cook through and you are ready to serve! Add a little salt and pepper.
STEP 4.
Imagine serving up this delicious looking dish for a weeknight dinner!
Frequently Asked Questions (FAQ's)
What is a Tuscan Chicken Recipe Anyway?
Tuscan chicken is a dish that simple using fresh ingredients for a GIANT flavor boost. Tuscan means fromTuscany
Can I Freeze this Creamy Tuscan Chicken Recipe?
Yes! You CAN! Simply place the chicken/sauce in a freezer safe container, remove as much air as possible and freeze up to 3 months!
How do I Reheat this Tuscan Chicken Recipe?
Place on the stovetop in frying pan or sauce pan.
Heat over medium low heat.
Add some milk or chicken broth, stir and when heated through, serve.
What Goes With Creamy Tuscan Chicken?
Serve this with some type of starchy dish like
rice.
White beans would be traditional though.
The sauce is wonderful when sopped up with a crusty bread or roll!
Can I Make This Tuscan Chicken in the Oven?
Yes, you can. It is better when done on the stove top, (less dishes and less steps).
First, brown the chicken on both sides in a skillet on the stove top.
In the skillet, add the broth, deglaze the pan with the broth.
Add the sundried tomatoes, spinach and cheese and heat till the spinach has wilted.
Place the chicken and the sauce into a oven safe baking dish and bake for 15 minutes at 350 uncovered.
Soften the cream cheese in the microwave until it is creamy.
When the chicken is cooked through, remove the chicken from the pan, whisk the cream cheese into the sauce.
Add the chicken breasts back to the pan for creamy garlic tuscan chicken.
Are There Any Substitutions I can Make for Creamy Tuscan Chicken?
Yes! There are! See the Recipe Card Notes for More!
It's not a substitution, but if you want to learn to fry really tasty chicken, try out this how to fry crispy pan fried chicken in oil (Recipe)
If You Enjoyed This Recipe, You Might Also Like…
Creamy Spinach and Pimento Cheese Stuffed Chicken
Weeknight Cheesy Chicken and Stuffing
Hey Ya'll! You Can Really Help Me Out…
Leave a 5 STAR Comment 🌟🌟🌟🌟🌟 below to help others find this site on the internet! I appreciate it so much!
Remember to sign up for the Newsletter that has a Weekly Hot Cooking Tip!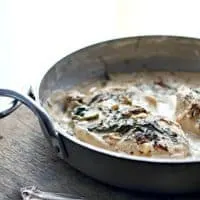 Creamy Garlic Sundried Tomato and Spinach Chicken
Creamy luscious and just like I want every day to end. Besides, it's ready in 30 minutes. The best way to spend an evening with someone else or just by yourself.
Print
Pin
Rate
Ingredients
2

Tbs

oil

2-4

thin sliced chicken breasts

depending on size (see video)

Salt and pepper

4

cloves

of garlic - minced.

2

cups

chicken stock

1

cup

heavy cream

4

oz

½ block cream cheese - cubed

⅓

cup

sundried tomatoes packed in oil - chopped small

1

Cup

grated parmesan cheese

1 ½

cups

fresh baby spinach

1

tsp

lemon juice

Salt and pepper to taste

Garnish with fresh cracked black pepper
Instructions
Heat two Tbs oil in a 9 inch skillet on the stove top on medium heat. While this is heating, check your chicken breasts for thickness (you do not want them super thick. If they are thick, slice in half like you would open a book) and salt and pepper the chicken. When oil is glimmering, add the chicken and sear on each side (2-3 mins per side). Remove to another dish. Add the garlic and saute for 1 minute.

Increase the heat to medium high and add the chicken stock all at once. Deglaze the pan (scrape up the yummy bits on the bottom of the frying pan) and allow the broth to reduce by half (this takes a while - maybe 5-8 minutes).

When the chicken stock is reduced, reduce the heat back to medium. Add the heavy cream, cream cheese, sundried tomatoes, parmesan cheese, spinach and lemon juice. Stir constantly until the sauce bubbles and thickens.

Add the chicken breasts back to the sauce and allow them to finish cooking through (about 5 mins). Taste, add salt and pepper to taste. Garnish with fresh cracked black pepper.
Notes
When you remove the chicken breasts from the pan, don't adjust the heat just yet. When you add the broth, its going to sizzle and steam. That's exactly what you want!
It will seem like WAY too much spinach. The spinach will wilt quickly and you'll think it's going to disappear.
It takes a few minutes for the chicken stock to reduce by half. Just give it a few minutes. It will happen. No worries.
Substitutions:
You can substitute chicken thighs for the breasts. Make sure to flatten them out as best you can.
It's fine to substitute milk, coconut milk, vegan milk alternatives for the cream. Just know that the final taste will be different and the sauce will not be as thick and creamy.
Other greens will work but spinach probably tastes the best.
If spinach or garlic isn't your thing, it is ok to leave either out but honestly, they make the dish.
PRO TIP: Salt is what makes this dish, in the end. Make sure to add a little more salt at the end if the flavor isn't where you want it.
Nutrition
Nutrition Facts
Creamy Garlic Sundried Tomato and Spinach Chicken
Amount Per Serving (1 breast)
Calories 650
Calories from Fat 450
% Daily Value*
Fat 50g77%
Cholesterol 210mg70%
Sodium 807mg34%
Potassium 733mg21%
Carbohydrates 9g3%
Protein 40g80%
Vitamin A 2560IU51%
Vitamin C 6mg7%
Calcium 370mg37%
Iron 1.4mg8%
* Percent Daily Values are based on a 2000 calorie diet.
***This recipe first appeared on Loaves and Dishes on January 5, 2017 and has been updated with video, process photos, Tips and Tricks, FAQ's, pro tips and the recipe has been updated with better instructions!***
A VERSE TO SHARE
Every time I read this passage, I think about the Marys' and coming to the tomb that morning.
I can't imagine their shock and surprise to find the tomb empty, and beyond that, a young man sitting there saying "don't be alarmed…. He has risen".
I hope this verse speaks to you…
Mark 16: 5-8
Entering the tomb…
they saw a young man sitting on the right side, dressed in a white robe, and they were alarmed. He said to them, "Do not be alarmed.
You seek Jesus of Nazareth, who was crucified. He has risen; he is not here. See the place where they laid him.
Go, tell his disciples and Peter that he is going before you to Galilee. There you will see him, just as he told you."
They Went out and fled from the tomb, for trembling and astonishment had seized them, and they said nothing to anyone, for they were afraid.