Jump to Recipe
Sometimes you just have to go with it. It's true for a lot of things in life. That's the thing with a truth – it's true – regardless of the mantle it's painted on. "Just going with it" is exactly how this recipe for Creamy Garlic Sundried Tomato and Spinach Chicken came to be!
What else would you do if you had chicken, cream, sundried tomatoes and spinach in the fridge? No other choice, right? Right. Just whip up this delicious, easy, restaurant quality dish. That's all there is to it. Then, just sit down and ENJOY!
I won't belabor the point, it's all in the video. Ya'll be kind – 'cause I just went with it. It took a lot of courage to actually get behind the camera myself.
I also want to invite you to join my mailing list – just subscribe over on the right hand side of this page at the red subscribe banner! I'll show you how to make LOTS of tasty dishes that will have your family banging on the table for more!
/span>
With that, I'll leave you with the video and the recipe – which couldn't be more simple and easy to do. Just do like I say in the video about the size of your chicken breasts, salt and pepper and you'll have it.
Go have fun in the kitchen and Just Go with It!
If you enjoy this recipe – you might also really like my Fettuccini recipe.
THE RECIPE FOR Creamy Garlic Sundried Tomato and Spinach Chicken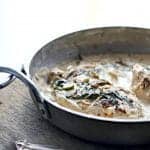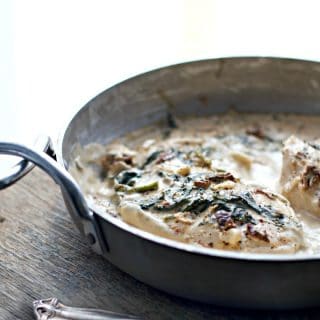 Creamy Garlic Sundried Tomato and Spinach Chicken
Creamy luscious and just like I want every day to end. Besides, it's ready in WAY under an hour. The best way to spend an evening with someone else or just by yourself.
Keyword:
Creamy Garlic sundried tomato chicken, sundried tomato chicken
Ingredients
2

Tbs

oil

2-4

thin sliced chicken breasts

depending on size (see video)

Salt and pepper

4

cloves

of garlic - minced.

2

cups

chicken stock

1

cup

heavy cream

4

oz

½ block cream cheese - cubed

⅓

cup

sundried tomatoes packed in oil - chopped small

1

Cup

grated parmesan cheese

1 ½

cups

fresh baby spinach

Salt and pepper to taste

Garnish with fresh cracked black pepper
Instructions
Heat two Tbs oil in a 9 inch skillet on the stove top on medium heat. While this is heating, check your chicken breasts for thickness (see video) and salt and pepper the chicken. When oil is glimmering, add the chicken and sear on each side (2-3 mins per side). Remove to another dish. Add the garlic and saute for 1 minute.

Increase the heat to medium high and add the chicken stock all at once. Deglaze the pan (scrape up the yummy bits on the bottom of the frying pan) and allow the broth to reduce by half (this takes a while - maybe 5-8 minutes).

When the chicken stock is reduced, reduce the heat back to medium. Add the heavy cream, cream cheese, sundried tomatoes, parmesan cheese and spinach. Stir constantly until the sauce bubbles and thickens.

Add the chicken breasts back to the sauce and allow them to finish cooking through (about 5 mins).
Recipe Notes
If spinach isn't your thing, don't worry because you don't even taste it. 
Nutrition Facts
Creamy Garlic Sundried Tomato and Spinach Chicken
Amount Per Serving
Calories 300
* Percent Daily Values are based on a 2000 calorie diet.
A VERSE TO SHARE
Every time I read this passage, I think about the Mary's and their coming to the tomb that morning. The heaviness that must have been in their hearts. Having been a hospice nurse for a number of years, it reminds me of getting a "time of death" call as a nurse. Knowing the duties that are before me. The sadness of the family. Yet, the great honor of caring for someone in this way.
I can't imagine their shock and surprise to find the tomb empty – and beyond that – a young man sitting there saying "don't be alarmed…. he has risen".
I hope this verse speaks to you…
Mark 16: 1-8
When the Sabbath was past, Mary Magdalene, Mary the mother of James, and Salome bought spices, so that they might go and anoint him. And very early on the first day of the week, when the sun had risen, they went to the tomb. And they were saying to one another, "Who will roll away the stone for us from the entrance of the tomb?" And looking up, they saw that the stone had been rolled back—it was very large. And entering the tomb, they saw a young man sitting on the right side, dressed in a white robe, and they were alarmed. And he said to them, "Do not be alarmed. You seek Jesus of Nazareth, who was crucified. He has risen; he is not here. See the place where they laid him. But go, tell his disciples and Peter that he is going before you to Galilee. There you will see him, just as he told you." And they went out and fled from the tomb, for trembling and astonishment had seized them, and they said nothing to anyone, for they were afraid.