OH MY GOSH! Did you ever dream up something and then try it and have it turn out perfectly? It happens only rarely, right? Right! This CREAMY SPINACH STUFFED PIMENTO CHEESE CHICKEN is the result of just such a dream. Creamy, smooth, smoky, cheesy, garlicky and oh so perfect! Beautiful too! And… BACON!
You should focus on your day job 100% while at work. That is the responsible and adult thing to do, Right?
CONFESSION
Confession: I'm not always that person.
Sometimes uncontrolled and unbidden thoughts drift into my mind, particularly when I'm hungry. Thoughts of "what am I gonna have for lunch?". "I wonder if we have any bread so that I can have a tomato sandwich today?". "Bacon and Pimento Cheese would be good on a baked chicken, right?" "What if I added spinach, garlic and cream cheese?"
Now you know the inner workings of this sad mind.
This recipe idea has simmered up on the top shelf of my brain for about a month. Whenever a little boredom sets in, I pull it out and think on it some more.
Boredom and daydreaming have paid off because IT'S PERFECT! That almost NEVER happens for me! EVER!!! Will you celebrate with me???
Hey – I want to know – when is the last time that you tried something you dreamed up and it worked out perfectly? Leave me a comment and let me know!
RECIPE INSPIRATION FOR CREAMY SPINACH STUFFED PIMENTO CHEESE CHICKEN
OK – so, I didn't just make this up COMPLETELY in my mind. Mr Loaves and Dishes and I have a couple of FAVORITE Italian restaurants that often serve Carbonara. I have FAILED to order carbonara – EVERY TIME – because, well…. there are always other things I want to try. I KNOW that pasta with bacon and a white sauce is gonna be excellent. I don't really even need to take a bite to know.
Anyway, that is how this whole thing started. I wanted to do a carbonara recipe. The mind wandered from "bacon" to, "bacon and chicken" to, "bacon, chicken and pimento cheese" to, "people will hate me if I don't throw a vegetable in there, so I guess some spinach will work".
I'm embarrassed to even follow the line of thinking to explain it to you. Let's just say, I've been hungry a lot lately and wanting comfort food (remember the big decision I talked about last time – comfort food inducing big decision).
As for household reviews of this dish? Mr. Loaves and Dishes ate one thigh, then went back for another, then another and then said, "I have GOT to quit eating these things!".
I will say – this is one LOW CARB recipe (unless you serve it on angel hair pasta, like I did). Which, by the way, was delicious!
Alas, this IS NOT A carbonara recipe. So, I'll just have to keep that on the list of things to make one day. For now, we are gonna chow down on this delicious CREAMY SPINACH STUFFED PIMENTO CHEESE CHICKEN!
THE RECIPE FOR CREAMY SPINACH STUFFED PIMENTO CHEESE CHICKEN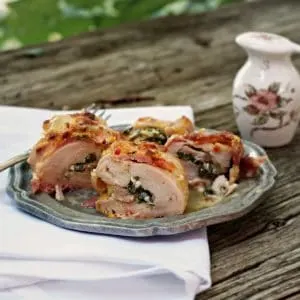 CREAMY SPINACH STUFFED PIMENTO CHEESE CHICKEN
Ridiculously good and will make you welcome anywhere you go! What goes together better than pimento cheese and chicken? Nothing!
Print
Pin
Rate
Ingredients
2

tbs

olive oil

1

tbs

minced garlic

about 2 cloves if using fresh

1

Tbs

better than bouillon chicken stock base

1 5

oz

package of fresh spinach

use more if you really like spinach - it wilts down to nothing.

Pinch

of salt

⅓

cup

water

½

block

4 oz cream cheese - cut into 1 inch cubes.

3

lbs

skinless boneless chicken thighs

4-5

slices

of good quality thick bacon cut in half

Another pinch of salt

maybe a couple of pinches

Pinch

of pepper

maybe a couple of pinches

¾

tub of 14 oz Good Quality Pimento Cheese
Instructions
Preheat the oven to 350.

In a large skillet on medium high heat on the stove top, heat olive oil till glistening and then add the garlic and allow to cook until aromatic (about 1 minute).

Add the bouillon chicken stock base, spinach and a pinch of salt and saute the spinach in the oil for about 1 minute. (stir continuous)

Add the water to the hot pan. There will be steam - don't let it burn you. Keep stirring.

Add the cream cheese to the pan and stir till melted and until the spinach is completely wilted. (Should look like wilted spinach with a creamy white sauce). Remove from the heat as the sauce begins to thicken. Set aside.

Remove the thighs from the package, lay them out on a flat surface and open up so that the cut side is facing up. Sprinkle each thigh with a pinch of salt and pepper to the front and back.

Spoon 1 Tbs of the spinach mix into the thigh then roll the thigh up and wrap a piece of bacon around the thigh. (I cut the bacon slice in half and used one half-piece of bacon for each thigh). Place the thigh seam side down in a 9x13 baking dish. Repeat for each thigh. If you have spinach/sauce left over, pour it over the top of the chicken in the pan.

Return the same skillet to the stove top and set the stove on medium heat. Spoon the pimento cheese into the skillet and heat until the pimento cheese is melted and runny like a sauce.

Spoon the runny pimento cheese, one tbs on each thigh in the baking dish. If there is any left over, pour it over the thighs.

Bake at 350 for 45-55 minutes. Check the dish at about 40 minutes and if the thighs are beginning to look too dark but are not yet cooked through, lay a piece of aluminum foil over the baking dish and continue baking until the juices run clear and the chicken is cooked through. Good Heavens, this is a delicious dish! Control yourself until it is on the table and then go HOG WILD!
Notes
You'll definitely want to make your own pimento cheese for the best taste.
Nutrition
Nutrition Facts
CREAMY SPINACH STUFFED PIMENTO CHEESE CHICKEN
Amount Per Serving
Calories 280
* Percent Daily Values are based on a 2000 calorie diet.
TIPS AND TRICKS FOR CREAMY SPINACH STUFFED PIMENTO CHEESE CHICKEN
I'm gonna try to go ahead and answer the questions that I know people will ask.

First, yes, you can use the pre-minced garlic, in fact, that is what I did – because I had some and it does save time.

Second, yes, you can use boneless skinless chicken breast for this recipe – but as I have said many many times, those 1 lb wonders that we call chicken breasts won't work for this recipe, you will have to cut a big honking breast down by cutting it in half like a book and use a meat pounder to thin it out. Still, it won't' taste as good as these flavorful thighs! Besides that, the thighs already have a wonderful little pocket where the bone used to be to hold the spinach! If you use breasts – you will have to be careful about how long you bake it – because they dry out quickly.

Third, yes, you can use the frozen spinach instead of fresh – just thaw it out and squeeze all of that water out of it before you use it. The extra water will ruin this recipe if you don't get it out.

Fourth, yes, you can use the low fat cream cheese or the Neufchatel, that is fine – but honestly – look at the other ingredients in this recipe – how many calories or fat will you save? Just go with the recipe as written and then take a walk after dinner or only eat ONE thigh. This is NOT a diet recipe – unless you are on a low carb only diet – then – go WILD!

Fifth – what is good quality pimento cheese? It's pimento cheese that has some good cheese in it for one thing and great flavor for another! My Three Son's is a great brand. I used Stan's in my recipe – brown and orange package – excellent, by the way.

If you need a great recipe for pimento cheese HERE IS ONE.

You will find that a lot of the fat that would be in the chicken ends up in the bottom of the baking dish – so, if you don't spoon that onto your chicken at the end, you'll be saving yourself some fat intake.

Serving suggestions: I served this over Angel Hair pasta and WHOOO WEEE! Delicious! It would also be great as a salad topper and would go great with purple onions on a salad! In fact, that would be lovely to look at!

Again, this IS NOT a diet recipe and you probably shouldn't try to make it into one. If you need something TASTY that is lower calorie then I suggest you try one of these recipes – which are all YUMMY – I promise. The wouldn't live at Loaves and Dishes if they weren't.
A VERSE TO SHARE
Last time, we talked about big decisions. We talked about putting God first.
We talked about how King Solomon – 900 years before the birth of Christ – collected sayings about making big decisions and you can find those in the Book of Proverbs – chapter 16 (most of the chapter).
So – with my big decision – I've tried to leave it up to God. I figure that He will show me the way as long as I go to Him putting my own ambitions aside and asking for His guidance. I must be honest about myself and my own challenges.
The big decision is made. It is out into the universe now and I can't stop it, even if I wanted to. So, we will see what happens. I have faith though. Absolute faith in THE ONE who provides. He won't let me down. He never has.
THE BEGINNINGS OF A POST
So, this morning as I started to write this post, still having the Big Decision on my mind, I prayed, "Please God let me write something that someone needs to hear". "Please let this post glorify You and be what You want said."
I was lead to one of my favorite Bible verse websites and the verse that popped up was Malachi 3:10, which if you ONLY read one verse appears to talk about the blessings that the Lord will HEAP upon his followers.
However, as I always do, I went to read the ENTIRE passage. When taken in it's entirety DOES explain the blessing that the Lord has in store for His followers – but it doesn't come without investment from us, does it?
A MESSAGE OF HOPE
I think the lesson here is one of HOPE. Keep your faith – even when everyone around you is losing theirs. Keep believing. Keep the laws.
It's hard in today's society to ignore the arguments against God. You've heard it. I know I have. You hear it when others say that God doesn't make sense. You hear that the Bible contradicts itself. People ask, "If there was a God, why would he allow children to suffer and die?"
I can't answer those hard questions here – but I can keep my own faith. Faith doesn't have to make sense. Faith doesn't have to follow science. I will keep my faith and I pray that you will keep yours too.
HERE'S THE VERSE
Here's Malachi 3.
I hope you will read it through.
"I will send my messenger, who will prepare the way before me. Then suddenly the Lord you are seeking will come to his temple; the messenger of the covenant,whom you desire, will come," says the Lord Almighty.
But who can endure the day of his coming? Who can stand when he appears? For he will be like a refiner's fire or a launderer's soap. He will sit as a refiner and purifier of silver; he will purify the Levites and refine them like gold and silver. Then the Lord will have men who will bring offerings in righteousness, and the offerings of Judah and Jerusalem will be acceptable to the Lord, as in days gone by, as in former years.
"So I will come to put you on trial. I will be quick to testify against sorcerers,adulterers and perjurers, against those who defraud laborers of their wages, who oppress the widows and the fatherless, and deprive the foreigners among you of justice, but do not fear me," says the Lord Almighty.
THE LORD DOESN'T CHANGE
I the Lord do not change. So you, the descendants of Jacob, are not destroyed. Ever since the time of your ancestors you have turned away from my decrees and have not kept them. Return to me, and I will return to you," says the Lord Almighty.
"But you ask, 'How are we to return?'
"Will a mere mortal rob God? Yet you rob me.
"But you ask, 'How are we robbing you?'
"In tithes and offerings. You are under a curse—your whole nation—because you are robbing me. Bring the whole tithe into the storehouse, that there may be food in my house. Test me in this," says the Lord Almighty, "and see if I will not throw open the floodgates of heaven and pour out so much blessing that there will not be room enough to store it. I will prevent pests from devouring your crops, and the vines in your fields will not drop their fruit before it is ripe," says the Lord Almighty. "Then all the nations will call you blessed, for yours will be a delightful land," says the Lord Almighty.
ROBBING AND ARROGANT
"You have spoken arrogantly against me," says the Lord.
"Yet you ask, 'What have we said against you?'
"You have said, 'It is futile to serve God. What do we gain by carrying out his requirements and going about like mourners before the Lord Almighty? But now we call the arrogant blessed. Certainly evildoers prosper, and even when they put God to the test, they get away with it.'"
THOSE WHO ARE A TREASURED POSSESSION
Then those who feared the Lord talked with each other, and the Lord listened and heard. A scroll of remembrance was written in his presence concerning those who feared the Lord and honored his name.
"On the day when I act," says the Lord Almighty, "they will be my treasured possession. I will spare them, just as a father has compassion and spares his son who serves him. And you will again see the distinction between the righteous and the wicked, between those who serve God and those who do not.