Blanching Tomatoes prepares them for all kinds of things in your kitchen! You'll be better prepared for cooking when you know how to blanch tomatoes!
You'll love knowing how to Blanch Tomatoes! It's a great way to peel and seed tomatoes, prepare tomatoes for freezing, or prepare for homemade tomato sauce, spaghetti sauce, salsa and MORE!
Why This Recipe Works
FAST
EASY
You already have everything you need
Here's How You Do It
STEP 1. Boil a large pot of water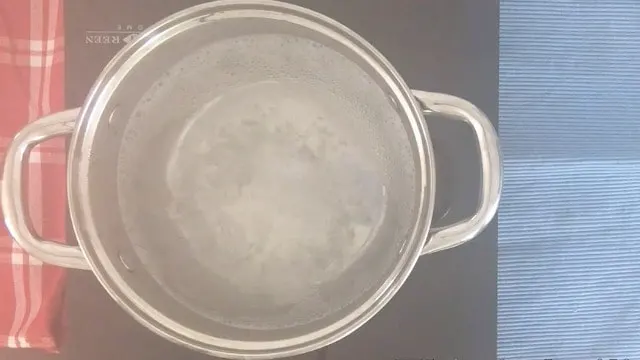 STEP 2. Make a large bowl of ice water.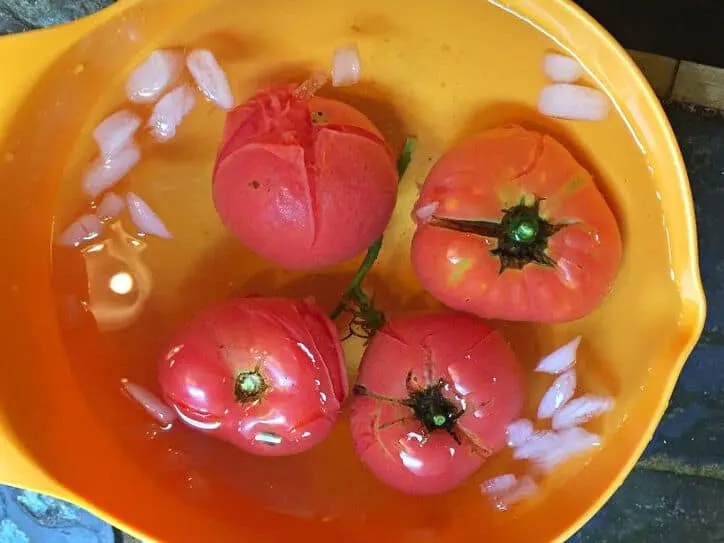 STEP 3. Gather supplies and begin blanching your tomatoes
Gather tongs, kitchen spider and large slotted spoon together for this job. Using the appropriate tool for the Tomato, gently put the Tomatoes in boiling water.
You will notice that the Tomato starts to change colors. Remove it when you see this. Take it from the boiling water within 2-3 minutes anyway.
STEP 4. Shocking.
Plunge the Tomatoes into ice water immediately to stop the cooking process. Allow to soak for 2-3 minutes. Then remove and use for your recipe.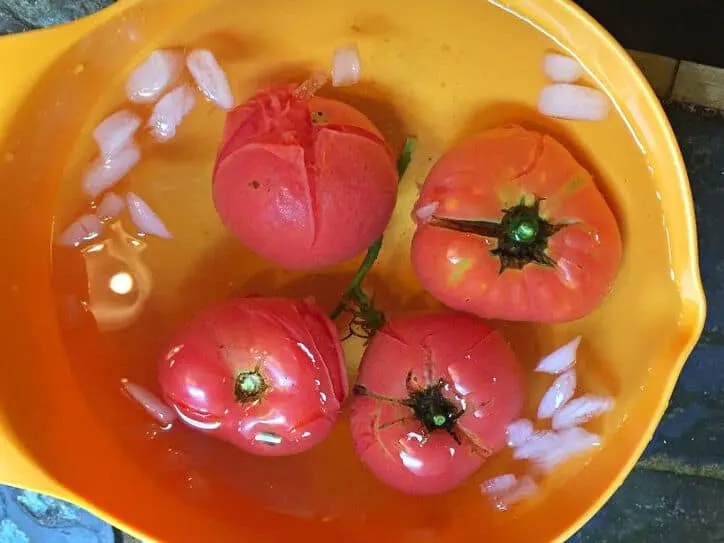 Frequently Asked Questions FAQ's
Why Do You Blanch Tomatoes
There are several reasons you might blanch Tomatoes that include:
Preparing them for freezing

Pre Cooking them (also called parboiling).

Blanching to remove the peel (like with tomatoes or peaches).
What Does Blanching Do?
It scalds the Tomatoes to prepare it in certain ways…
Blanching for

freezing

stops the enzyme action that cause loss of color, flavor and texture.

Blanching for

pre-cooking purposes (parboiling

) partially cooks the Tomatoes so that it cooks faster in whatever application you are using it for.

You can blanch your tomatoes to remove the skin for certain recipes and for canning!
How to Blanch and Peel a Fresh Tomato
To blanch a tomato, simply simmer it for a minute or two in hot water, cool in an ice bath and then slip the peel right off! It helps if you cut an X on the bottom of the tomato first.
Should I Core A Tomato Before Blanching?
It is not necessary, however, if you want the core out of the tomato for your final use, then yes, it's best to core the tomato first.
How Long Does It Take To Blanch A Tomato?
Put the fresh tomato into the simmering water and leave it for 2-3 minutes. After that, it is done and you can remove it to an ice bath to stop the cooking.
What Will Happen If I Don't Blanch and Just Freeze the Tomatoes Anyway?
When you simply freeze a Tomato without blanching it first, the Tomato may become more mushy when you thaw it. The color will be less vibrant and sadly, many of the nutrients may be gone and broken down by the ice crystals.
Are There Other Ways To Blanch?
Yes, you can also blanch Tomatoes by using steam or microwaving, however, these are not the best options for the home cook.
Steam applications are used by commercial businesses. . It would be difficult to gather enough steam to do this at home.

Microwave blanching isn't effective and not worth your time.
What Does a Blanched Tomato Taste Like?
A blanched Tomato tastes like itself. You are not cooking the Tomatoes completely.
Why Do I Need to Salt Water for Blanching?
Salting the water is a chemistry class in the works! The salted water helps keep the water INSIDE the cells of the Tomato! This helps preserve flavor, texture and nutrients.
Will Salting the Water Change the Flavor of My Tomatoes.
No, you won't taste the salt from the blanching water in your Tomatoes at all. Besides, you are going to rinse them in a shock ice bath after blanching!
Tips and Tricks
Have the water at a hard simmer before adding the tomatoes because adding the tomatoes will cool the water significantly and you want this process to go as quickly as possible.

Cut an X on the bottom of the tomato first, this will help with removing the skin later.

If you want the core removed from the tomato in your final application, do that before you blanch the tomato.

Using a Kitchen Spider is the best way to transfer these hot tomatoes.

Set up your equipment in a straight line as much as possible. Ie: burner, ice bath, final bowl for resting tomatoes.
If you Enjoyed This Recipe, You Might Also Enjoy…
Boiling Potatoes for Potato Salad
Ya'll Help Me Out, OK?
Please leave me a 5 STAR comment below. This helps others find Loaves and Dishes on the internet!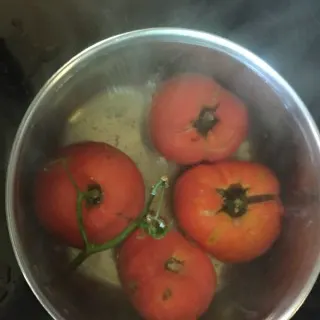 How to Blanch Tomatoes
Blanching Tomatoes is the perfect way to preserve them! It's EASY, FAST and you already have everything you need right in your kitchen!
Print
Pin
Rate
Ingredients
2

Tbs

kosher salt

5

lb

tomatoes
Instructions
Put on 1 gallon of water to boil in a large stock pot over high heat. Add the salt to the water.

Pour 2 quarts of water into a large bowl and set this into the kitchen sink.

When the water is boiling, reduce to medium high.

Cut an X on the bottom of each tomato

Add the tomatoes 1-2 at the time to the simmering water and allow to pre-cook for 2-3 minutes. Do not add more than 4 tomatoes at any one time

While the tomatoes are simmering, add 4 Cups ice to the water bowl.

After 2 minutes, remove from the boiling water with a slotted spoon, kitchen spider or tongs and plunge into the waiting ice bath to shock it and stop the cooking process.

Allow to sit in the iced water for 2 -3 minutes. Remove to the other large bowl or colander until all tomatoes are processed.
Notes
Gather all of your tools, pots and pans and other equipment before starting this project. You don't want to have boiling water bubbling away and not have everything else you need.
Put water in a large bowl in the sink but don't add the ice until you are just ready to plunge the tomatoes in. That way your ice won't all melt before you need it.
Only put a few tomatoes into the boiling water at a time. You don't' want to reduce the simmer with the tomatoes you put in. Things will go more quickly if you do fewer at a time.
Remove the iced tomatoes to a colander or a bowl to drain. You will want the tomatoes drip dried as possible before using for whatever you have planned.
Nutrition
Nutrition Facts
How to Blanch Tomatoes
Amount Per Serving
Calories 41
Calories from Fat 9
% Daily Value*
Fat 1g2%
Sodium 1407mg59%
Potassium 538mg15%
Carbohydrates 9g3%
Protein 2g4%
Vitamin A 1889IU38%
Vitamin C 31mg38%
Calcium 23mg2%
Iron 1mg6%
* Percent Daily Values are based on a 2000 calorie diet.