Perfect, tender, amazing potato salad comes from knowing exactly how long to boil potatoes for potato salad! I mean, seriously, it's the base of the entire thing!
Why This Recipe Works
Easy
Fast
Informative
Makes perfect potatoes for potato salad recipe every single time!
Here's How It's Done
STEP 1. Boil Water . It's just like How to Boil Cauliflower!
Put on about 3 quarts of water to boil! Add 3 Tbs of Kosher salt and let it come to a good boil!
STEP 2. Cut the Potatoes (peel them first).
Peel your potatoes and cut them into chunks about this size – 2″.
STEP 3. Add the potatoes to salted water.
These are whole potatoes boiling but you will want to bring your cut potatoes up to a simmer like what is shown in this photos.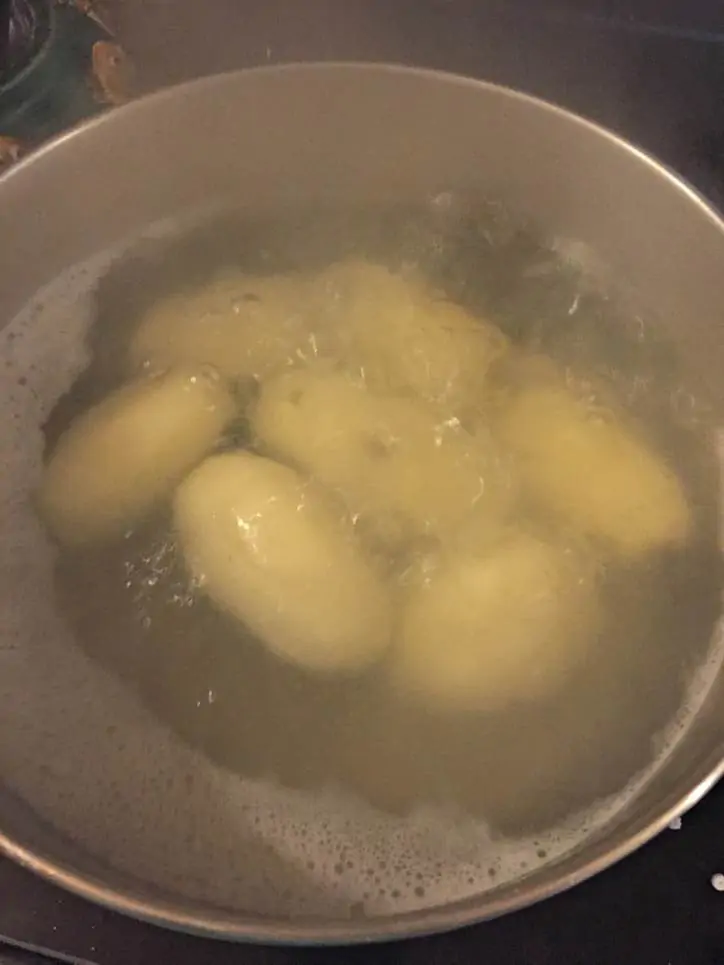 STEP 4. Mix up the Potato Salad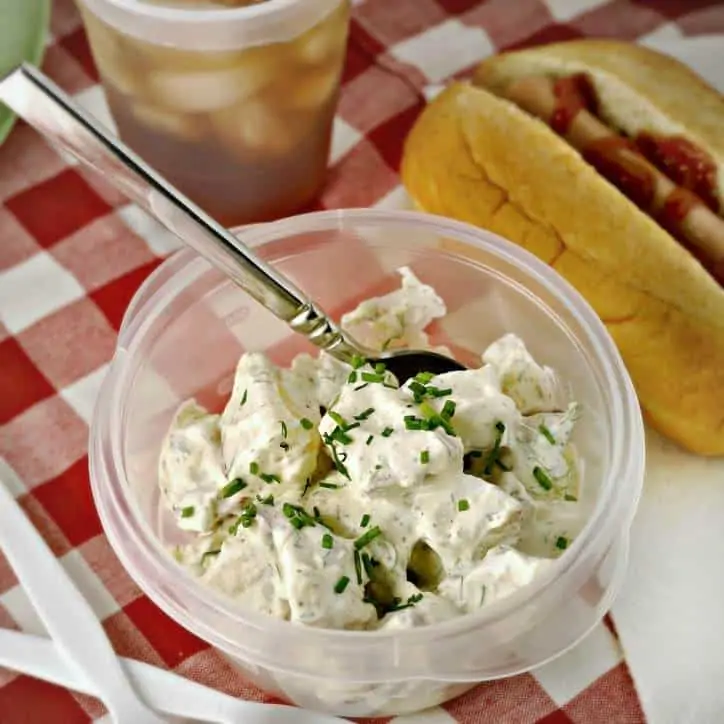 How Long to Boil Potatoes for Potato Salad
Given that the potatoes are cut into 2" cubes and are all the same size, that you are using Russet or Idaho potatoes and potatoes are peeled, then you will want to cook them for 10-15 minutes over medium high heat. You will know the potato is done when a fork easily pierces the flesh when poked.
If you are cooking with the skin on, a larger potato or a different kind of potato, it may take a different length of time.
That said, potatoes are ready when a fork pierces the potato easily
What to Serve with Potatoes for Potato Salad
We love perfect hot dogs, chicken strips, beannie weenies and peach pie with pecan brown sugar crumble!
Frequently Asked Questions for How to Cook Potatoes for Potato Salad (FAQ's)
Do You Cut a Potato Before Boiling It For Potato Salad?
Yes, cut the potato into 2" cubes. Make sure that all of the pieces are about the same size so that they cook evenly.
What Kind of Potatoes Do I Use For Potato Salad?
Actually, any kind of potato will work for potato salad. Most people use Russet or Idaho Potatoes but red potatoes or Yukon Gold potatoes work well too. The skin on red and yellow potatoes is thinner and can be left on for the potato salad, thus avoiding the problem of peeling the potatoes.
Note: We aren't using a sweet potato here. (smile)
Do I Have to Peel the Potato Before I Boil the Potato?
If you are using a Russet or Idaho Potato (standard baking potato) then, yes, you need to peel the potato before you boil it. The skin on Idaho and Russet Potatoes are just too thick to leave the skin on. So, use peeled potatoes!
How Long Do You Boil Potatoes With The Skin On For Potato Salad?
Boil potatoes with the skin on (red potatoes and yellow type waxy potatoes) for about 20 minutes if the potatoes are about 2" chunks or whole potatoes. When the potato is done for potato salad, a fork will pierce the flesh easily when poked.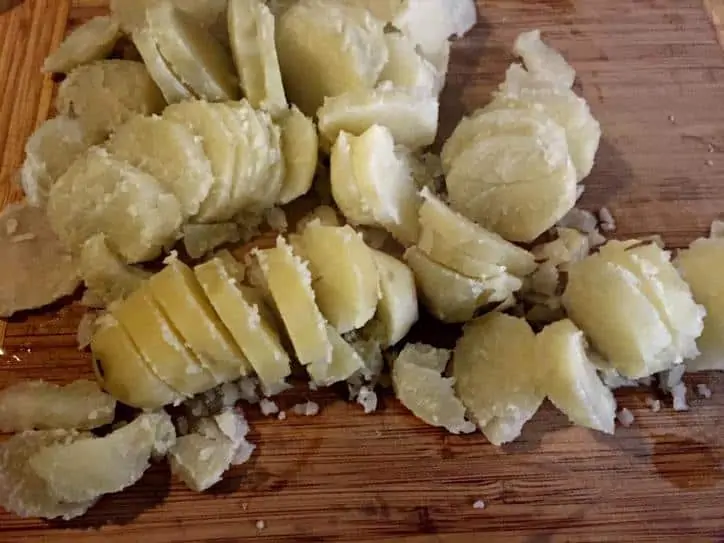 Why Does Potato Salad Get Runny?
Potato salad gets runny for a few reasons that include:
Potatoes weren't drained enough

The potatoes were overcooked.

The potato was a high liquid content potato to begin with (red or yellow potato). Use a Russet to help keep this from happening.

A low fat dressing is used. Often these tend to be more watery.
How Long Does Potato Salad Keep in the Fridge?
Homemade Potato Salad will keep in the fridge for about 5 days. Do NOT allow it to sit out for more than 2 hours.
Can I Freeze Potato Salad?
Nope. Potato salad doesn't freeze well. Go ahead and eat it all now. Share it with a neighbor! Mayonnaise and sour cream don't work well for the freezer.
Do I Need To Wash The Potato Before I Boil it for Potato Salad?
Yes, wash the potatoes before boiling them in a large pot for potato salad. Potatoes often have quite a lot of residual field dirt and while it probably won't hurt you, it is crunchy and has a terrible taste/ mouthfeel
Do I Need To Salt The Water Before Boiling a Potato?
Yes, salt the water with more salt than you think you will need. Use 1 Tablespoon of Kosher Salt per quart. This is the same with boiled potatoes as with mashed potatoes.
How Do I Cut Up a Potato Before Boiling It For Potato Salad?
First, peel the potato. Then cut it in half long ways, then cut it in half the other way. Now cut those halves into halves until you have 2" near cubes.
Want To Learn More About Potatoes?
The USDA Snap info has a TON of info on Potatoes!
Can I Add Broccoli to My Potato Salad?
Yes! Absolutely! Do IT if you LOVE broccoli. (Just know that it isn't really the first thing that people think of when they think potato salad).
You will want to cook the broccoli a little first so that it isn't raw.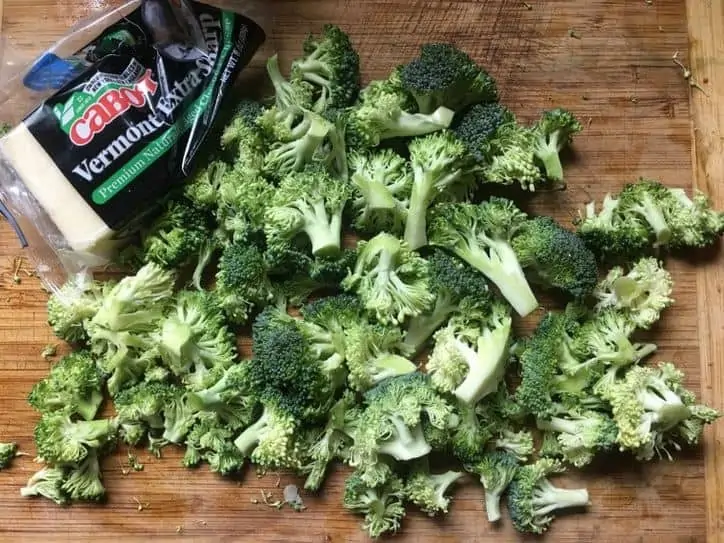 If You Enjoyed This Recipe for How Long to Boil Potatoes for Potato Salad, you might enjoy these other potato recipes at Loaves and Dishes…
How to Microwave a Baked Potato
How to Make a Perfect Steakhouse Baked Potato
How To Cook Canned New Potatoes
Want To Really Help Out Other Cooks?
Leave a comment and a 5 STAR rating in the comment section below. That helps others find Loaves and Dishes and know that this is the best place for learning to cook and terrific recipes. Here's my favorite basic potato salad recipe!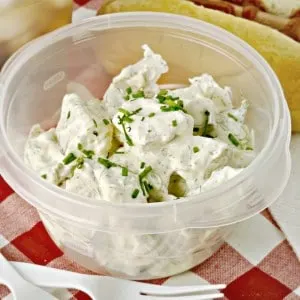 How Long To Boil Potatoes for Potato Salad
Perfect, tender, amazing potato salad comes from knowing exactly how long to boil potatoes for potato salad! I mean, seriously, it's the base of the entire thing!
Print
Pin
Rate
Ingredients
2

Lbs

Peeled Potatoes Cut Into 2" Cubes

3

Tbs

Kosher Salt

½

Cup

Mayonnaise

½

Cup

Sour Cream

1

Tbs

Whole Grain Mustard

1

tsp

minced garlic

1

tsp

kosher salt

1

tsp

ground black pepper

2

ribs of celery diced small

4

stalks green onion

white and green parts - chopped

2

Tbs

olive oil

2

tsp

apple cider vinegar
Instructions
Fill a 5 quart stock pot with 3 quarts of water and put over high heat to bring to a boil. Add 3 Tbs Kosher salt to the water.

While the water is coming to a boil, peel the potatoes and cut into 2" pieces.

When water is boiling, use a large slotted spoon or kitchen spider to lower the potatoes into the water.

Bring the water back to a simmer and cut the heat to medium high.

Cook the potatoes for about 20 minutes until a fork can easily pierce the flesh of the potatoes. You want the fork to slide into the potato easily, however, don't cook the potato so long that it falls apart when you slide a fork in.

Drain the potatoes in a colander and then place them into a large bowl of ice water to stop the cooking. Allow to rest in the cold water for 3-5 minutes.

Drain the water again and allow to drain well.

Put the potato pieces into a large bowl and set aside.

In a medium sized bowl mix the remaining ingredients together until well mixed. Pour these over the potato pieces and GENTLY mix with a spatula or spoon.

Refrigerate for several hours, it's best if left overnight.
Notes
You will want to use Russet or Idaho potatoes for this recipe.
Be careful not to overcook the potatoes. Test several pieces of potato with your fork.
Remove the potatoes JUST as a fork slides into the flesh easily.
If you are using table salt, cut the amounts by 1/2 .
Add 3- 5 boiled eggs for a change in taste.
You can substitute lemon juice for the cider vinegar if you prefer.
Nutrition
Nutrition Facts
How Long To Boil Potatoes for Potato Salad
Amount Per Serving
Calories 226
Calories from Fat 153
% Daily Value*
Fat 17g26%
Cholesterol 13mg4%
Sodium 3049mg127%
Potassium 531mg15%
Carbohydrates 16g5%
Protein 4g8%
Vitamin A 203IU4%
Vitamin C 15mg18%
Calcium 60mg6%
Iron 4mg22%
* Percent Daily Values are based on a 2000 calorie diet.
A VERSE TO SHARE
Sometimes I just need to hear this and be reminded. Maybe you do too?
Ephesians 4:32
Be kind to one another, tenderhearted, forgiving one another, as God in Christ forgave you