Hot, Comforting, Snuggly and Perfect for a Cool Day! A Russian Tea Recipe Guaranteed to lift your spirits and it is EASY too!
The perfect hot drink to fix for a friend and PERFECT for snuggling up by the fire!
Why This Recipe Works…
The Cinnamon, orange juice and lemon juice work together with the tea for a soothing drink.
Serve hot and it is still wonderful as it cools!
Easy and Ready in Minutes!
The VERY BEST Russian Tea!
Here's How You Do It…
STEP 1.
Make Tea by Boiling Water , as if for Sweet Tea and while it is hot, add a coffee filter with the Cinnamon and Cloves.
STEP 2.
Heat Lemon and Orange Juices on the stove top with the sugar. PRO TIP: Add more orange flavor by adding orange rind to your filter bag.
STEP 3.
Mix all together. Serve Hot and Enjoy!
Frequently Asked Questions (FAQ's)
What is Russian Tea?
A wonderful mix of black tea, oranges and other fruits. Perfect for winter time. Southern Living gives a great history here.
Can I make Russian Tea Without Tang?
Yes! Definitely! This recipe tells you exactly how to do so! The recipe card is at the bottom of the post!
How about Russian Tea with Tang?
Russian Tea with Tang is certainly a popular recipe from the '70's.
To make Russian Tea with Tang,
Mix 1 1/2 Cups of Sugar
2 Cups Instant Tang
1/2 Cup Instant Tea Mix
A package of unsweetened lemonade mix (like country time)
1 tsp ground cinnamon
1 tsp allspice
1/2 tsp ground cloves.
Mix well and save in a lidded container. Mix 2-3 tsp of this mix in hot water. Enjoy!
Can I Make Russian Tea Ahead?
Yes! Definitely. Make ahead and refrigerate. Heat up the amount you like in the microwave or on the stovetop.
Can I Drink Russian Tea Cold Too?
Certainly! You'll love it that way too!
What Was The Russian Tea Recipe From the '70's?
The Russian Tea that people drank so fervently in the 70's was the one with Tang. Find that recipe above!
Would This Make a Good Christmas Tea Recipe?
Oh you BETCHA! Make some up, give as a gift in Mason Jars!
TIPS and TRICKS for Russian Tea
This is easily made into a single cup of tea by using a tea bag in a mug, adding sugar, orange juice, lemon juice, stirring with a cinnamon stick and adding a touch of ground nutmeg.
Make ahead and serve cold over ice! Delicious!
Want to give it as a gift? Pour into mason jars and tie with a cute ribbon. Deliver to a friend with a cold!
What Goes with Russian Tea?
We love our Russian Tea with a sweet treat! Try this Banana Pecan Bread or these Cookie Bars!
If You Enjoyed This Recipe, You Might Also Enjoy…
Or any of the recipes in our Appetizers Section!
Ya'll Be Sweet and Help Me Out, OK?
It sure is a big help to me when you leave me a 5 STAR COMMENT 🌟🌟🌟🌟🌟below in the comment section. I appreciate it so much!
Please also sign up for my weekly newsletter and join me on social media!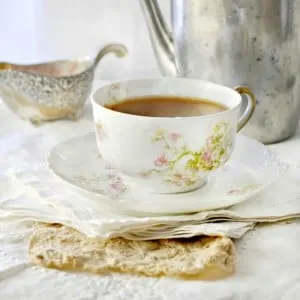 Russian Nurse Tea
Bursting with the flavors of Orange, Lemon, Cinnamon and Cloves this delicious tea is perfect for a snuggly rainy night or to boost your feel good any time!
Print
Pin
Rate
Ingredients
1

Gallon

of your favorite Tea - per box instructions

2

cinnamon sticks

8

whole cloves

1

cup

of granulated sugar

1

lemon - juice only

1 ½

Cups

Orange juice - pulp free
Instructions
Prepare Tea per package instructions in order to make one gallon of tea. While it is hot and sitting on the stove top, add the cinnamon sticks and cloves. You can tie these up in a coffee filter if you like - then you don't have to strain them later - but if you don't have a coffee filter - just toss them in.

Add the orange juice, lemon juice and the sugar and stir until the sugar dissolves. You may need to heat the tea on the stove top over medium heat if it isn't already warm enough.

Taste for sugar content - add more if desired. Strain out the cinnamon and cloves if you didn't add them via coffee filter using a fine mesh strainer.

Serve warm. You can reheat to serve later, but do not boil it.
Notes
If you would like to make this for ONE person, simply use a single tea bag. After the tea bag has steeped, add 1 tsp sugar, stir well, add 1 Tbs orange juice and 1 tsp lemon juice. Add a cinnamon stick and let the tea sit, stir with cinnamon stick.
If you prefer the Russian tea with Tang, the recipe is noted in the post for this recipe.
Make this ahead of time and simply reheat by the cupful. Keep in the refrigerator when not in use.
PRO TIP: Add some orange peel to your bag of cinnamon sticks and cloves for extra flavor! You can always sweeten this more by using THIS Simple Syrup.
Nutrition
Nutrition Facts
Russian Nurse Tea
Amount Per Serving
Calories 125
% Daily Value*
Sodium 15mg1%
Potassium 268mg8%
Carbohydrates 32g11%
Vitamin A 95IU2%
Vitamin C 24.7mg30%
Calcium 15mg2%
Iron 0.3mg2%
* Percent Daily Values are based on a 2000 calorie diet.
*** This post originally appeared on the pages of Loaves and Dishes on February 12, 2016 and has been updated with new photos, new information, video, pro tips, nutritional information, step by step photos, tips and tricks as well as frequently asked questions***
A VERSE TO SHARE
So, I looked for a Bible quote for tea and came up with this. Pretty interesting, eh?
Revelations 22:2
hrough the middle of the street of the city; also, on either side of the river, the tree of life with its twelve kinds of fruit, yielding its fruit each month. The leaves of the tree were for the healing of the nations