Jump to Recipe
My noth ith thufy. Could you understand that? My throat is sore and my voice sounds squishy. When I talk, I cough. Period. Are you having this problem? If so, you aren't alone. Come on over and we can sit on the couch and watch a few episodes of Chef's Table on Netflix and share a box of tissues. It will be FUN! I could totally go off on a tangent here talking about my new fav show, but instead, I'll get on with business, Russian Nurse Tea.

You might be wondering why this is called Russian Nurse Tea. It is a fun story. However, if you have stopped by lately, you will know that Loaves and Dishes has installed an express lane. Recipe seekers complain that it is TOO MUCH WORK to scroll to the bottom of the page and THEY DON'T LIKE IT! I know, my finger gets tired too when I have to scroll a lot. So, for those of you who want to know why I called this Russian Nurse Tea, join me after that recipe and the photos and we can chat over a cup of tea and a cough drop.
THE RECIPE FOR RUSSIAN NURSE TEA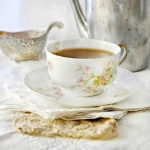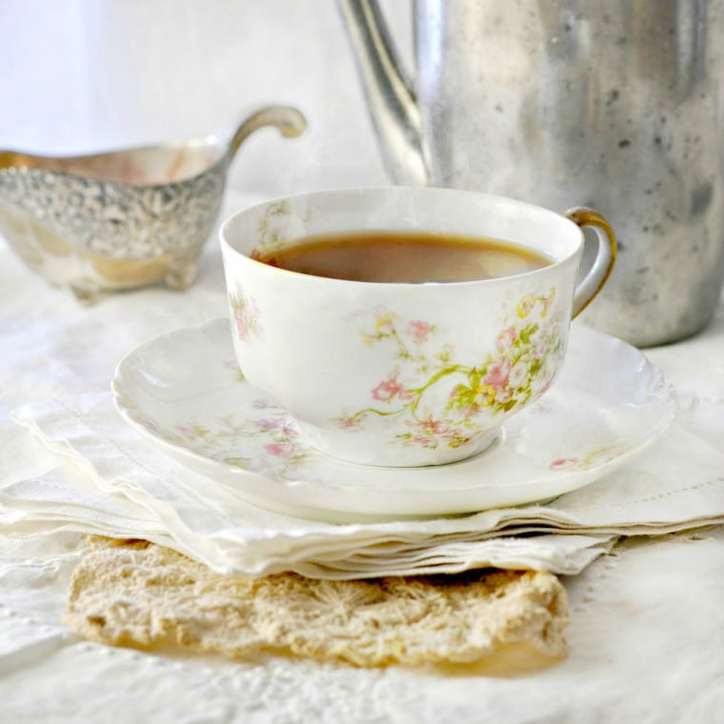 Russian Nurse Tea
Did you enjoy this recipe? Find out more tips and tricks about this recipe in the original post at www.loavesanddishes.net
Keyword:
russian tea, healthy tea
Ingredients
1

Gallon

of your favorite Tea - per box instructions

2

cinnamon sticks

8

whole cloves

1

cup

of granulated sugar

1

lemon - juice only

1 ½

Cups

Orange juice - pulp free
Instructions
Prepare Tea per package instructions in order to make one gallon of tea. While it is hot and sitting on the stove top, add the cinnamon sticks and cloves. You can tie these up in a coffee filter if you like - then you don't have to strain them later - but if you don't have a coffee filter - just toss them in.

In a small saucepan, heat the orange juice, lemon juice and the sugar over medium heat and stir frequently until the sugar dissolves.

Add the juice mixture to the tea. Taste for sugar content - add more if desired. Strain out the cinnamon and cloves if you haven't already.

Serve warm. You can reheat to serve later - but do not boil it.
Nutrition Facts
Russian Nurse Tea
Amount Per Serving
Calories 100
* Percent Daily Values are based on a 2000 calorie diet.
RECIPE INSPIRATION FOR RUSSIAN NURSE TEA
You all already know that in my "real" life, I am a nurse. I have been a nurse for a long long long long long…. ok, you get the idea…. I've been around the nurses' station a time or two. One of the things that I LOVE about nursing is the camaraderie. I have never met another nurse who I didn't instantly have a connection with. Sitting in the stands at my daughter's away ball game. I might know NO ONE in the area except other mothers from the team. I strike up a conversation with the a stranger sitting next to me and find that she is a nurse too. INSTANT FRIEND! We have a TON to talk about!
Where do you work? What is your specialty? How long have you been there? Did you do something else before? And one time I had this supervisor….. You can imagine how it goes.
Then, of course, there is the relationship you develop after working with other nurses over a period of years. One time I had a nurse partner (working partner) and his name was Rich. We were a TERRIFIC TEAM. Rich was a Vietnam Vet and he didn't mince words. We took care of our patients in tandem and did what we needed to do. The very best kind of working relationship.
These days, I work with a team of three other nurses and we are pretty tight and have worked together for several years now. We couldn't be more different in personality types – but we seem to jive pretty good together. One thing we have in common is FOOD!
My friend, Marybruce, who you met back HERE when she gave me her recipe for an easy Strawberry Shortcake (which I have to say, has been pinned almost a Thousand Times), gave me another great recipe! She is behind this lovely Russian Tea Recipe! However, since it is a tea shared by Nurses, I am dubbing it Russian Nurse Tea. See how that works? One of the privileges of food blogging is getting to name a recipe anything you want to name it!
I did take a few liberties with her original recipe. I used Tea made from my favorite tea that I keep at home. I increased the cloves from 6 to 8 – cause, you know, I like that stuff. I increased the sugar to a whole cup. The recipe started with ¼ – ½ cup – which I guess is a wise place to start – but I liked it a little sweeter than that. But you can make your own choices on that.
So, back to naming recipes. I wish I could tell you the name of the chicken recipe that I created and that I am going to share with you next week. However, this is a family-type blog site and I probably shouldn't name recipes that around here (At home I call it "Some Seriously Good A** Chicken"). For Loaves and Dishes though, I think I'll just call it Balsamic Mustard Chicken…. or something along those lines.
By the way…. although I am a nurse and this recipe was given to me by a nurse – and even though we might drink this when we don't feel good. Loaves and Dishes and Wendi Spraker are IN NO WAY claiming any health or wellness benefits of this tea and we aren't saying it will actually improve your health or make you feel better. I'm just saying, I like it when my noth ith thufy. My BFF is a lawyer – I'm sure she would call me if she saw this post and I didn't tell you such stuff. 🙂
I hope you will come back and see me really soon. I enjoy our visits. I would love to hear about what you do in your day to day job. What do you LOVE about your co-workers? I won't ask what you don't like – 'cause that is a loaded question. I would hate to break the internet. lol!
Be completely humble and gentle; be patient, bearing with one another in love. ~ Ephesians 4:2
(I needed to hear this one today).