Crispy fried chicken with flavorful crunchy skin and sweet tender meat that will make your family say, 'PLEASE MAKE MORE!'" You are looking for a Sweet Tea Brined Fried Chicken recipe that will tinkle your inner southern bell and have you hollering YEE HAW! I'll show you how!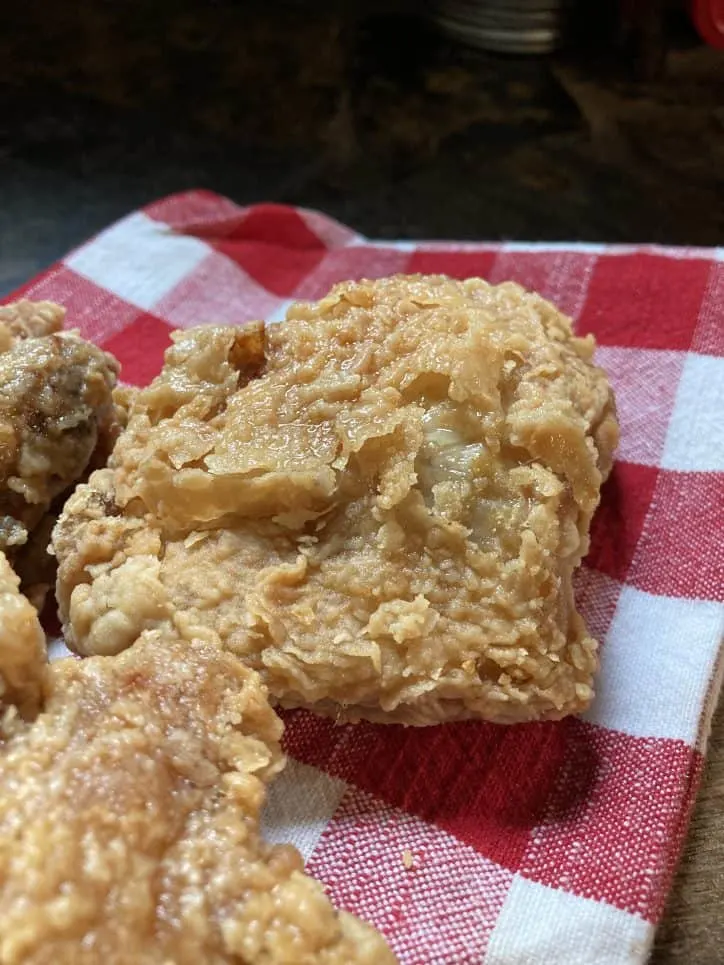 Why This Recipe Works
The three step breading process never fails
You can use bone in or boneless cuts of chicken
The seasonings make the crust the most flavorful chicken you ever ate!
Sweet Tea Brine makes a moist juicy meat!
Here's How You Do It
STEP 1.
Brine the Chicken.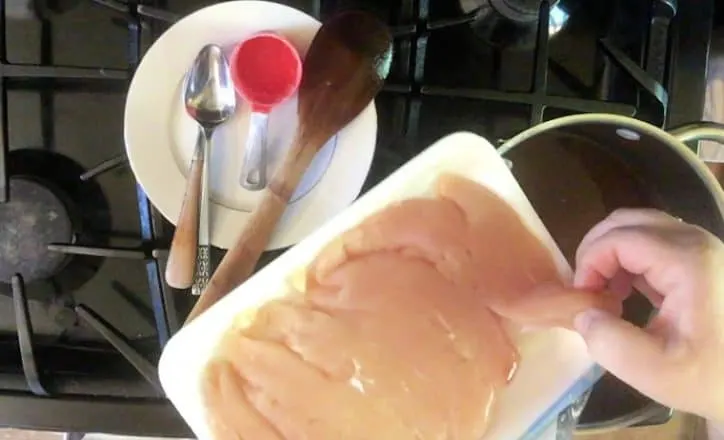 STEP 2.
Dry the chicken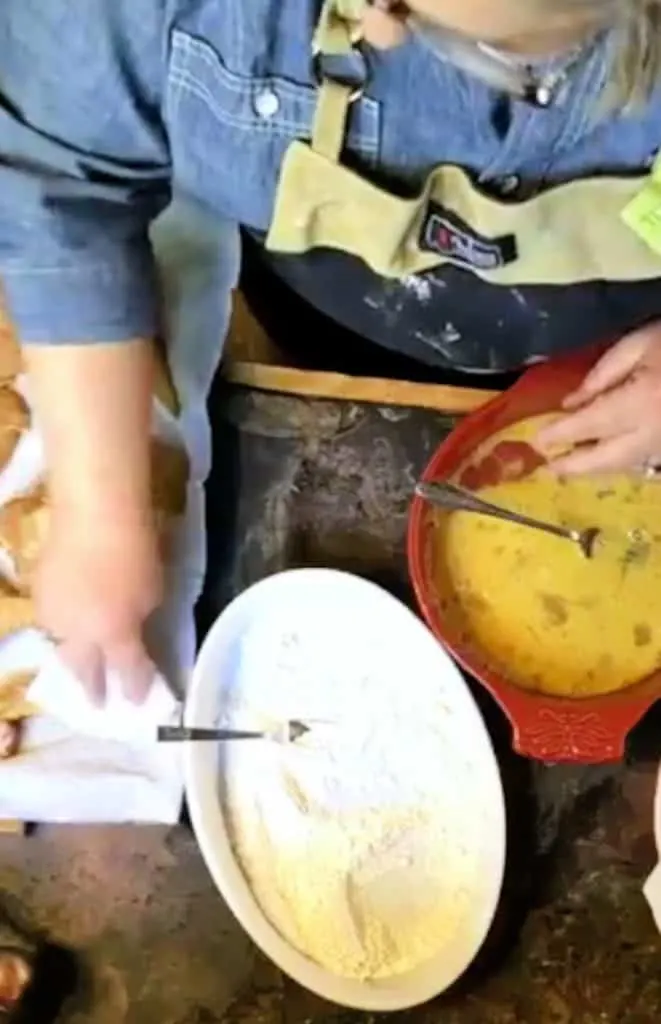 STEP 3.
Bread the chicken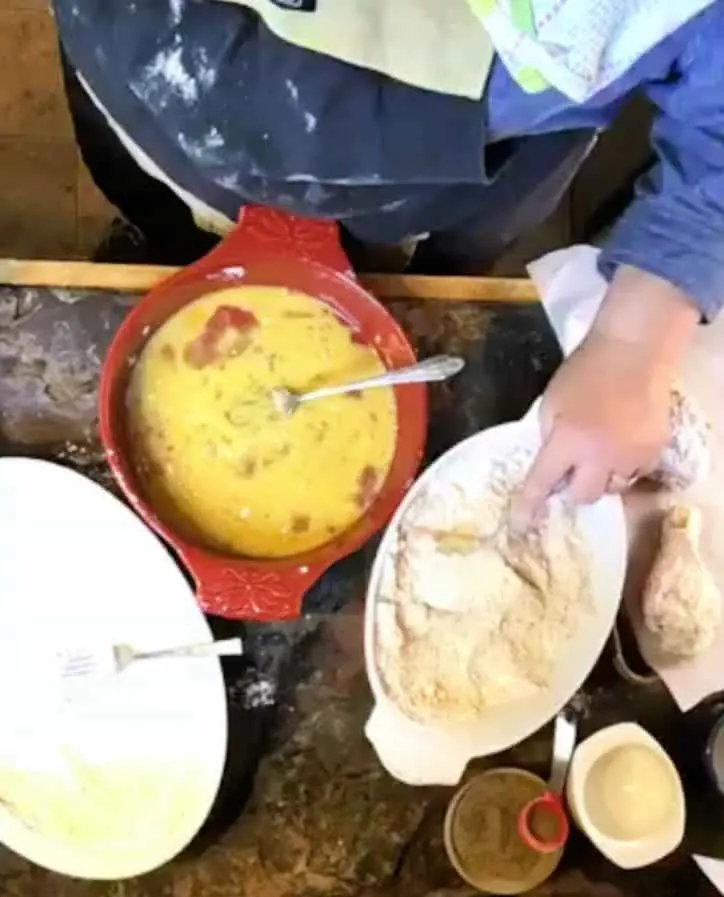 STEP 4.
Fry the Chicken and then let it set in the oven to rest.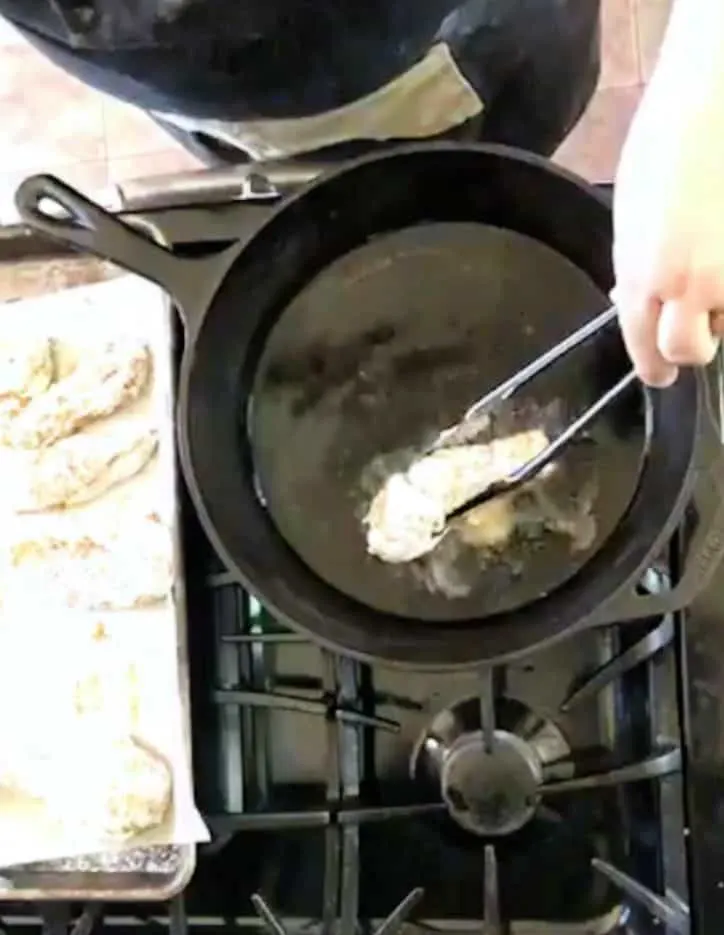 Frequently Asked Questions About Sweet Tea Brined Fried Chicken
Why Use a Brine For Fried Chicken?
Brining chicken (or any poultry) makes for a moist and tender fried chicken. The brine also imparts flavor to the meat.
In the case of sweet tea brine, the sweetness and earthiness of the tea flavors work their way into the meat giving the chicken a surprisingly delicious sweet flavor!
Do I Have to Use a Brine Before Frying Chicken?
You do not HAVE to use a brine before frying chicken. That said, you'll be missing out on the added flavors and moisture that is added by brining.
You'll find that by brining, you don't have to add so much salt to the final dish because the flavor is already in there!
How Long Should I Brine My Fried Chicken?
For this recipe, it is best to brine for 12 hours, however, not everyone has that kind of time. 4-5 hours works too.
If you don't have at least 4 hours to brine the chicken, then you might want to try a different recipe. This would be a lot of work to not get the intended moist and tasty chicken you are after.
Would This Chicken Work Baked In The Oven?
You CAN brine the chicken in the tea mix first and then once it is dry, instead of the three step breading, use my oven baked fried chicken recipe.
My Chicken Always Burns When I Try to Fry It, What Am I Doing Wrong?
When the skin burns but the chicken isn't done, then you have your oil too hot. The oil is right when you can flick a few drops of water into the pan and it just sputters and pops.
If it pops violently, it's too hot. No popping and sizzling at all? It's not hot enough.
Honestly, you really need a good quality thermometer to make perfect fried chicken. You can find the one that I recommend and that I am using in this video on my "Resources Page".
Can I Make This Chicken Ahead?
You sure can! There's nothing better than leftover fried chicken for a snack or a picnic! In fact, you might want to fry up extra just for this purpose.
Can I Freeze This Chicken?
Yes, you sure can. Freeze it after it has been cooked.
Wrap the chicken in a freezer safe plastic bag,

Squeeze out as much air as you can.

Seal the bag

Freeze for up to 3 months.
PRO TIP: One thing you'll need is The Best Way to Freeze Chicken (Easy Freezing) method that I've outlined here!
How Long Does It Last?
This chicken will safely keep covered in the refrigerator for up to 5 days.
Do not allow it to sit out on the counter for more than 2 hours.
How Do I Warm the Leftovers?
To warm the leftovers, you can….
Place in a toaster oven set at 350 for 20-30 minutes minutes.

Heat in the oven at 350 for 20-30 minutes

Fry in the frying pan with a thin coating of oil for 10 minutes per side.

Reheat in the microwave for 30 second intervals until heated through.
What To Serve with Sweet Tea Brined Fried Chicken?
I absolutely recommend: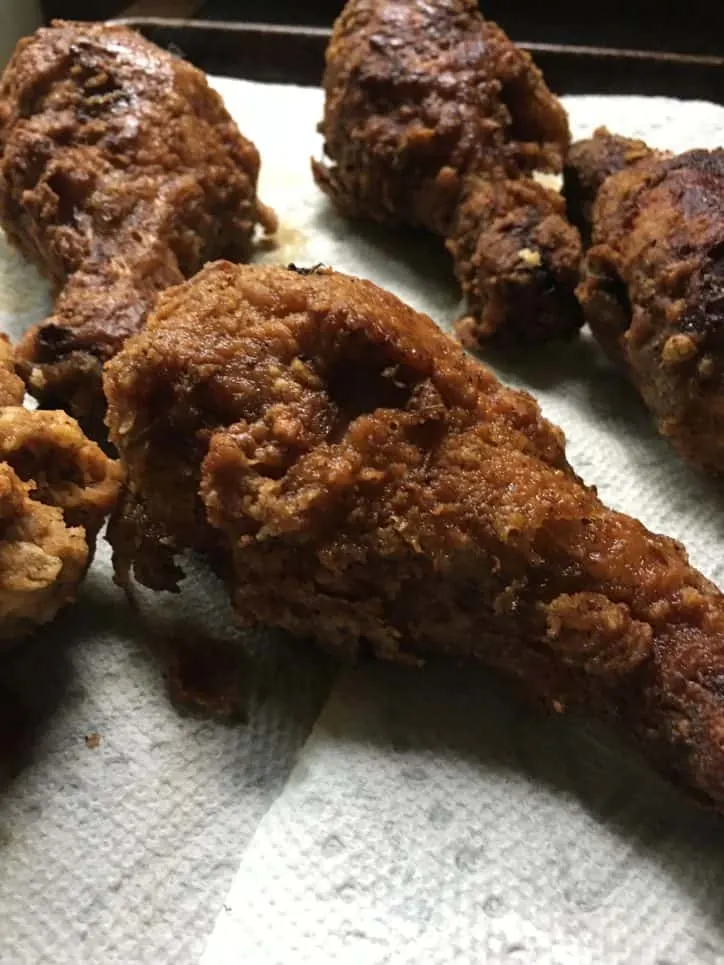 Tips and Tricks
The brine for the chicken doesn't really work as a tea to drink. Just saying.
This recipe does work for any cut of chicken, however, the bone in chicken takes much longer to cook. Chicken tenders take the shortest length of time.
The brine will cause the chicken meat to look a very odd color. This is the expected result. Don't let it freak you out.
It is SUPER important that the chicken meat is very dry before you do the breading steps. If it isn't dry, the breading will slip off in the pan.
You can use skin on or skinless pieces. Frankly though, skin on tastes much better.
Using a thermometer to check oil temperature will keep you from burning and overcooking your chicken.
It takes about 20 minutes or more to cook a bone in piece of chicken through.
If You Enjoyed This Recipe, You Might Also Enjoy…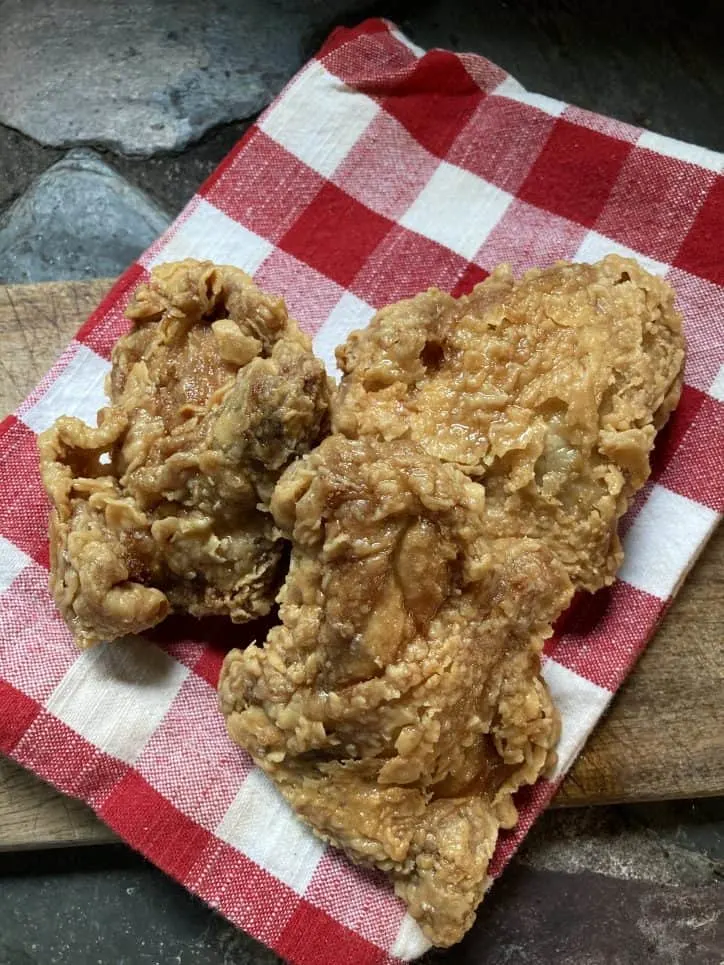 Something Fun and Exciting!
I've said about a hundred times in this article that using a thermometer makes all the difference in being able to properly cook chicken. That same thing is true in so many dishes!
Today, I have a special surprise! A chance to win a Thermoworks MK4 Thermometer! Thermoworks has graciously agreed to give us one to give away! If you would like to register for to win, simply complete the box below to be registered to win!
Be Sweet Ya'll, OK?
Please leave a 5 STAR comment in the comment section below. This makes it easier for the people on the internet to know that Loaves and Dishes is a great place for recipes!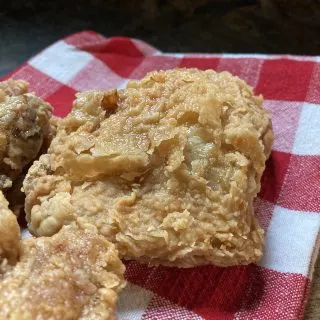 Sweet Tea Brined Fried Chicken
Crispy fried chicken with flavorful crunchy skin and sweet tender meat that my family will make your family say, 'PLEASE MAKE MORE!'" You are looking for a Sweet Tea Brined Fried Chicken recipe that will tinkle your inner southern bell and have you hollering YEE HAW! I'll show you how!
Print
Pin
Rate
Ingredients
For the Tea Brine
1

large tea bag

or 4 small tea bags

2

quarts

fresh water

3/4

Cup

Granulated White Sugar

⅓

cup

lemon juice

2

Tbs

minced garlic

heaping

2

tbs

kosher salt
To fry the chicken
3

Cups

Vegetable Oil

8

pieces

of bone in or boneless chicken

Salt

Pepper

3

eggs

3

Cups

Flour

divided

2

Tbs

Cornstarch

3

Tbs

Paprika

3

Tbs

Garlic Powder

3

Tbs

Onion Powder

3

Tbs

Kosher Salt

1

Tbs

Ground Black Pepper
Instructions
For the Brine
4-24 hours before you plan to cook the chicken, make the brine and place the chicken in the brine and set in the fridge until ready to cook. The instructions for making the brine follow:

In a saucepan on the stove over high heat, bring water to a simmer and then turn the stove off

Add the sugar, lemon juice, garlic, salt to the water and stir until dissolved. Add the tea bag (s) and cover with a lid. Allow to sit until room temp.

Add the pieces of chicken to the "tea" making sure all pieces are submerged, put the lid on and place the whole thing in the fridge until ready to start the recipe.
Drying the Chicken
2 hours before you start cooking: Remove the chicken from the tea brine and lay on a sheet pan that has 2-3 layers of paper towel in the bottom of the pan. Cover the chicken with 2-3 layers of paper towels and press down on the chicken to squeeze as much tea out as possible. Dry the chicken thoroughly.

Sprinkle the chicken on each side with kosher salt and cover back up with the paper towels.

Allow the chicken to rest in the refrigerator until you are ready to start cooking.
Bread the Chicken
Set up three rimmed dishes for the flour, egg and breading stations.

In the first rimmed dish, place 1 Cup of All Purpose Flour.

In the second dish, break the three eggs and beat well with a fork.

The third dish, place 2 Cups of flour and the cornstarch, paprika, garlic powder, onion powder, salt and black pepper. Mix well with a fork.
Fry the chicken
Preheat the oven to 170. Place a baking sheet covered with paper towels in the oven on the middle rack.

In a deep sided heavy duty frying pan or a dutch oven, pour oil ½-¾ inch deep. Heat the oil over medium high heat until the oil reaches a temperature of 350. (use a thermometer).

While the oil is heating, bread the chicken by dipping first into the plain flour, then into the egg wash, coating the chicken well with the egg. Finally into the seasoned flour, press the flour down into the meat.

Set the meat on a plate, do not stack.

When the oil is at 350, gently place the chicken into the oil. Allow bone in pieces to cook for about 10 minutes on each side. Check the internal temperature when nearing 15 minutes. Remove the chicken when it is at an internal temperature of 165 to the waiting towel covered pan in the oven to rest until all the chicken is cooked.

Serve hot.
Notes
The brand of tea you use doesn't really matter, but use one that is made for making iced tea.
You'll note that the brine has a lot of sugar and salt in it. That's precisely what you need for making a good brine. No worries, we will be dumping out most of it, you just need it the proper amount of sugar and salt to flavor the chicken.
I hope this goes without saying, but I'm gonna say it anyway, don't drink the tea before or especially after you brine the chicken in it. Dump it.
Yes, you can dry the chicken with cloth instead of paper towels, its just that paper towels can be thrown away. Don't use the towels for anything else after touching raw chicken with it.
I know lots of you prefer to use olive oil for everything. You could never afford to use this much olive oil for frying a chicken and besides, olive oil is way to aromatic for this service. If you want to use a different oil then choose something meant for frying like a peanut oil, safflower oil, canola oil, etc.
You absolutely WILL need a deep dish, heavy duty pan for frying. Invest in a decent dutch oven and you'll never be sorry. You don't have to spend a ton of money. Lodge makes a very nice one and you can find it at Target or online.
I know, that's a ton of seasoning in the seasoned flour. The chicken needs it, just do it.
It's SUPER DUPER important that the chicken meat be dry before you start breading.
The three step breading process is also very important for perfect fried chicken.
Having your oil at the right temperature is the most important part of this recipe so that it cooks evenly and right.
Nutrition
Nutrition Facts
Sweet Tea Brined Fried Chicken
Amount Per Serving (2 pieces)
Calories 944
Calories from Fat 756
% Daily Value*
Fat 84g129%
Cholesterol 62mg21%
Sodium 2660mg111%
Potassium 228mg7%
Carbohydrates 46g15%
Protein 9g18%
Vitamin A 1345IU27%
Vitamin C 5mg6%
Calcium 51mg5%
Iron 3mg17%
* Percent Daily Values are based on a 2000 calorie diet.
A VERSE TO SHARE
One thing I've noticed, about myself and others, there seems to be a lot of fear going around. I'm one of the worst, actually. I've been praying about this a lot and trying to remember this scripture.
Isaiah 41:10
So do not fear, for I am with you; do not be dismayed, for I am your God. I will strengthen you and help you; I will uphold you with my righteous right hand