Knowing how to quarter an onion is an important kitchen skill that will help you make AMAZING roast beef, stews, baked chicken and ANY number of other dishes!
Why This Technique Works….
It's EASY

Simple

Saves you TIME and MONEY!
Here's How It's Done…
STEP 1.
Peel off any extremely loose papery skin on the outside. Then using a sharp knife, cut the onion in half.
STEP 2.
Cut the onion in half the other way.
STEP 3.
Peel the remaining onion skin off and discard.
Frequently Asked Questions About How To Quarter an Onion (FAQ's)
What Kind Of Onions Does This Work On?
This recipe works on yellow onions, sweet onions and even red onions! ANY onion can be QUARTERED!
What Kind Of Knife Do I Need To Use?
A good sharp kitchen knife is an important tool for this project. Here's an informative article about that very topic!
Why Do I Need to Quarter an Onion?
Onions make GREAT flavor enhancers for all kinds of dishes!
It's common to find quartered onions in soups, stews, braised meat dishes and crockpot dinners.

A quartered onion in a dish will impart a lovely flavor (even if you don't eat the onion).

You'll find quartered onions in the chicken stock I make (put it in the water to boil).

I use onions in my one dish baked chicken leg quarters too!
PRO TIP: A quartered onion is easy to peel!
What IS an Onion Quarter?
Essentially, it is just cutting the onion into four pieces. The pieces look like wedges when you are done.
How Do I Cut An Onion Without Crying?
There are many theories about why onions cause you to cry. I've always had the best luck with keeping the fumes away from my eyes.
I use Onion Goggles to do this. THEY WILL NOT INCREASE YOUR SEX APPEAL.
You can find some here (CLICK THE PHOTO)… (Amazon affiliate link. I am an Amazon Affiliate and receive a commission if you decide to purchase).
Other suggested ways to keep from crying…
Freeze the onion for 20 minutes before cutting.
TIPS & TRICKS
How To Cut an Onion into Wedges and This Post are the SAME thing.
ONLY use a very sharp knife to cut onions.

Cut your onion on a cutting board.
PRO TIP: The root end of the onion acts like glue to hold the onion together! Use that to your advantage when cutting onions.
If You Enjoyed This Post, you Might Also Like…
Here's How to Cut Up More Stuff in the Kitchen!
Ya'll Help a Girl Out, OK?
I need your help! Please leave me a 5 STAR 🌟🌟🌟🌟🌟 in the comments below ! A 5 STAR 🌟🌟🌟🌟🌟 review lets the internet know that THIS IS THE PLACE for wonderful comfort food!
Yield: 4 QUARTERS
How To Quarter an Onion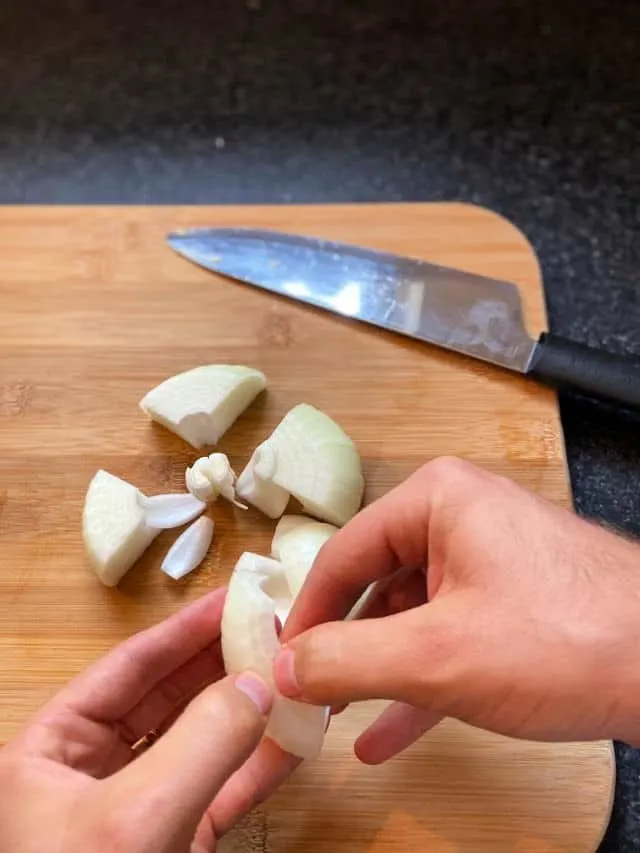 This post describes how to quarter an onion.
Instructions
Remove the loose onion skin from the outside of the onion.
Cut off the stem end of the onion.
Slice the onion down the middle stem to root
Turn the onion and cut it across the middle at the equator.
Peel off the remaining skin.
Cut off the root end from each quarter.
Notes
This technique neatly removes all the skin so that you aren't struggling with it.
By retaining the root end until you are finished slicing, the root holds the onion together for you.
PRO TIP: If you pull the quartered pieces apart, you will have lovely onion petals.
A VERSE TO SHARE
Remembering foods we enjoyed….
Numbers 11:5
We remember the fish we ate in Egypt that cost nothing, the cucumbers, the melons, the leeks, the onions, and the garlic