So EASY to save Sour Cream for later! Save a ton of money and time by learning how to freeze sour cream!!
Why This Recipe Works
Its FAST
EASY
You probably already have everything you need.
Saves Money!
Here's How It's Done
STEP 1. Gather your items and sharpie marker. Label the bag with the ingredients, today's date and a "USE BY" date (6 months from now). Place it into a zip lock bag and squeeze out as much air as possible. Seal the bag with air removed.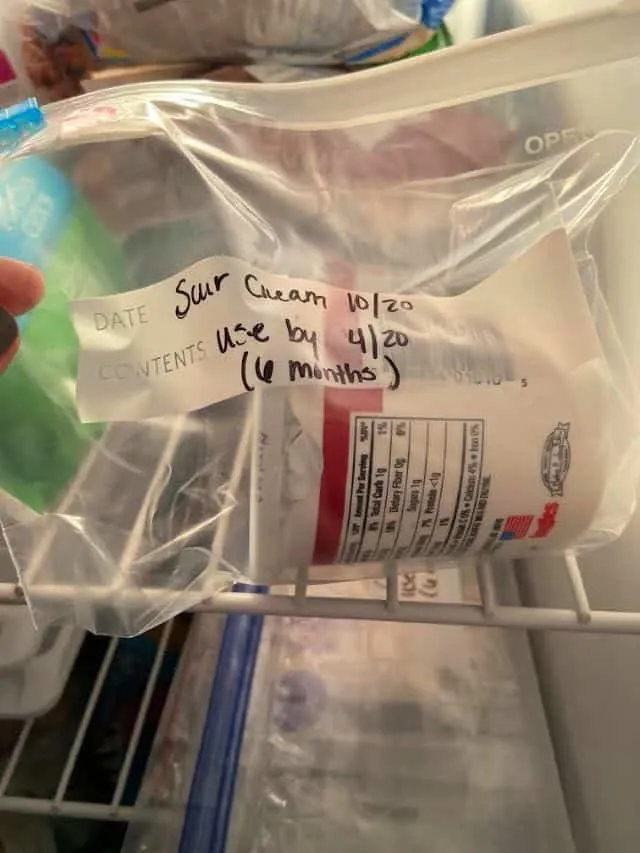 STEP 2. Place them into the icebox in the bag.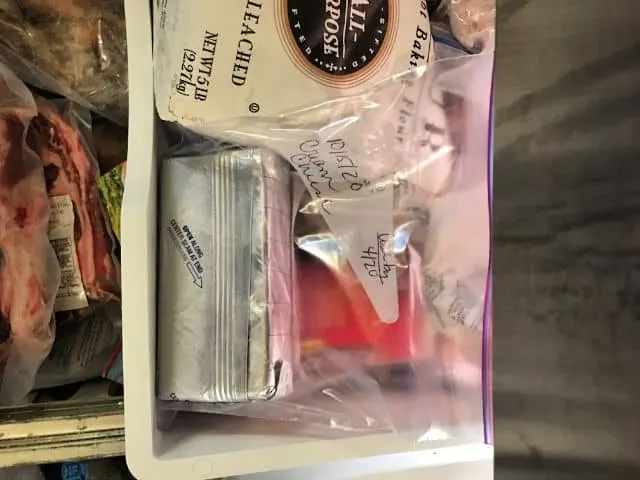 How To Freeze Sour Cream.
Place the Sour Cream into a resealable freezer quality plastic bag, push the air out. Seal and label the bag. Place into the freezer laying it as flat as possible.
How To Use Frozen Sour Cream.
We LOVE it in these recipes…
Mashed Potatoes with Canned Potatoes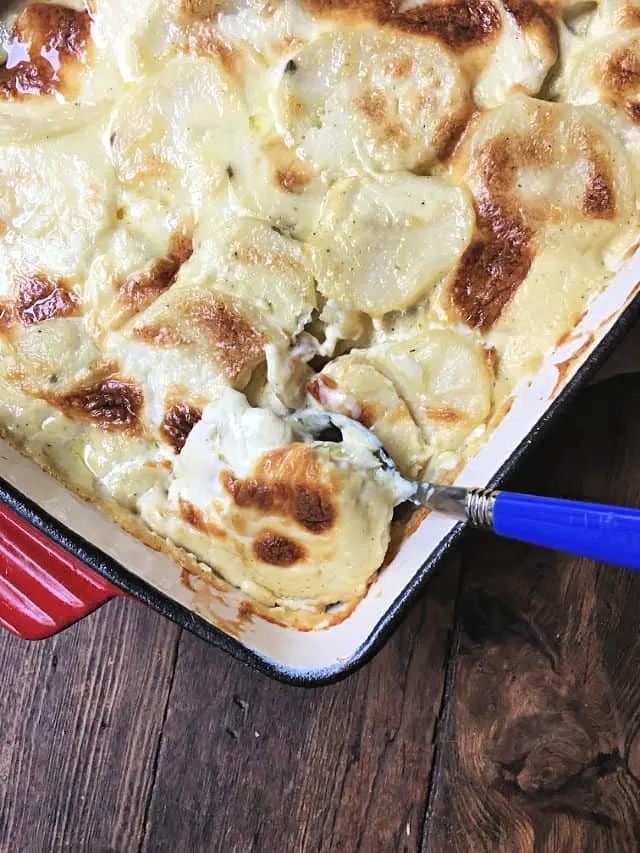 Frequently Asked Questions about How To Freeze Sour Cream (FAQ's)
Can It Be Frozen?
Yes, absolutely you can! It's easy and fast and will save you a ton of money in the long run. Simply follow the instructions in the recipe card below.
Can I Freeze a Package of Sour Cream?
Yes, you can! You can put the package directly into the freezer the way it comes from the store if it is not opened yet. Only keep it this way for up to 1 month.
Can I Use Any Brand ?
Yes! You Sure Can! You can do this with ANY brand ! They all work!
Can I Freeze Daisy Sour Cream?
Yep! You CAN! You'll just do the things you read in this post like you would with any brand!
Can Unopened Sour Cream Be Frozen?
Yes! Absolutely! The directions below will guide your way!
Can I Freeze Sour Cream That Is Leftover?
YOU KNOW IT! That's the best part! No wasting any leftovers when you can't think of a thing to use them on! Just pop it on over into the icebox for keeping it later!
How Long Can I Freeze Sour Cream?
You can safely keep Sour Cream frozen for 3-6 months if it is wrapped well.
How Do You Fix Runny Sour Cream?
You just stir it back together. Start slowly and then stir more quickly and it will come right back together. (be careful, it will splash).
What Do I Do With Frozen Sour Cream?
Save it until you need it for a recipe or to use on your baked potato! Then, just thaw it and it is ready for whatever you want to use it for!
How Do I Make My Frozen Sour Cream Creamy Again?
If you notice that it became a little crusty in the icebox allow it to thaw completely and then heat gently in the microwave for 30 seconds. Stir carefully until it call comes together again.
How Do I Remove Lumps from My Sour Cream?
If you are making something with your previously frozen Sour Cream, simply use a whisk and whisk like crazy to remove lumps.
Does Freezing It Change How It Tastes?
No, this does not change the taste. Instead, it maintains it with no noticeable taste, texture or changes.

Do I Need to Thaw Sour Cream Before Using It In a Recipe?

You DO need to thaw it before using.
How Do I Thaw Frozen Sour Cream?
Put the bag of Sour Cream in the refrigerator the day before you plan to use the Sour Cream
OR
Place the Sour Cream into a ziplock type bag, seal it, float it in a large bowl of tepid water for 20-30 minutes.
How To Do It to Avoid Freezer Burn.
The main points to avoid freezer burn.

Make sure there is no air in the bag.

Make sure there are no holes in your freezer bag.

Keep it at a steady temp as close to 0 as possible.
How to Know If It's Bad
If you notice….
The Sour Cream appears encased in ice crystals or frost

Sour Cream is very light colored and dry

It has been in the ice box longer than 6 months.

There was a lot of air in the package

Here's a place where you can learn more than you ever wanted to know about Sour Cream!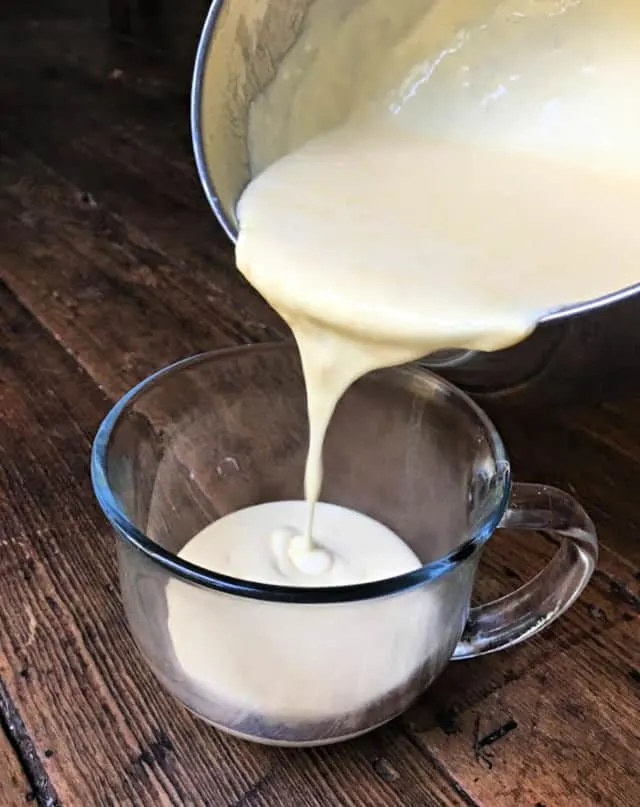 Want to Know More About Freezing and Thawing?
Hey, Ya'll, Help Me Out, OK?
Leave me a 5 STAR comment in the comment section below. This helps other people to find recipes on Loaves and Dishes!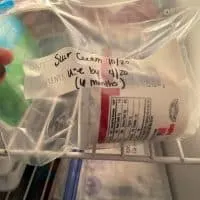 How to Freeze Sour Cream
You can freeze sour cream! I'll show you how!
Print
Pin
Rate
Ingredients
16

oz

sour cream

any brand
Instructions
Label the freezer bag with a sharpie marker to indicate what will be in the bag and how many. Label with today's date and a "USE BY" date (6 months to 1 year from now).

Place the sour cream into the freezer bag

Squeeze as much air as possible from the bag.

Place the bag of sour cream into the freezer.
Notes
Use good quality freezer bags (this doesn't necessarily mean name brand). Just check to make sure that the bag feels heavy and thick in your hand and that the seal works very well.
It's so easy to use the type of bag with the zippers, but I've had more bag failures with the zipper bags than with the press and seal type bags.
Buy yourself a sharpie marker to keep in the kitchen in your "junk" drawer OR tape it to the front of your freezer bag box. Then you'll always have one.
The flater that you can make the bag, the better for saving space in your freezer.
When putting things in the freezer, put the newer things on the bottom of the stack so that the older things are near the top and you'll use those first.
Squeeze air out of the bag after you put the meat into the bag by rolling it up. Air in the bag will equal freezer burn later.
PRO TIP: Label the bag BEFORE you put the food in the bag. It's so much easier to write on a bag with nothing in it BEFORE it has water or grease on it.
Nutrition
Nutrition Facts
How to Freeze Sour Cream
Amount Per Serving
Calories 55
Calories from Fat 54
% Daily Value*
Fat 6g9%
Cholesterol 15mg5%
Sodium 23mg1%
Potassium 40mg1%
Carbohydrates 1g0%
Protein 1g2%
Vitamin A 177IU4%
Vitamin C 1mg1%
Calcium 31mg3%
Iron 1mg6%
* Percent Daily Values are based on a 2000 calorie diet.
A VERSE TO SHARE
You are special, my friend. Have any doubts? Don't you are a special masterpiece who has been known by God since the day you were conceived. You are His handiwork!
Ephesians 2:10
For we are God's handiwork, created in Christ Jesus to do good works, which God prepared in advance for us to do.