Sweet, Tender, Tasty and EASY to do (not to mention affordable)! Plus, shhhhhh, good for you! When you know how to boil sweet potatoes, you'll have a great intro for MANY terrific recipes starring this perfect, healthy, tasty treat!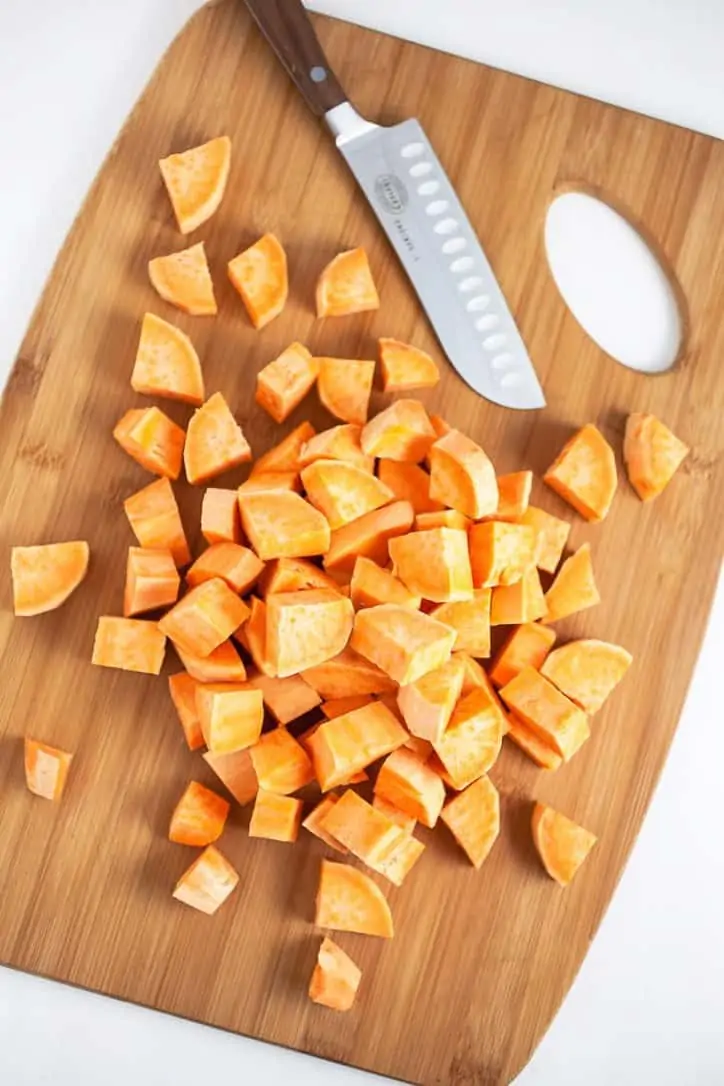 Why This Recipe Works
You probably already have most of these ingredients in your pantry already
It is very fast and easy to make
Good way to introduce kids to more veggies
Here's How To Boil Sweet Potatoes
STEP 1. Wash your sweet potatoes and assemble your ingredients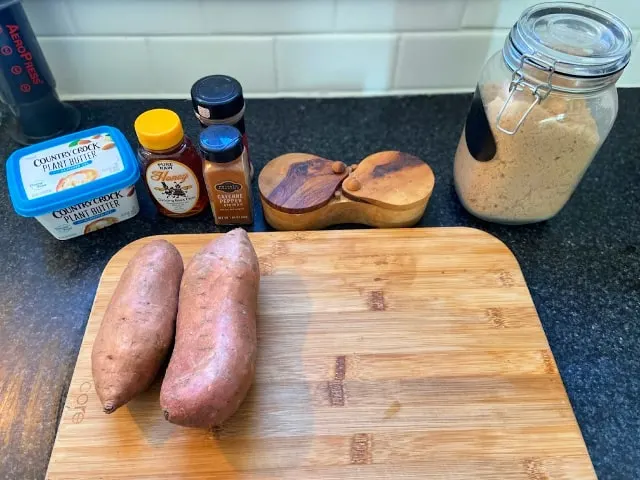 STEP 3. Peel the potatoes and cut into bite size pieces.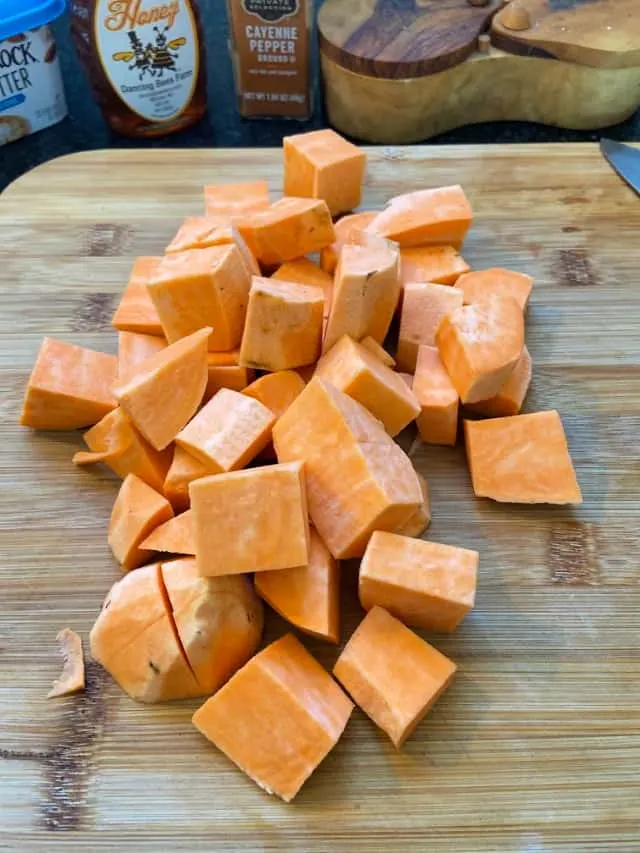 STEP 5. Put your potatoes in the chicken stock to boil. Let them come to a full rolling boil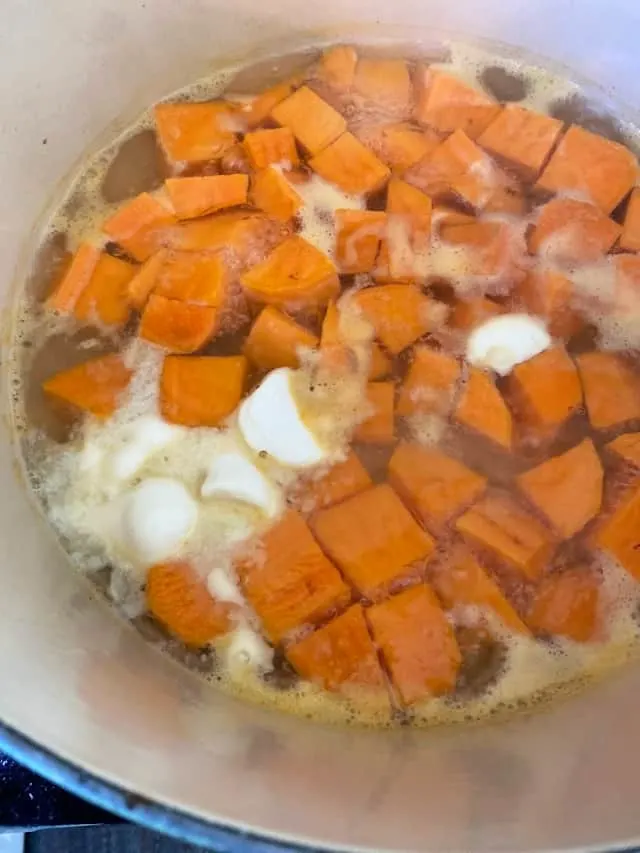 STEP 6. Start adding all the other ingredients.
STEP 7. Once they are fully cooked they are ready to serve!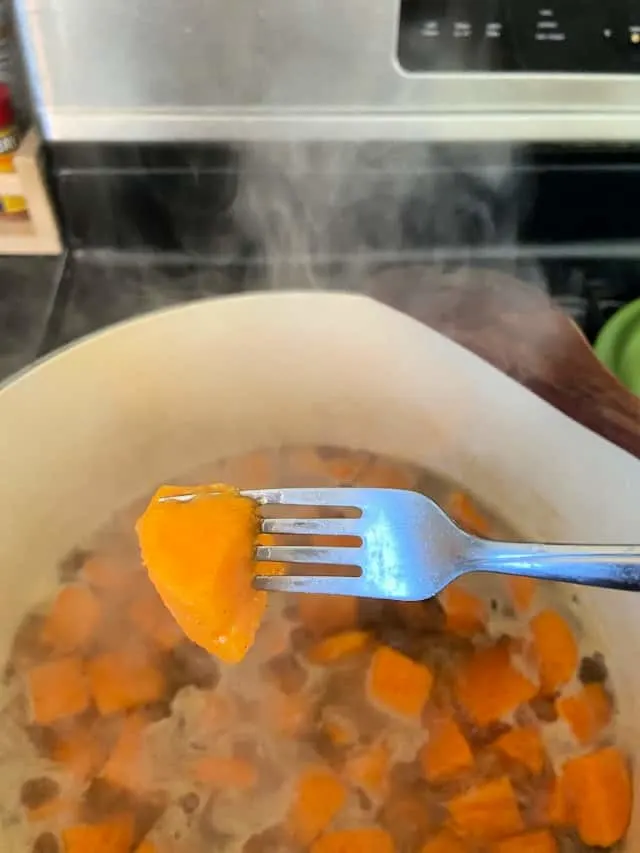 Frequently Asked Questions (FAQ's)
Are Yams and Sweet Potatoes the Same Thing?
Yams and sweet potatoes are different. Yams have a skin that looks more like tree bark and are less sweet and more starchy in flavor
Do I Have to Peel the Sweet Potato First?
You do not have to peel the sweet potato first. The peel is edible and has lots of good nutrition like fibre and potassium. However if you do not want to eat the peel it will be important to peel the potato before you cut it because it will be less labor intensive that way.
How Long To Boil Sweet Potatoes?
Just until you can easily stick a fork through the potato. About 10-30 minutes depending on how much you are boiling and how hot your water is.
How To Boil Sweet Potatoes?
Wash and peel the potatoes

Cut into bite size pieces

Put in boiling chicken stock or water

Boil until "fork tender" or for 10-30 minutes depending on amount.
How Long To Boil a Whole Sweet Potato?
15-35 minutes depending on the size of the sweet potato.
How To Boil Sweet Potatoes to Mash?
Just until you can easily stick a fork through the potato. About 10-30 minutes depending on how much you are boiling and how hot your water is.
How To Cube a Sweet Potato?
After peeling the sweet potato, cut it into slices. Once you have your slices you can make two cuts in an "x" shape across each slice.
Can I Freeze Boiled Sweet Potatoes?
Yes! You can! Once the sweet potatoes are boiled and have cooled, place into a freezer safe container. Squeeze out as much air as possible and place into the freezer. Will keep for up to 3 months.
How Long Are Boiled Sweet Potatoes Good For?
Once boiled, keep refrigerated for up to 5 days.

Do not allow to sit out for more than 2 hours.
How To Reheat Boiled Sweet Potatoes?
Saucepan: Heat over medium heat until heated through. You might need to add some water to help with heating.
What Goes With Boiled Sweet Potatoes?
Generally people like to have some kind of meat, and another green vegetable with sweet potatoes.
Tips and Tricks for Boiling Sweet Potatoes (make a bulleted list)
If you don't have a vegetable peeler you can use a paring knife or larger knife to peel the potatoes. Just make sure that you cut a flat surface on the potato so that it is steady. Also make sure that you follow the contours of the potato with your knife. This way you get more peel and less of the actual potato part.

Make sure that your knives are sharp! This is very important. You are more likely to accidentally cut yourself with a dull knife vs. a sharp on.

If you would like to make this recipe totally vegan, you can use an alternative butter, water or vegetable stock rather than chicken stock, and you could use agave nectar rather than honey. Agave nectar also has a lower glycemic index which makes it a healthier alternative if you or someone who might be eating this happens to be diabetic.

Get a vegetable peeler that you like. It doesn't have to be expensive and in fact most peelers are not but it should be sharp and easy to use. Vegetable peelers are a handy gadget to have around and they are small so it doesn't take up a lot of valuable cabinet space like some kitchen tools.

For more information about Yams vs sweet potatoes, check out

this article by UC Davis

!
PRO TIP: If you want to use the same tablespoon to measure the honey and butter. Use it for the butter first. That way when you go to measure the honey it won't stick to the tablespoon and will slide right out. You will get the full tablespoon of honey in the pot and it will be easier to clean up.
Try These Other Sweet Potato Dishes at Loaves and Dishes Today!
How to Microwave a Sweet Potato
Southern Sweet Potato Casserole
How to Cook Frozen Sweet Potato Fries
Hey, Can you Help Me Out?
Please share this recipe with friends by leaving a 5 STAR rating in the comment section below! That helps others to find the great recipes at Loaves and Dishes!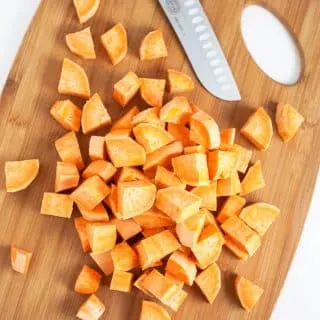 How to Boil Sweet Potatoes
Sweet, Tender, Tasty and EASY to do (not to mention affordable)! Plus, shhhhhh, good for you! When you know how to boil sweet potatoes, you'll have a great intro for MANY terrific recipes staring this perfect, healthy, tasty treat!
Print
Pin
Rate
Ingredients
4

Sweet Potatoes

fist sized

¼

Cup

chicken stock.

4

Tbs

Butter

whole butter, OK to substitute margarine

⅓

Cup

Dark Brown Sugar

1

Tbs

Honey

½

tsp

Cinnamon

½

tsp

Kosher Salt

Pinch

Cayenne Pepper

Pinch

Black Pepper
Instructions
Peel the sweet potatoes using a vegetable peeler or sharp knife. Cut the potato into cubes.

Place the sweet potato cubes into the sauce pan with the chicken stock and set stove to medium heat.

As the stock begins to boil, add the butter, brown sugar, honey, cinnamon, salt, cayenne and black pepper. Stir gently frequently. Add more stock if the liquid starts to cook off.

Continue to cook until you are able to pierce the sweet potato cubes easily with a fork.
Notes
Sweet potatoes are a HARD vegetable and you must be very careful cutting into cubes. It's important to have a very sharp knife for this job.
Cut the sweet potato into as even cubes as possible so that they cook evenly.
Sweet potatoes change colors slightly as they cook.
You will want to be able to gently push the tines of a fork completely through a cube of sweet potato to know that it is done.
Sweet Potato skins do NOT taste good and they are very fibrous. Most people do not enjoy eating them.
Substitutions:
OK to substitute water for the chicken stock to make vegetarian or if you do not have the chicken stock.
You can substitute margarine or vegan butter for butter if needed.
OK to substitute light brown sugar for dark or ¼ Cup Karo Syrup.
OK to substitute Agave nectar for honey
Nutrition
Nutrition Facts
How to Boil Sweet Potatoes
Amount Per Serving
Calories 305
Calories from Fat 108
% Daily Value*
Fat 12g18%
Cholesterol 31mg10%
Sodium 490mg20%
Potassium 478mg14%
Carbohydrates 49g16%
Protein 3g6%
Vitamin A 18798IU376%
Vitamin C 3mg4%
Calcium 61mg6%
Iron 1mg6%
* Percent Daily Values are based on a 2000 calorie diet.
A VERSE TO SHARE
I have to admit, I'm becoming overwhelmed with the upcoming election already. I've seen so much finger pointing, name calling and hatefulness that I can't even begin to tell you how deeply it has hurt me.
Then, I ran across this quote, "Jesus never asked us to confess the sins of our enemies, He told us to confess our own".
Thank you to whomever wrote that.
It's true and I hope people hear it. I have plenty of my own sins to confess and I think I'll go do that right now. Amen? Amen.
1 John: 1-9
If we confess our sins, he is faithful and just to forgive us our sins and to cleanse us from all unrighteousness.