Tangy delicious and SUPER EASY. READY IN JUST 10 MINUTES! If you can resist simply drinking this down, you are going to make your friends and family very happy!
Japanese White Sauce is one of the tasty sauces the chef offers you at a Japanese steak house. 100% Recommended!
WHY THIS RECIPE WORKS
Ready in JUST 10 Minutes.
Easy!!
Ingredients you probably already have
It keeps perfectly for a week or more.
HERE'S HOW IT IS DONE:
STEP 1:
In a LARGE bowel, mix the mayonnaise and the spices together.
STEP 2.
Whisk your heart out and get all of the lumps out.
STEP 3.
Put in the refrigerator for a while to let the flavors meld and marry!
FREQUENTLY ASKED QUESTIONS
WHAT IS JAPANESE WHITE SAUCE?
If you've been to the south, you might know how popular Japanese restaurants are! We LOVE to sit and watch the chef prepare our meal in a family seating style restaurant.
They always offer this sauce with the meal here in the South, enjoy!
HOW CAN I MAKE THIS A LITTLE SWEETER?
Simply add more sugar, but do so carefully.
Add one teaspoon at a time, whisk and then wait for 5 minutes before taste testing.
It can take a little bit for the sugar to melt and spread across the sauce.
WHAT IF I DON'T LIKE SPICY STUFF?
This sauce is NOT spicy in the least. If you are concerned, only add a pinch of cayenne pepper.
The cayenne and the sriracha are both for flavor.
If you leave either out, you'll be missing something.
DOES THIS HAVE SHRIMP IN IT?
No, its just that lovely pink color that shrimp turn when cooked.
HOW LONG DOES JAPANESE WHITE SAUCE KEEP?
Keeps 5 days in a closed container in the refrigerator
Do NOT leave out for more than 2 hours at a time.
WHAT CAN I SERVE JAPANESE WHITE SAUCE WITH?
This sauce is perfect on any meat, rice, vegetable….. really anything. It's good by itself. We enjoy it as a dip too!
Try it with these Frozen Carrots or Frozen Broccoli.
Especially good with Restaurant style Chicken Fried Rice (our family favorite).
TIPS AND TRICKS FOR JAPANESE WHITE SAUCE
Some people really like this sauce to be sweet, if that is you, add more sugar.
If you don't like any spiciness whatsoever, then don't add the ground pepper. The sriracha isn't adding much heat, it is adding flavor , so don't remove that unless it is a last resort.
Allow this to sit in the fridge for a while before you add more sugar or before using on your dinner. The flavors have to marry and meld and generally get to know each other.
Pour this sauce on EVERYTHING! It is good as a chip dip, a veggie dip, on eggs, on noodles, literally everything.
It takes a little bit of whisking to get any and all lumps out. Whisk quickly and for a while and they will come out!
IF YOU ENJOYED THIS RECIPE FOR JAPANESE WHITE SAUCE, YOU MIGHT ALSO LIKE…
Appalachian Mountain Tiger Sauce
Crockpot Pot Roast (goes great with this!)
HELP ME OUT, OK?
Leave me a 5 STAR COMMENT 🌟🌟🌟🌟🌟 below, please. It helps others to find the recipes here at Loaves and Dishes.
Want hot cooking tips and new recipes to come straight to you? Make sure to sign up for the weekly email!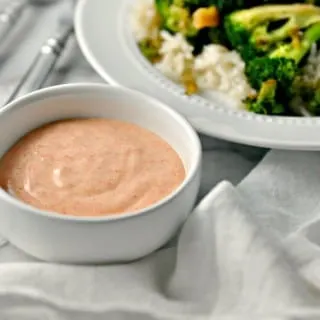 Japanese White Sauce
Tangy, delicious and beautiful, this is the decadent sauce that is served at the Japanese Steak Sauce. Perfect for meats, seafood, veggies, rice (anything really). READY IN JUST 10 MINUTES!
Print
Pin
Rate
Ingredients
2

Cups

of Mayonnaise

½

Cup

Ketchup

3

Tbsp

Sugar

1

Tbsp

Garlic Powder

1

Tbsp

Paprika

1

tsp

onion powder

1

tsp

salt

½

tsp

cayenne pepper

½

Cup

of water

1

tsp

Sriracha or other hot sauce
Instructions
Place all of the ingredients into a large kitchen bowl.

Whisk all of the ingredients briskly until the sauce is smooth without lumps. (about 2 minutes)

Refrigerate in a closed container or bowl with lid (plastic wrap) until ready to use.
Notes
Add more sugar if you prefer your sauce sweeter. Add by small amounts (no more than a teaspoon at a time, stir in, allow to rest for a minute or two and then taste test before adding more).
If you are concerned about a spicy flavor, you can cut back on the cayenne to just a pinch. The sriracha and cayenne add wonderful flavor, so you will be missing something if you leave it out. Please don't.
Allow this sauce to rest in the fridge for at least an hour (it's better if you let it rest over night). The flavor gets so much better by the next day.
Nutrition
Nutrition Facts
Japanese White Sauce
Amount Per Serving
Calories 281
Calories from Fat 252
% Daily Value*
Fat 28g43%
Cholesterol 15mg5%
Sodium 533mg22%
Potassium 61mg2%
Carbohydrates 6g2%
Vitamin A 385IU8%
Vitamin C 0.7mg1%
Calcium 6mg1%
Iron 0.3mg2%
* Percent Daily Values are based on a 2000 calorie diet.
*** This recipe first appeared on the pages of Loaves and Dishes on March 15, 2018 and has been updated with new information, photography or video***
A VERSE TO SHARE
Today, I don't have a lot to say about the verse. I'm simply sharing. It is too awesome for my simple words anyway. I pray for your blessing in what you are reading. Amen.
Mark 16: 1-8
When the Sabbath was over, Mary Magdalene, Mary the mother of James, and Salome bought spices so that they might go to anoint Jesus' body. Very early on the first day of the week, just after sunrise, they were on their way to the tomb and they asked each other, "Who will roll the stone away from the entrance of the tomb?"
But when they looked up, they saw that the stone, which was very large, had been rolled away. As they entered the tomb, they saw a young man dressed in a white robe sitting on the right side, and they were alarmed.
"Don't be alarmed," he said. "You are looking for Jesus the Nazarene, who was crucified. He has risen! He is not here. See the place where they laid him. But go, tell his disciples and Peter, 'He is going ahead of you into Galilee. There you will see him, just as he told you.'"